UK Dental Students Serve Community in Mission Clinic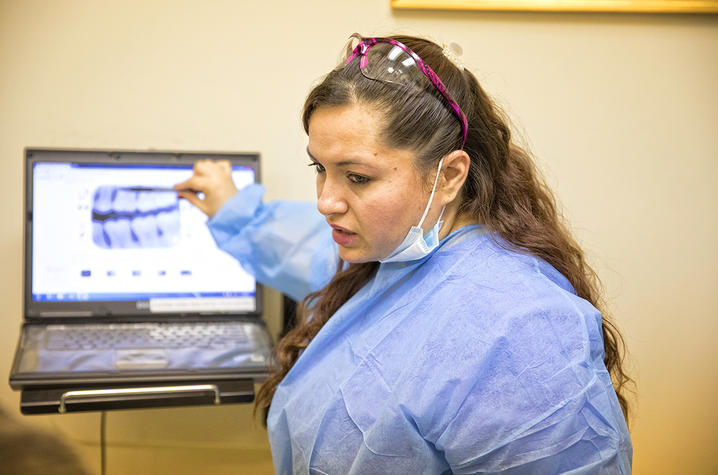 LEXINGTON, Ky. (March 17, 2017) – A lot can go unsaid between a physician and patient who share the same cultural background. Shared language and experiences can alleviate anxieties and help create a deeper connection between provider and patient. Students in the University of Kentucky College of Dentistry's (UKCD) Hispanic Student Dental Association (HSDA), who serve the increasingly diverse patients at the Mission Lexington Inc. dental clinic, demonstrate this by providing care to the predominantly Spanish speaking patients they see each month.
At the Mission Lexington Clinic, HSDA students and three UKCD faculty provide cleanings, extractions and a variety of dental services to patients who are typically uninsured and who speak only Spanish. Having a physician who speaks Spanish is beneficial both to the patient and physician. "For the patients having a Spanish speaking attending is important. They feel understood and cared for. They can express their concerns and they can understand the instructions given," said Dr. Rodrigo Fuentealba, assistant professor of dentistry and faculty advisor for HSDA,
Care instructions after a medical procedure are important to follow, they aid in reducing the risk of infection and enable a smooth recovery. By removing an interpreter, who is not a dental provider, misunderstandings and miscommunication are reduced.
HSDA President Jenny Alas cited a similar benefit to having Spanish speaking dentists in the clinic, "[Patients] can ask us anything and know they'll be understood." Alas, a native of Honduras, came to UKCD four years ago to attend dental school. Working in the clinic, she says, provides an opportunity for students to learn how to work with patients and provides patients with a chance to receive care that they probably wouldn't have otherwise.
Alas has seen a big change in the membership of HSDA during the past four years. Membership in the organization has grown to nearly 60 members, almost double the membership of her first year. She attributes that to an increasingly diverse student body at the University of Kentucky. She believes this will soon be reflected in the diversity of dental providers available to the community. "From what I see at UK, we are moving toward having more diverse dental providers who can understand and relate to patients," she said.
As the population in Kentucky and United States continues to become increasingly diverse, it's important that change be reflected in medical providers, she said. By creating an environment of inclusivity, UK aims to play an important role in providing well educated and diverse providers to the community.