UK HealthCare Announces Plans to Open New Floor in Pavilion A to Accommodate Growing Cardiovascular Program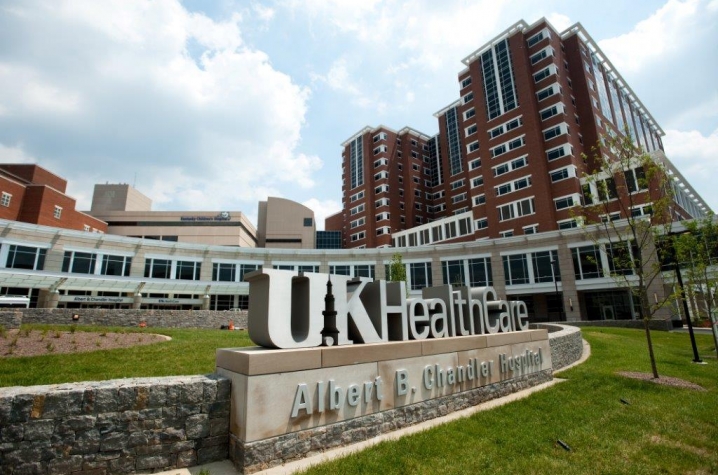 LEXINGTON, Ky. (June 10, 2013) -- UK HealthCare has announced plans to open 64 more beds in Pavilion A of the University of Kentucky Albert B. Chandler Hospital subject to approval by the Board of Trustees.
The eighth floor of the 12-story pavilion is targeted for completion in the Fall of 2014, said Dr. Michael Karpf, UK executive vice president for health affairs.
"We are in critical need of more beds for our growing cardiovascular program," Karpf said. "We continue to attract a growing number of complex patients who need our patient care services."
The $30 million project includes 24 intensive care unit beds that will meet the sophisticated needs of UK HealthCare's comprehensive cardiovascular program that includes patients with complex advanced subspecialty needs such as transplantation, artificial hearts, and ventricular assist devices.
The UK Board of Trustees' Health Care Committee approved the proposal today at its annual daylong retreat. The proposal will be considered by the full board at its Tuesday, June 11 meeting.
Overall, construction and expansion of the new Pavilion A at UK Chandler Hospital is expected to support patient care for the next 100 years. Once fully fit out, the 1.2 million-square-foot facility will include 512 state-of-the-art private patient rooms. When combined with the Kentucky Children's Hospital, the facility will have a total of 671 private rooms. 
In 2010 and 2011, a new patient-parking garage, adult and pediatric emergency departments and two patient care floors of the hospital, as well as all public areas on the ground and first levels opened.
In 2012, one of the country's largest hybrid operating rooms — and the first of its kind in the region — as well as eight new, state-of-the-art, multi-purpose operating rooms were completed. This phase also included the addition of a 42-bed pre-operative and post anesthesia care unit (PACU); a surgical pathology area; a family waiting area; anesthesia workspace and offices; and Central Sterile Supply. To date, all construction has been completed on schedule and on budget.