UK HealthCare Sports Medicine's Taylor Spyker named head trainer for Lexington Sporting Club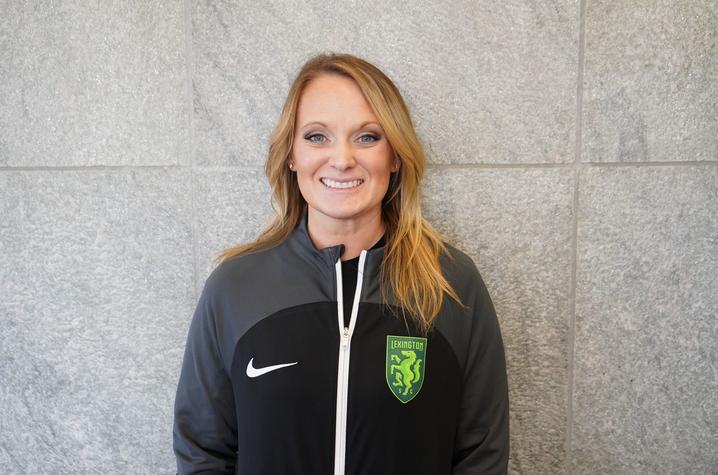 LEXINGTON, Ky. (Jan. 24, 2022) – Lexington Sporting Club is excited to announce its new Head Athletic Trainer Taylor Spyker, who is working with the club through its collaboration with UK HealthCare Sports Medicine.
Spyker will serve as the primary athletic trainer for the United Soccer League (USL) League One squad and will also oversee all Lexington Sporting Club medical staff including the youth and academy teams.
"I am excited to be a part of this team from the beginning," Spyker said. "It's an amazing opportunity to create an athletic training room that focuses on total athlete wellness and innovation."
Originally from West Virginia, Spyker has been an athletic trainer for more than 10 years, gaining experience at major NCAA Division I institutions such as LSU, West Virginia (WVU) and the University of Kentucky.
She earned a bachelor's degree in athletic training at WVU before going to LSU to complete her master's degree in kinesiology. It was during her time at these institutions that she would work as an undergraduate curriculum athletic training student and then a graduate assistant athletic trainer, covering a variety of sports.
Spyker joins Lexington SC from UK, where's she's been a senior athletic trainer for eight years. She began her time in Lexington assisting the football team for three years before switching over to soccer, helping the team optimize their performance and improve their nutritional needs.
Spyker has also worked for the ESPN Wide World of Sports as a first responder for athletes of all ages. During her extensive career, she has covered soccer, lacrosse, baseball, softball, wrestling, field hockey track and more, including being selected as the athletic trainer for the USA Cheerleading team at the Winter Olympics in 2018.
"We are ecstatic to have Taylor as part of the professional team staff for our inaugural season," said Sam Stockley, LSC's head coach. "She has great experience within our sport already and has an impressive background in athletic training, so I know that she'll be a fantastic addition to the team."
Lexington begins the USL League One season March 18 at One Knox SC and will welcome Forward Madison FC for the home opener April 8. The full schedule can be found here.
UK HealthCare is the hospitals and clinics of the University of Kentucky. But it is so much more. It is more than 10,000 dedicated health care professionals committed to providing advanced subspecialty care for the most critically injured and ill patients from the Commonwealth and beyond. It also is the home of the state's only National Cancer Institute (NCI)-designated cancer center, a Level IV Neonatal Intensive Care Unit that cares for the tiniest and sickest newborns, the region's only Level 1 trauma center and Kentucky's top hospital ranked by U.S. News & World Report.  
As an academic research institution, we are continuously pursuing the next generation of cures, treatments, protocols and policies. Our discoveries have the potential to change what's medically possible within our lifetimes. Our educators and thought leaders are transforming the health care landscape as our six health professions colleges teach the next generation of doctors, nurses, pharmacists and other health care professionals, spreading the highest standards of care. UK HealthCare is the power of advanced medicine committed to creating a healthier Kentucky, now and for generations to come.