UK North Fork Valley Dental Outreach and UK Center of Excellence in Rural Health Partner to Give Kids a Smile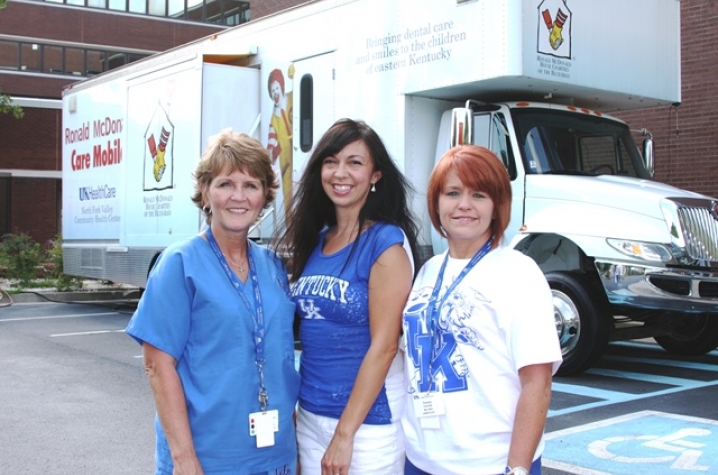 Hazard, Ky. (June 19, 2013) – An estimated 150 children will receive free preventive dental care in Perry County. The service will be provided by the University of Kentucky dental outreach team from the UK North Fork Valley Community Health Center (NFVCHC) in Hazard and the UK Center of Excellence in Rural Health (CERH), as part of the American Dental Association's Give Kids A Smile® Program.
The UK dental outreach team will provide exams, cleanings, fluoride treatments and referrals at the Eastern Kentucky Ronald McDonald Care Mobile to be stationed at the Wal-Mart Supercenter in the Daniel Boone Plaza in Hazard beginning at 9 a.m. on July 1. Hazard will be one of 11 sites in Kentucky to participate this year in Give Kids A Smile®, a nationwide event that began 10 years ago to provide free, desperately-needed dental services to local qualifying children from underserved families.
"Children in eastern Kentucky have the second highest rates of untreated tooth decay in the nation," said Dr. Nikki Stone, dental director of the UK NFVCHC. "When the UK dental outreach team started seeing children in local schools and Head Start centers in 2006, over half the children in Perry County had untreated cavities, and 20 percent had painful abscessed teeth."
Fortunately, the preventive dental care provided in the schools by the dental care mobile unit, along with community partnerships and case management, have brought the decay rates down 16 percentage points and cut the urgent dental needs in half.
"We are pleased to partner with Dr. Stone and her team on this project and support her team's research to find the best ways to address oral health disparities and improve access to dental care for underserved children in our region," said Dr. Fran Feltner, director of the UK CERH.
"The strides Dr. Stone and her team are making to address the immense oral health needs in our service area are very encouraging.  It's also important that we acknowledge the dental team's successful engagement of numerous community partners who have demonstrated their unwavering support over the years," said Dr. Joe Kingery, executive director of the UK NFVCHC.
Dr. Stone and her team have served more than 12,000 children since the mobile outreach service began in 2006.
Give Kids A Smile® is one more way to emphasize the importance of dental care, even through the summer months.  It will be an opportunity for children to receive the dental care they need, including those with Medicaid or no dental insurance.