UK Orofacial Pain Clinic Provides Solution for Patient's Chronic Pain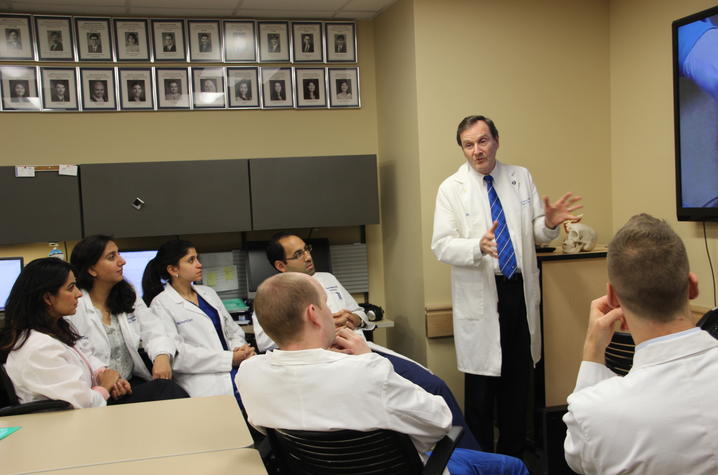 LEXINGTON, Ky. (March 12, 2019) — Like many of Dr. Jeffrey Okeson's patients, Pam Ziegler had seen a variety of doctors prior to arriving at the University of Kentucky Orofacial Pain Clinic about five years ago. Although she had completed various treatment plans to address chronic pain following an accident, Pam had been unable to reach an acceptable quality of life through these treatments.  
After suffering an accident in 1978 that resulted in a broken mandible, or jawbone, Pam underwent nearly 10 orofacial surgeries in addition to a series of extensive dental treatments. Even after undergoing these treatments, she was still suffering from pain and uncontrollable muscle contractions. These contractions impacted her jaw function and occlusion, or the way her teeth aligned when she bit down, resulting in pain and extreme difficulty talking and eating.  
In addition to intense pain, previous treatment plans also robbed Pam of her mobility and independence, as early solutions included heavy doses of medication that left her unable to go about her typical day-to-day routines.  
To help make her chronic pain manageable and avoid a mobility-limiting medication schedule, Pam makes a trip from northern Ohio to visit the UK Orofacial Pain Clinic every six to seven weeks to receive treatment. These treatments have made it possible for her to significantly reduce her medications, allowing her to return to her routine daily activities. 
"I thought he [Okeson] was a hero when I got my normal bite back and had significant pain reduction," she said. "When you are in the severe, chronic pain like I was when I first saw Dr. Okeson, it just takes everything out of you, emotionally and physically. It was just so draining…I couldn't drive a car when I first saw him and now I'm out running around all the time.
"Really he's has helped give me a life back."  
Pam praises the variety of services available in the clinic and other faculty and staff present, noting that the clinic is a special place able to offer hope to people with complex issues.
 "I can't tell you how many doctors I have been to throughout the United States before I made it here, and I have never had a doctor like Dr. Okeson…so thorough, so personal, so caring, just down to earth," she said.
Dr. Okeson made such an impression on Pam, although not having a medical background, she located a copy of his first medical textbook and asked that he sign it during an appointment as a keepsake. In return, she gifted Dr. Okeson a world globe for his desk with the inscription "World-renowned Doctor." 
 "I told him he can never ever retire," she said.