UK Pediatric Resident Receives Grant to Spread Vaccine Awareness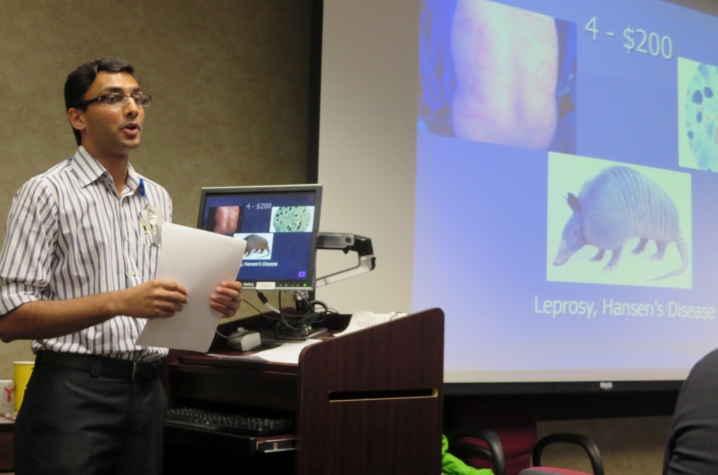 LEXINGTON, Ky. (Oct. 4, 2013) — Pediatric resident Dr. Akshay Sharma and the University of Kentucky College of Medicine's Department of Pediatrics were recently awarded one of 10 mini-grants from the American Academy of Pediatrics (AAP) to support events that benefit global vaccine advocacy and the United Nations Foundation's Shot@Life campaign.
"This grant was aimed at spreading awareness about the global burden of vaccine-preventable diseases and how various organizations, including the AAP and Shot@Life, are working to ameliorate that burden," said Sharma.
With the funding, Sharma and the UK Department of Pediatrics hosted an event on Sept. 26 that featured guest speaker Dr. Stephen Warrick of Cincinnati Children's Hospital, who talked about the incidence of vaccine preventable diseases worldwide and what efforts are being made to eradicate them. Warrick's talk was followed by a game of jeopardy for the medical students and residents in the afternoon where their knowledge of these diseases was tested and shared.
A movement to protect children worldwide by providing life-saving vaccines where they are most needed, Shot@Life educates, connects and empowers Americans to champion vaccines as one of the most cost-effective ways to save the lives of children in developing countries. By encouraging Americans to learn about, advocate for and donate to vaccines, Shot@Life aims to decrease vaccine-preventable childhood deaths and give every child a shot at a healthy life.
As a founding partner of the UNFoundation's Shot@Life campaign, the American Academy of Pediatrics (AAP) and Shot@Life provide pediatricians opportunities to talk to engage with the public and our government about the critical role of vaccines in saving and improving the lives of children around the world.  The AAP spreads the message that all kids deserve a shot at life and offers resources to help pediatricians educate parents about the importance of international vaccine programs.
MEDIA CONTACT: Kristi Lopez, kristi.lopez@uky.edu