Ultrasound Guided Injections Help Patient Stay on Her Feet for International Trip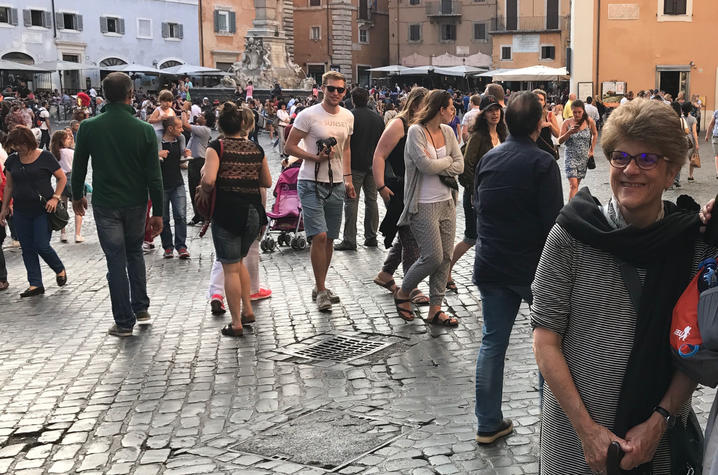 LEXINGTON, Ky. (July 21, 2017) – Planning a girls trip to Italy took Geri Maschio over a year, but pain in her hip threatened to keep her from getting on a plane and experiencing the cities she'd been dreaming about. Maschio started experiencing pain in her hip about two years ago. She tried a variety of treatment options to reduce the pain, but none fixed the issue. Unfortunately, physical therapy wasn't enough to relieve the pain; Maschio needed a hip replacement. Maschio was referred by her primary care doctor to see Dr. Jeffrey Selby, associate professor of orthopaedic surgery at University of Kentucky's  Orthopaedics and Sports Medicine.
When Maschio's pain became too severe for her to continue without treatment it was too close to her trip for the estimated four to six weeks of recovery a hip replacement would require and she wasn't willing to forgo her trip. "I wasn't going to be the person who bailed at the last minute, the trip was a year in the making," she said. Luckily, Selby knew a physician who could offer pain relief his colleague at UK, Dr. Kyle Smoot.
Smoot offered to treat Maschio's pain using ultrasound guided injections. Ultrasound guided injections are commonly used to treat the pain in the hip caused by chronic tendinopathy, muscle tears and carpal tunnel. "This is a procedure I was not able to provide in the clinic just a few years ago, as hip joint injections required guidance," he said. Smoot and Dr. Kim Kaiser, another physician at UK Orthopaedics and Sports Medicine, now are able to provide ultrasound guided injections in the clinic as well as other forms of ultrasound guided procedures.
Maschio felt prepared for the procedure, which was performed while she was awake but numbed, but wasn't sure what the outcome would be. "I trusted Dr. Smoot, because I was totally confident seeing anyone Dr. Selby recommended and Dr. Smoot and the athletic trainer [Amy Waugh] were so kind when they explained everything to me."
Ultrasound guided injections are used both therapeutically and diagnostically; the procedure can be used for various joints including the hip and knee and can be utilized by physicians to identify and differentiate a patient's pain.
The day before her trip to Italy, Maschio saw Smoot to receive her injections. Recovery, she said, was simple, she just let the numbing medication wear off and felt immediate relief from the pain she'd been experiencing and threatened to keep her from the trip of a life time.
The very next day Maschio got on the plane for an eight-hour trip and spent 12 days in Italy walking five to seven miles a day – pain free.
Maschio reflected on her trip and said, "I know I wouldn't have made it on this trip without Dr. Smoot and Dr. Selby – I couldn't have done it without them."