New Observation Unit at UK HealthCare Provides Care for Patients Not Ready for Discharge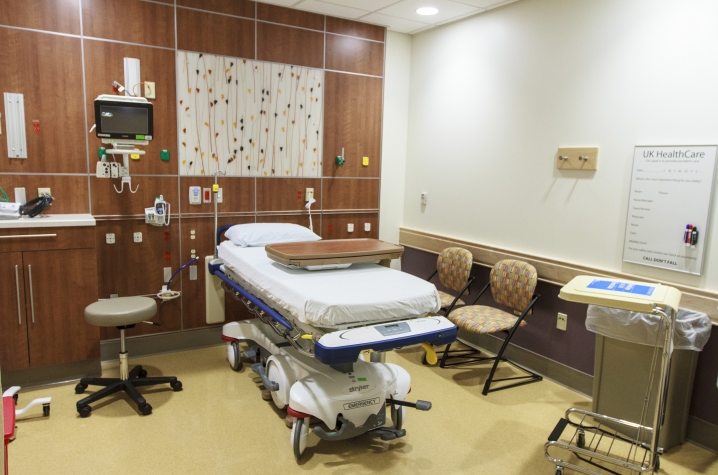 LEXINGTON, Ky. (Dec. 9, 2014) –  UK HealthCare will open its first Observation Unit this week at University of Kentucky Chandler Hospital. Across the nation, observation units are increasingly being utilized to provide high quality, safe and efficient care to patients who come to the emergency department and are too sick to be discharged home and need additional evaluation.
In the 24-bed unit located adjacent to UK Chandler's emergency department, patients with symptoms such as chest pain, abdominal pain, dehydration or syncope (fainting or passing out) will be managed and cared for up to 24 hours until either discharged or admitted as an in-patient for more intensive care. The patient will remain as an outpatient while in the unit.
Studies show benefits of patients cared for in observation units include better clinical outcomes, greater patient satisfaction, less diagnostic uncertainty, and improvements in the use of hospital resources and staff.
"There are times when a patient doesn't meet criteria set by Medicaid or Medicare to be admitted to the hospital but as a physician you just don't feel that they are well enough to be sent home," said Dr. Romil Chadha, medical director of the Chandler Observation Unit. "This unit allows us to monitor them for an extended amount of time and ensure they get the care they need."
The new unit which will open with 12 beds will eventually expand to 24 beds and provide patient care with close collaboration among Hospital Medicine, Emergency Medicine and Cardiology to provide prompt, high quality and efficient observation care.
Along with providing care for patients, observation units can take stress off of the emergency department, generate inpatient hospital capacity, and reduce unnecessary admissions and readmissions, said Dr. Mark V. Williams, director of UK's Center for Health Services Research (CHSR).
"UK HealthCare has built a superb space for an Observation Unit and is using a state-of-the-art continuous process improvement approach developed by Toyota," Williams said. "With help from the True Lean Systems Program at UK's College of Engineering, the team of care providers — nurses, physicians, pharmacists and others — will be continuously improving how the unit functions. I expect this will become a national showcase of how patient-centered observation care should be delivered."
Media Contact:  Kristi Lopez, kristi.lopez@uky.edu