UK Board of Trustees Approve Next Phase of Fit-Out in Patient Care Facility and Good Sam Emergency Department Renovation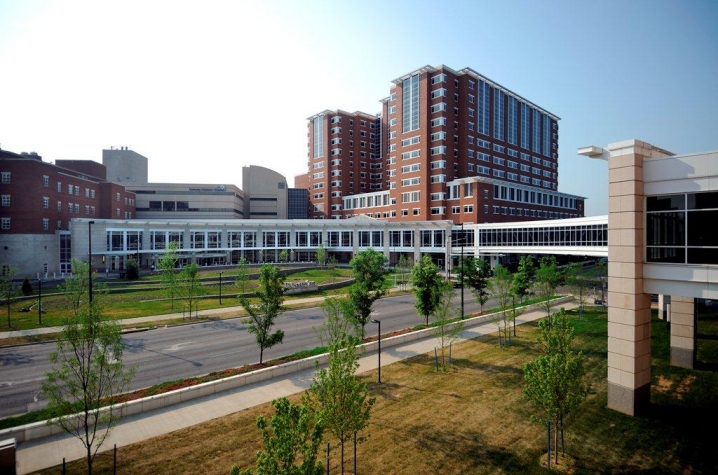 LEXINGTON, Ky. (March 16, 2015) -- The University of Kentucky Board of Trustees on Monday approved a plan for the next phase of the UK Albert B. Chandler Hospital's Pavilion A that includes completion of another 64-bed patient floor and more operating rooms.
Upon completion of this phase, six of the eight clinical floors will be occupied and the tower will be 81 percent complete.
The plan for this phase calls for $75 million to be financed with agency funds to fit-out the 11th floor of the Pavilion A patient care facility. Additionally, radiology services will be relocated and expanded in Pavilion A, the hospital's blood bank will relocate, and six more operating rooms will be fit-out including an additional hybrid OR. In 2012, UK HealthCare opened one of the country's largest hybrid operating rooms and eight state-of-the-art operating rooms in Pavilion A.
Additionally, the Board approved for construction to begin as part of a plan to renovate and upgrade UK Good Samaritan's Emergency Department (ED). Approximately 12,090 square feet of the ED will be renovated in phases during the next two to three years. Improvements include space dedicated to patient care such as private patient rooms, expanded service capabilities and improved staff support space. The project also will expand the patient and family waiting area by approximately 1,250 square feet.
Since opening the first two patient care floors in Pavilion A in May 2011, UK HealthCare has experienced an increase in volume of patients that has placed substantial capacity constraints on hospital system operations, requiring the fit-out of Pavilion A to ensure availability of adequate facilities for patient care.
"Our rapid growth -- going from 25th to 75th percentile among academic medical centers -- has led to us playing 'catch up' for the past decade to meet current patient demands for our services that include care for the most critically ill patients who need complex and advanced subspecialty care," said Dr. Michael Karpf, UK executive vice president for health affairs. "UK HealthCare is the only provider in the Commonwealth, and in this region, for some of these very high-level services and our ability to care for these patients is very important for the people we serve and their families."
The eighth floor of Pavilion A -- a state-of-the-art 64 bed cardiovascular patient unit -- opened in December 2014 and construction to fit-out the ninth and 10th floors of the patient care facility is underway. In addition to those two patient floors, the Board in June 2014 also approved replacement of the hospital kitchen and cafeteria, relocation of the Magnetic Resonance Imaging to Pavilion A and relocation of the Neonatal Intensive Care Unit (NICU).
###
Media Contact:  Kristi Lopez, kristi.lopez@uky.edu