UK HealthCare Recognized for Excellence in Lactation Care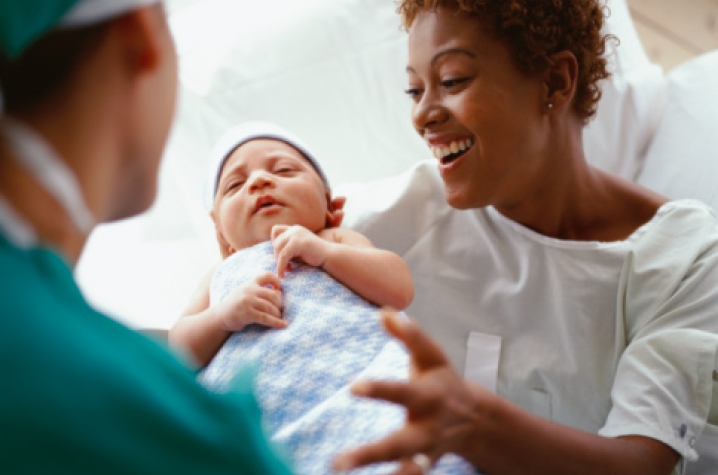 LEXINGTON, Ky. (Feb. 21, 2014) -- The International Board of Lactation Consultant Examiners (IBLCE) and International Lactation Consultant Association (ILCA) have recognized UK HealthCare for excellence in lactation care.
The Birthing Center at University of Kentucky Chandler Hospital has received the IBCLC Care Award in recognition for staffing professionals who hold the prestigious International Board Certified Lactation Consultant certification (IBCLC) and providing a lactation program that is available five to seven days a week for breastfeeding families.  In addition, the facility demonstrated that is has provided recent breastfeeding training for medical staff that care for new families, and have recently completed activities that help protect, promote, and support breastfeeding.
UK HealthCare participates in Best Fed Beginnings, a first-of-its-kind national effort to significantly improve breastfeeding rates in states where rates are currently the lowest. 
Although breastfeeding is one of the most effective preventive health measures for infants and mothers, half of US-born babies are given formula within the first week, and by nine months, only 31 percent of babies are breastfeeding at all.  Best Fed Beginnings seeks to reverse these trends by dramatically increasing the number of U.S. hospitals implementing a proven model for maternity services that better supports a new mother's choice to breastfeed.
In addition, UK Chandler Hospital is one of 89 hospitals participating in a learning collaborative, using proven quality improvement methods to transform their maternity care services in pursuit of "Baby-Friendly" designation. This designation verifies that a hospital has comprehensively implemented the American Academy of Pediatrics-endorsed Ten Steps to Successful Breastfeeding, as established in the WHO/UNICEF Baby-Friendly Hospital Initiative. 
"This award for excellence in lactation care is another step to achieving our goal of receiving 'Baby-Friendly' designation as well as further evidence of our staff's commitment to supporting and assisting new mothers and their infants," said Dr. Rebecca Collins, newborn nursery director.
According to Liz Brooks, president of ILCA, "This recognition highlights the efforts being made by maternity facilities all across the world to help mothers get off to a good start with breastfeeding, and to support them in reaching their goals.  IBCLC is the leading internationally recognized lactation certification in the world, and IBCLC certificants are highly skilled in helping mothers with the questions and concerns that can arise. They are also an important part of the overall maternal and child health team by assuring that evidence-based policies and practices are in place that help mothers succeed with breastfeeding."
Rachelle Lessen, Chair of IBLCE, echoes those sentiments. "Facilities that receive the IBCLC Care Award are to be commended for improving maternal and child health by making breastfeeding a priority and for taking steps to improve breastfeeding support. An important part of providing excellent breastfeeding care is having expert assistance available when the breastfeeding couplet needs it. IBCLC professionals are the health care professionals best suited to provide this clinical help and often make the difference between success and failure for women achieving their breastfeeding goals."
IBLCE certificants focus on preventive care, so they are available during pregnancy to assess the mother and provide information on how to successfully initiate breastfeeding. They continue that assistance after the baby is born by helping mothers overcome breastfeeding challenges, providing accurate information, and continuing to support them as their baby grows. They assist mothers returning to work or school, help mothers in more unusual situations such as breastfeeding more than one baby or nursing a sick or premature infant, and help train nursing staff to manage basic breastfeeding care.
For more information about the IBCLC Care Award program, contact IBLCE at award@iblce.org.