'Whatever It Takes' — Middlesboro Mom Shows Superheroine Strength in Cancer Battle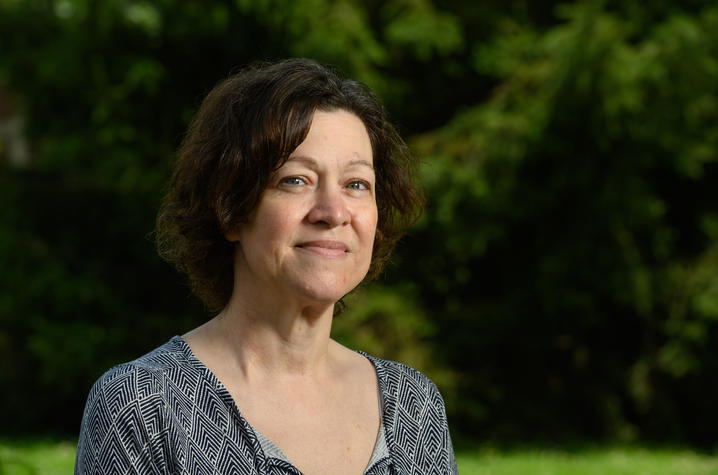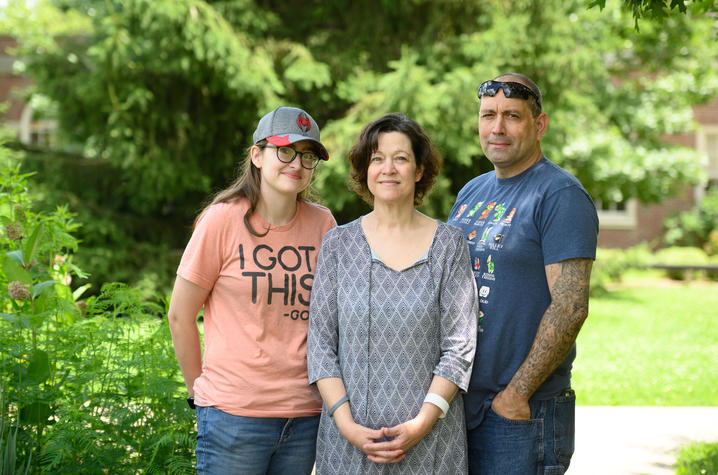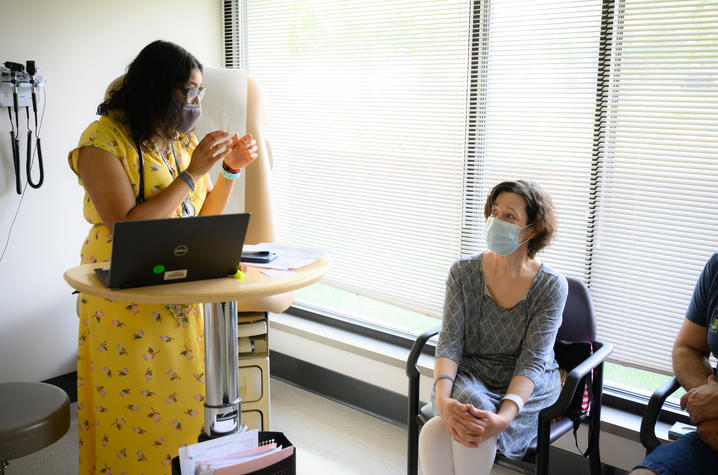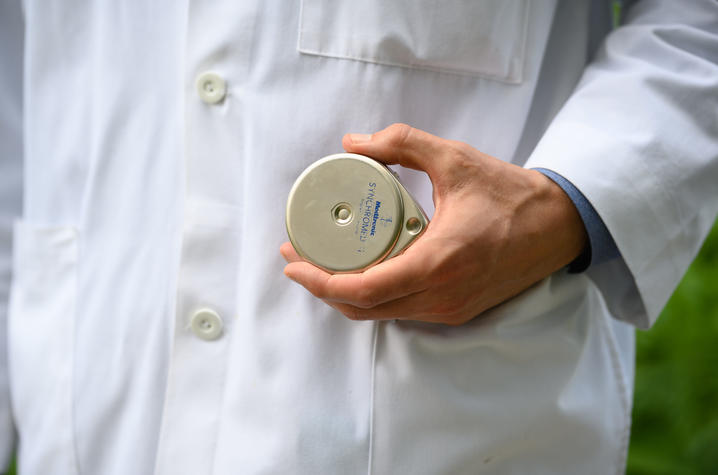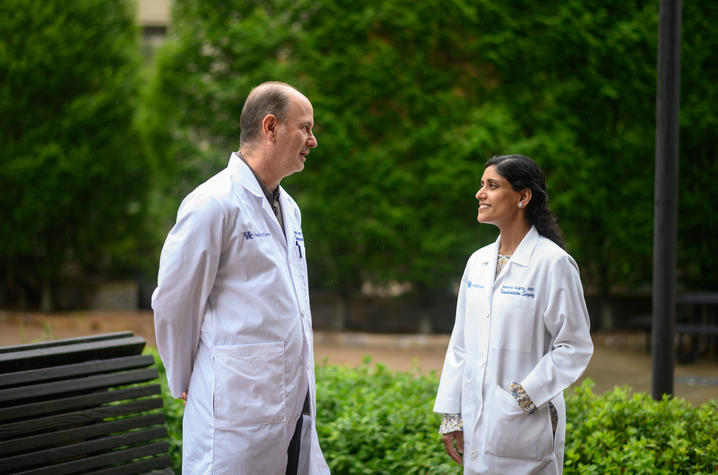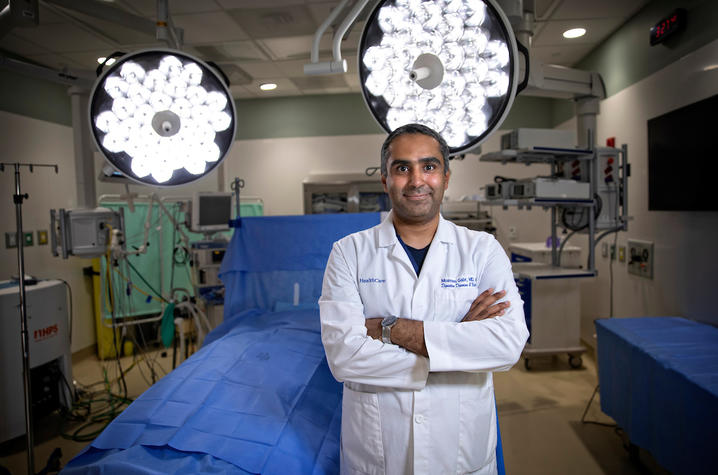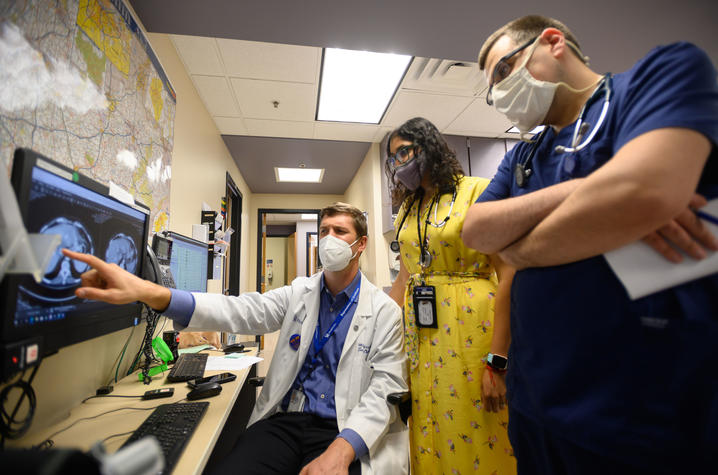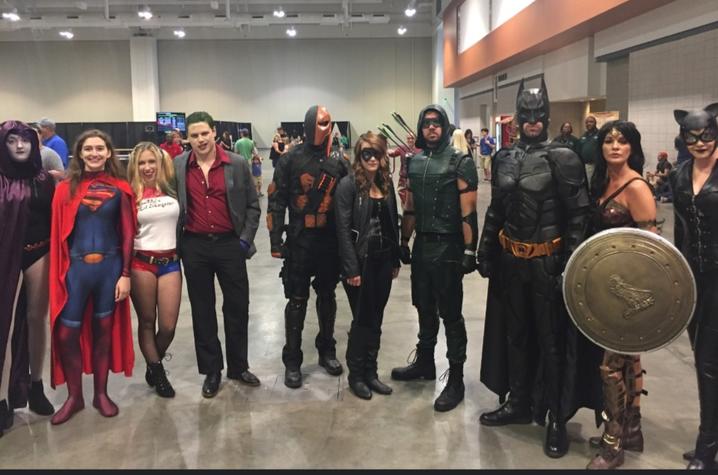 LEXINGTON, Ky. (Sept. 3, 2021) — Never mind the beach. When it comes to vacation getaways, the Caldwells have a specific niche for family fun — they love attending Comic-Cons.
"That's basically what we all look forward to," says Middlesboro mother of three Kathy Caldwell. "We're kind of nerdy and we don't do a lot, but that's really on our to-do list."
They've been to Lexington's local Comic-Con, of course, but the family of five has also traveled to other major Cons in metropolitan cities like Atlanta and Nashville. Oldest son Nick likes to cosplay as Batman, while youngest son Noah prefers the Dark Knight's speedster friend The Flash. Daughter Kaitlin's go-to is Supergirl.
The Caldwells' love of superheroes is fitting — they are a family of fighters. Seven years ago, the family's lives were upended when a jeep slammed into their vehicle at 65 miles an hour. Kaitlin, just 12 years old at the time, was airlifted from a hospital in Somerset to UK HealthCare's Kentucky Children's Hospital. She underwent five total abdominal surgeries, including a Whipple procedure, a surgery normally performed on adults with pancreatic cancer and very rarely used for pediatric patients.
It was the family's first experience with advanced treatment at UK HealthCare, but it wouldn't be their last.
*****
In the summer of 2019, Kathy was less than two months out from a gastric bypass procedure when she developed some concerning symptoms. First, near-constant nausea. Then, she thought she noticed a slight yellow tint to her eyes — jaundice, a common sign of liver damage. She and her husband, Robert, were convinced they were imagining things, until she woke up the next morning — a Sunday.
"When he woke me up, he said, 'Oh, my gosh — you've got to get to the bathroom,'" Kathy said. "And when I looked in the mirror, I was yellow. Literally, from head to toe — my scalp, even my gums were yellow."
Kathy had already made an appointment to see her bariatric surgeon, Joshua Steiner, M.D., who now practices at UK HealthCare. She had experienced some recurrent abdomen pain for years but was routinely dismissed by her primary care providers, and she says Steiner was the first doctor to truly listen to her. When she called him to tell him about the jaundice, he sent her immediately to the emergency room for a battery of tests and scans.
"He was really concerned and showed a lot of compassion," she said. "He was the only one who listened to me when I told him that something wasn't right."
Although they were hoping for a simple, easily fixable diagnosis — a gallstone, for example — Kathy's results showed something far more worrisome: a mass in her liver and in both of her bile ducts. Steiner referred Kathy to UK HealthCare, where she was evaluated by interventional gastroenterologist Moamen Gabr, M.D., and UK Transplant Center liver specialists Meera Gupta, M.D., and Roberto Gedaly, M.D.
Kathy was admitted as a patient. Gabr performed a procedure known as EDGE (endoscopic ultrasound-directed transgastric ERCP) to regain access to the part of her stomach that was excluded after the gastric-bypass surgery, which allowed him access to sample the tumor tissue. It also allowed him to place a stent in her bile ducts because her jaundice had gotten so severe. But it wasn't until she spoke one-on-one with Gupta that she heard the dreaded "C" word: cancer.
"Dr. Gupta said, 'This isn't good,'" Kathy said. "She said, 'You have something called a cholangiocarcinoma … bile duct cancer.' I was still trying to take it all in and process it."
*****
For fans of UK Athletics, the term might be familiar: this rare form of cancer garnered national media attention in recent years when University of Kentucky football offensive line coach John Schlarman went public about his battle with stage IV cholangiocarcinoma in 2018 and ultimately succumbed to the disease last fall.
Kathy's subtype of this particular cancer is even rarer. She was officially diagnosed with intrahepatic cholangiocarcinoma, which means that although the cancerous cells are of the bile duct, it actually grew in her liver. This form of the disease occurs in only about 10% of cases.
After receiving her diagnosis, Kathy was immediately referred to the University of Kentucky Markey Cancer Center. Medical oncologist Reema Patel, M.D., prescribed her an initial six-month course of IV chemotherapy to help reduce the size of her tumors.  
Cholangiocarcinoma is a devastating, typically incurable disease. But during a tough conversation about her prognosis with Gupta, Kathy says she made it clear that she wasn't going to give up.
"I said, 'I'm going to do whatever it takes,'" Kathy said. "I'm not going down without a fight."
Gupta then told Kathy about another potential option she could try: a new clinical trial for patients with advanced cancers in the colon and liver run by Markey surgical oncologist Michael Cavnar, M.D., Kathy immediately wanted in.
"She said, 'He's got a trial study," and she didn't even get the rest of it out," Kathy said. "I was like, 'Sign me up. If they're willing to take me, I'll do it.'"
Traditional infusion chemotherapy is given through an IV directly into the bloodstream, so the drug travels throughout the body. This is why many patients experience symptoms such as hair loss during traditional chemo — the drugs are targeting fast-growing cells, but can't differentiate between benign and malignant cells.
In Cavnar's trial, patients undergo surgery to implant a hepatic artery infusion pump, which delivers chemotherapy directly into the tumor itself through a catheter.
"It allows you to deliver a high dose of chemotherapy," Cavnar said. "With the idea being that you can deliver more chemotherapy directly to a tumor versus giving chemotherapy through a peripheral vein."
This general delivery mechanism for chemotherapy has existed and been used successfully for around 40 years. Cavnar's trial was actually studying the safety of delivering the chemotherapy with a new combination of medical devices: an implantable pump typically used to deliver pain medicine to the spinal cord, and a special catheter designed to be implanted into an artery.
The miracles of modern medicine — and the amazing advances in cancer care that have occurred in the past few decades — are due to clinical trials and the patients willing to participate in them. Researchers work meticulously to ensure patient safety while they're developing trials to test out new methods of treatment.
"The only way we have definitive proof of what works and doesn't work in medicine is clinical trials," Cavnar said. "Clinical trials go through an extensive vetting process to make sure we're designing the trial in a way that is safest for the patient and has the highest likelihood of benefit to current and future patients."
"I've talked to other cancer patients who have said, 'No, I'm not going to be a test subject,'" Kathy said. "But I never felt that. It goes back to my faith in God. I had been praying and praying. I do believe that it was just meant to be, and that (the trial) was meant for me to do. I didn't have any reservations at all."
*****
The trial period for the pump was six months, but Kathy experienced a small bump in the road at around five and a half months — the stent that had been placed inside her from her gastric bypass surgery had rubbed against the catheter, causing erosion into the bowels. Cavnar's team removed the pump a little earlier than planned, but Kathy said she was still thrilled with the progress she made.
"I didn't want to lose the pump because it was working so well," she said. "But Dr. Cavnar said it had done its job ... I just think he was a godsend. I really do."
For patients whose tumors are not able to be removed with surgery, a course of radiation medicine can be given after using the pump, and Kathy's medical team recommended it for her. This progression of therapies is intentional, and it is key to help maximize time for the patient, says Patel.
"It's important to sequence the therapy in such a way that it builds time," Patel said. "So maybe one therapy gives you six months, and then therapy two gives you another six months — that means a graduation, another birthday, another Christmas. So even if one therapy doesn't give you the mileage you want, you're going to get more mileage by sequencing the therapies in a very thoughtful way."
Earlier this year, Kathy began her series of treatment with Markey radiation oncologist Mark Bernard, M.D.: 25 radiation sessions given every weekday for five weeks.
"I had heard lots of stories about the radiation, and my first day, I was so scared," Kathy said. "But I laid there, and the next thing I knew, they were done. I was like, 'I can do this. This isn't that bad.'"
Living so far from Markey — Middlesboro is roughly two-and-a-half hours away — meant that Kathy faced a problem that many patients from Eastern Kentucky have experienced: help with housing during treatment. She needed to physically stay in Lexington throughout the week in order to make her daily radiation appointments. The American Cancer Society's Hope Lodge provides housing for patients in active treatment, but the group had been forced to close its doors due to the COVID-19 pandemic.
Luckily, thanks to a generous donation of hotel rooms by the Rainmaker Hospital Group, she was able to stay close to Markey for treatment. For Kathy, who was not only dealing with a serious cancer diagnosis but also the recent losses of her mother and her sister, having one less thing to worry about made the situation a little easier to deal with.
"That was such a burden lifted … it had just been such a tough year," Kathy said. "(During chemo), we would drive back and forth, and it was just getting so hard the more the fatigue was setting in. It helped so much to have that room the night before treatment to get some rest."
After finishing up radiation, Kathy is now monitored closely by her Markey physicians with the goal of finding more options for her to try. Patel's team recently performed another biopsy to have her tumor tissue sent for next generation sequencing, an advanced genetic testing technology that looks for tumor mutations. Finding mutations is generally a good thing, as it means that the oncology team can then look at therapies that were designed to target that particular mutation.
"Essentially, what next generation sequencing does is it looks for mutations in the tumor tissue," Patel said. "Sometimes those mutations can lead us to a targeted therapy. So we're looking for any possible targeted therapy options, whether it's an FDA-approved therapy or one that's currently being studied in a clinical trial."
Last week, the results came back — and Patel was so excited she called Kathy as soon as she got the news, roughly 8 p.m. Wednesday night. Kathy's tumor shows two variants that are targetable by newer therapies: an oral protein inhibitor and an IV immunotherapy.
"This is great news," Patel said. "I'm beyond the moon right now. Whether she chooses to look into a clinical trial somewhere or try one of these therapies, the exciting part is that she has options."
*****
Throughout her long battle with this rare cancer, Kathy's near-inhuman ability to stay positive hasn't wavered. Like many mothers, her concern lies with her husband and children, not for herself. One of the most difficult parts of this experience, she says, was telling her teenagers that she had an incredibly rare, difficult-to-treat disease.
There were tears as her husband sat down with the children to give them the news. Her youngest son, just 13 at the time, immediately took to Google, searching for information on her disease and fretting over what he was reading about cholangiocarcinoma.
"He said, 'Mommy, that's pretty bad; it's kind of a rare cancer,'" she said. "He took it really hard."
But like a true superhero, Kathy isn't willing to give up. She's still prepared to do whatever it takes to give her more quality time with her family, and that enthusiasm has helped her medical team find the best new therapy options for her disease. 
"When patients are really invested in their own care, it makes for a better doctor-patient relationship," Patel said. "It allows us more flexibility to try new and innovative things, and it makes them good candidates for experimental therapies — like, for example, the hepatic artery infusion pump."
Additionally, Patel says that Kathy's upbeat, can-do outlook makes her a joy to treat.
"You see Kathy's name on your clinical list for that day, and you're happy to see her coming in," Patel said. "She's the person that you genuinely love seeing in your clinic. You have good, meaningful discussions. And she lets me do my job as a doctor, which is to teach and educate patients to help them make the best decisions for themselves."
For Kathy, keeping up that positivity is not just important for her personally, but also to be a role model for her children.
"There are times when we'll be hanging out together, and (my youngest son) will say, 'Mom, you don't even seem like you're sick,'" Kathy said. "And I say, 'It's all about the attitude.'"
As the state's flagship, land-grant institution, the University of Kentucky exists to advance the Commonwealth. We do that by preparing the next generation of leaders — placing students at the heart of everything we do — and transforming the lives of Kentuckians through education, research and creative work, service and health care. We pride ourselves on being a catalyst for breakthroughs and a force for healing, a place where ingenuity unfolds. It's all made possible by our people — visionaries, disruptors and pioneers — who make up 200 academic programs, a $476.5 million research and development enterprise and a world-class medical center, all on one campus.   
In 2022, UK was ranked by Forbes as one of the "Best Employers for New Grads" and named a "Diversity Champion" by INSIGHT into Diversity, a testament to our commitment to advance Kentucky and create a community of belonging for everyone. While our mission looks different in many ways than it did in 1865, the vision of service to our Commonwealth and the world remains the same. We are the University for Kentucky.