UK HealthCare Divisions Unite to Perform Rare Procedure on 12-Year-Old Trauma Patient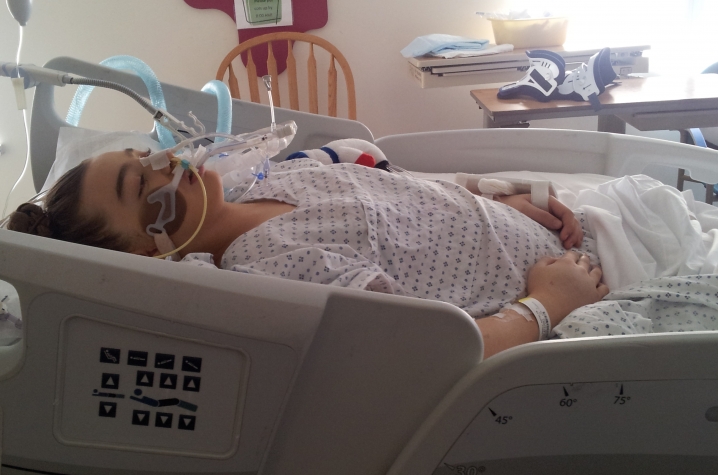 LEXINGTON, Ky. (Aug. 15, 2014) — The hold of a seatbelt prevented 12-year-old Kaitlin Caldwell from being ejected from her seat when a jeep slammed into the side of her family's vehicle at 65 miles per hour.
But a tight squeeze from the life-saving restraint caused serious damage to her midsection. After being airlifted from a hospital in Somerset, Kaitlin arrived at Kentucky Children's Hospital on Jan. 2 suffering from a severed pancreas, transected bowel, a separated bile duct and a host of other abdominal injuries.
The UK HealthCare trauma team tasked with rerouting Kaitlin's abdominal organs conducted emergency surgery to control her injuries. After surgeons stopped some bleeding and repaired immediate injuries during the first surgery, they placed a temporary vacuum dressing over an open abdominal incision. Pediatric surgeon Dr. Sean Skinner, in collaboration with a team of specialists representing UK HealthCare divisions of transplant, oncology and vascular surgery, then mapped out a reconstructive procedure to essentially rework the organs that allow Kaitlin to digest food. On Jan. 3, the team conducted a second surgery to assess the full extent of the injuries and their surgical options.  
The surgeons deliberated about the most technically efficient way to reroute her digestive tract. But they also discussed the long-term implications of the surgery for Kaitlin, now and in the future. They wanted to preserve her ability to eat different types of food, as well as reduce her risk for diabetes and other complications down the road.
"She was 12, and she had how many years to live with this?" Skinner said. "We wanted to give her the best results that were going to last the longest."
Skinner and transplant surgeon Dr. Erin Maynard performed a Whipple procedure, a reconstructive surgery most commonly performed on patients with pancreatic cancer and sometimes complications from pancreatitis. Skinner said the procedure is uncommon in a trauma setting, but even rarer in pediatric patients. According to his research, only a small fraction of a percent of all pediatric cases involving blunt trauma to the pancreas resulted in a Whipple procedure. A published article available to Skinner identified 18 cases of children receiving the surgery in the past 14 years. Skinner turned to a multidisciplinary team of UK HealthCare specialists, including Maynard, vascular surgeon Dr. Eric Endean, adult trauma surgeon Dr. Paul Kearney and oncology surgeon Dr. Patrick McGrath, to prepare for the procedure.
"This was a big team effort of everyone coming in to help this girl," Skinner said. "Having those specialists around me made it even better and safer for her."
Typically during a Whipple procedure, surgeons remove the portion of the pancreas where a tumor is present. In Kaitlin, the pancreas was already transected from the force of the seatbelt, so surgeons removed one portion of the pancreas. The pancreas serves an important role of producing chemicals that help break down sugars and carbohydrates before those foods travel to the small intestine, so even a small portion of the organ will help reduce the risk of diabetes. After removing portions of the stomach, the duodenum and the head of the pancreas, Skinner and his team attached the remaining portion of the pancreas to the small intestine. They also sewed the bile duct to the small intestine and brought a loop of the intestines up to be attached to the stomach.
In total, Kaitlin went through five abdominal surgeries before she was released from the hospital on Jan. 24. Skinner was encouraged that Kaitlin encountered few complications post-surgery. He advised her to minimize foods high in sugar, like her favorite soda Mountain Dew, to prevent dumping syndrome, a sickness caused by too much sugar dumping into the small intestine that affects gastric bypass and Whipple surgery patients. The long-legged middle schooler has adjusted to her new diet constraints, avoiding Taco Bell, a restaurant she once loved.
"She loves sweets, but now with the modifications, she knows her limits," Kathy Caldwell, Kaitlin's mom, said. "It amazes me, because she won't touch it."
With her turquoise braces and narrow framed glasses, pre-teen Kaitlin will get a fresh start at a new school in Middlesboro later this month. She is trying out for the the basketball team. A scar on her abdomen is the only visible sign of the accident. Kathy Caldwell hopes her daughter will remember the diligence and team work of the doctors who put her stomach back together when she looks at the scar.
"I laugh when people say she didn't get hurt real bad. I don't want her to be ashamed of that scar. That's your scar — a testament to what you've been through," Kathy Caldwell said.
Kathy Caldwell said she tells everyone she knows about the high level of care she received from Skinner and the multidisciplinary team. She feels grateful her family was sent to UK HealthCare after the accident.
"We knew the Lord would always put good people in our path for our good," she said. "They were just so good to us."
MEDIA CONTACT: Elizabeth Adams, elizabethadams@uky.edu