Wilmore Teen is Back in the Game after Life-Threatening Illness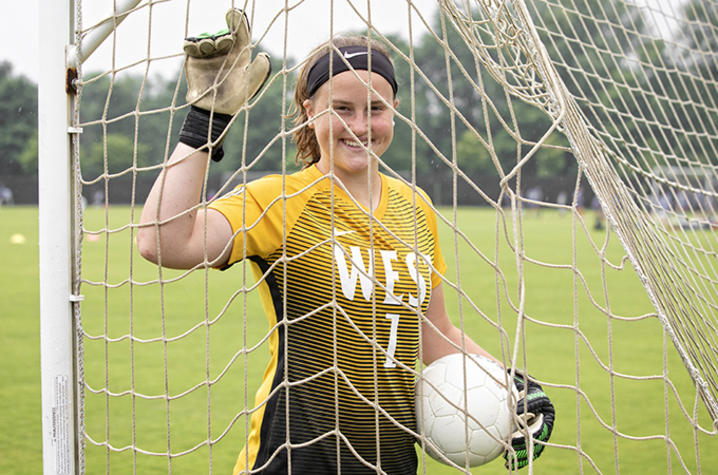 LEXINGTON, Ky. (June 11, 2019) – Sixteen-year-old Anna Rexford is a winner. Not only is she the goalkeeper for the two-time state champions West Jessamine High School girls' soccer team, Anna was named MVP for the tournament two years in a row. After her first season at West Jessamine, she committed to playing for University of Cincinnati and is a contender to play in the Allstate All-America Cup this summer. Clearly, Anna is at the top of her game. But just three short years ago, a harrowing illness made her future uncertain.
In July 2016, Anna and her mother Tracy went on a week-long mission trip to Haiti. Tracy is a nurse, and the two spent the week doing health screenings and nutrition programs for children. Anna played with the local children nonstop during that week, challenging them to soccer and leading them in games.
"She gave 110 percent," said Tracy. "She was always with the kids, playing and giving her whole heart to them."
Within hours of returning home to Wilmore, Anna began to feel unwell. She had pounding headache and her whole body hurt. Her mother took her temperature. It was a staggering 106.8 degrees.
"I knew, as a nurse, that was almost incompatible with life and that we needed to get help," said Tracy.
Anna was admitted to Kentucky Children's Hospital and diagnosed with a rare case of four different strands of E.coli, two of which were toxic. She was showing signs of sepsis, a bacterial infection of the blood, as well as organ failure.
"There was one particular night where I didn't think she would make it," said Tracy. "There were some confusing times, questioning God, "'God, you called a 14-year-old passionate Christian to go and serve, and you want to end it like this? You want to end it where she dies?'"
Cori Morgan was one of Anna's nurses at KCH.
"I was very concerned because of the deteriorated state she was in."
E. coli, or escherichia coli, bacteria live in the intestines of healthy people and animals. There are many different strains of the bacteria, some more harmful than others. They can be transmitted through undercooked food, contaminated water and personal contact with people. Most strains of E.coli result in a few days of stomach discomfort. But other strains can produce shinga toxin, one of the most potent bacterial toxins known.
"Each individual infection she had is incredibly common, but to have so many different types of E.coli infections at the same time is quite rare," said Dr. Sean McTigue, medical director for Pediatric Infection Prevention and Control at KCH. "It likely points towards her having been exposed to a heavily contaminated water source while abroad."
"I see pictures now and I think, that is not me, that is not my face," said Anna. "How did I look that sick? It was not possible."
Anna was severely dehydrated. Her fever hovered around 103 degrees and wouldn't go down. Her heart rate was high and blood pressure low. But toxic bacterium were no match for Anna's spirit and determination.
"As a nurse, you look at people holistically; mind, body and spirit. If you look at just the body, there was just no way she could recover from this," said Morgan. "I don't think I've ever seen someone so determined to fight."
Slowly, with antibiotics and fluid resuscitation, Anna recovered.
After more than a week in the hospital, she was discharged. Not allowed to return to soccer right away, she worked on her own to improve her stamina and skills. She missed most of the regular season, but her hard work paid off. Her coach said she would be the goalkeeper for the postseason tournament.
"My coaches and teammates had worked so hard to get to this point, and I didn't want to let them down," said Anna. "I want to be the best that I can be."
Anna's team, the West Jessamine Colts, went on to win the state championship that year. Anna was named MVP.
"After all she had been through, and then going with her team to the state championship, to hear her name called as the MVP, it was a recognition of what she had overcome," said Anna's father Brandon. "It was powerful."
The Colts repeated their success the next year, becoming two-time state champions. And once again, Anna was named MVP of the championship.
Anna is about to begin her final year at West Jessamine. Already committed to playing for the University of Cincinnati, she has a bright future, determination and boundless passion.
"I was impressed with Anna," said Morgan. "Her ability to keep pressures up on her own with only fluid resuscitation and antibiotics was absolutely incredible and wasn't likely. She pushed herself constantly. She was determined to be back where she was. I didn't think there was a chance of it, but she proved us wrong."
UK is the University for Kentucky. At UK, we are educating more students, treating more patients with complex illnesses and conducting more research and service than at any time in our 150-year history. To read more about the UK story and how you can support continued investment in your university and the Commonwealth, go to: uky.edu/uk4ky. #uk4ky #seeblue