UK Oboist Invited to Perform at Moab Music Festival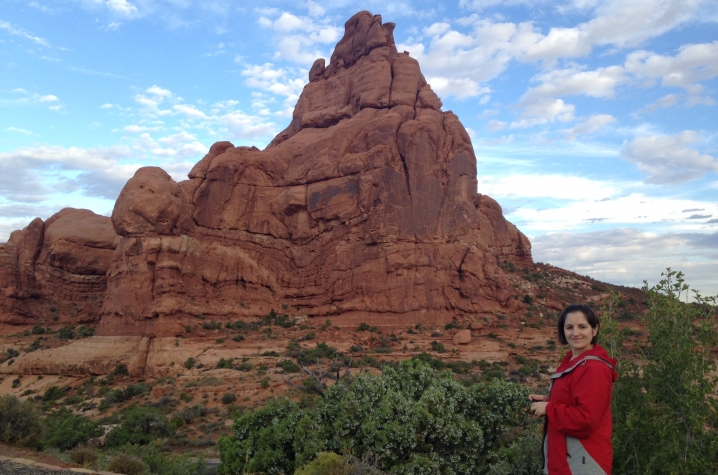 LEXINGTON, Ky. (Sept. 3, 2015) — ToniMarie Marchioni, assistant professor of oboe at the University of Kentucky School of Music, has been invited to perform at the award-winning Moab Music Festival in Moab, Utah. Marchioni's concerts will run Sept. 3-6 during the festival's 12-day run.
Every September, the Moab Music Festival brings world-class musicians to Moab's red rock venues for a feast of chamber music, jazz and traditional music concerts. The festival describes the experience as "music in concert with the landscape," celebrating old and new chamber music, jazz with a Latin flavor, and traditional music from around the globe.
Marchioni's first performance will be as part of "Grotto Concert I" opening the festival at noon Thursday, Sept. 3. The Grotto concerts are the festival's signature events. They celebrate music in concert with the landscape by combining the beauty of music with the area's scenic wonders. A 45-minute jet boat ride down the Colorado River brings the audience to "nature's concert hall," a pristine, acoustically perfect wilderness grotto carved from the surrounding red rock walls. As part of this concert, Marchioni will present a solo performance of Robert Schumann's "Romances" (Op. 94).
The following day, Marchioni will perform in the "From Words to Music" concert 7 p.m. Friday, Sept. 4. This concert explores the written word as a wellspring for great music. While some pieces evoke emotion or mood, transforming the written word into sound, others highlight storytelling, combining music with the spoken word. Composer-in-Residence Harold Meltzer's new work "Kreisleriana" aims to turn history on its ear by referring to the great violinist Fritz Kreisler, not the Robert Schumann masterpiece.
On Saturday, Marchioni will play for the first of two hike-related concerts presented as part of the Moab Music Festival. "Music Hike I" begins 9 a.m. Sept. 5. At this concert, hikers come together to travel to a wilderness location ideal for acoustic music.
Marchioni's last performance will be as part of "What the Heck is that? (Cruel and Unusual Instruments)," a concert that explores forgotten stepchildren of the family of musical instruments. The theremin, the continuum, the hurdy-gurdy, the waterphone, the phono-fiddle, and the nose flute make appearances as the artists shine a light on the strange beauty, and odd careers of these little known instruments. This concert begins 6 p.m. Sunday, Sept. 6.
With performances praised as "excellent" and "elegantly rendered" by the New York Times, oboist Marchioni has performed in Europe, South America, Asia and throughout the United States. She is member of the IRIS Orchestra (Memphis, Tennessee) and Decoda (New York, New York) as well as a recent alumna of The Academy/Ensemble ACJW, a groundbreaking new initiative combining chamber music performance, arts advocacy, leadership and teaching artistry. 
Marchioni has appeared with the National Symphony, New Jersey Symphony, Atlanta Symphony, Peoria Symphony, Harrisburg Symphony, Georgia Woodwind Quintet, New Juilliard Ensemble, AXIOM and the internationally acclaimed new music ensemble Continuum. In 2010, she performed the Bohuslav Martinů Oboe Concerto with the Orquesta Philarmónica del Ecuador, marking the Ecuadorian premiere of the work, and only the second time it had been played in South America. In 2008, she gave the United States premiere of Jonathan Harvey's concerto "Sprechgesang for Oboe and English Horn" with the New Juilliard Ensemble.
In chamber music, Marchioni has collaborated with members of the Chamber Music Society of Lincoln Center, New York Philharmonic and Paris Conservatoire. She participated in the Aspen and Castleton festivals, among others, and has worked with conductors such as Sir Simon Rattle, Christoph Eschenbach, Lorin Maazel, David Robertson, James DePreist and Michael Tilson Thomas. As an advocate of contemporary music, she works directly with composers whenever possible, including Samuel Adler, Virko Baley, Anthony Cheung, Carson Cooman, Ryan Gallagher, Jeremy Gill, Huang Ruo and Derrick Wang.
Marchioni is also a dedicated teacher and advocate for arts education, joining the UK School of Music faculty in 2013. She has previously taught with Sinfonia Por La Vida (Ecuador), an organization dedicated to social inclusion through music, and has held faculty positions at the University of Georgia, Las Vegas Music Festival, and the American Festival for the Arts (Houston, Texas). As a fellow in The Academy, she participated in a two-year teaching residency with the New York Department of Education, working closely with middle school band students at MS 158 in Bayside, Queens.
Marchioni's performances and interviews have been broadcast nationally: as a chamber musician on KUHF's "The Front Row," as a featured soloist on the NPR/PRI radio program "From the Top," as an orchestral musician on NPR's "Performance Today" and PBS's "Live from Lincoln Center" and as a "castaway" on WITF's regional program "Desert Island Discs." In 2013, she presented a lecture at the International Double Reed Society conference on Ryan Gallagher's monumental new oboe quartet, commissioned for and championed by Ensemble ACJW. Also an avid writer, she is a frequent contributor to the Juilliard Journal and has been published in Carnegie Hall's Playbill as a featured writer and program note annotator. 
A native of Mechanicsburg, Pennsylvania, Marchioni holds a bachelor's degree from Harvard University and master's and doctoral degrees from The Juilliard School. Her teachers include Elaine Douvas, Eugene Izotov, Pedro Diaz and Mark McEwen.
The UK School of Music at the UK College of Fine Arts has garnered a national reputation for high-caliber education in opera, choral and instrumental music performance, as well as music education, composition, and theory and music history.
MEDIA CONTACT: Whitney Hale, 859-257-8716; whitney.hale@uky.edu