Two New Exhibitions to Open at UK Art Museum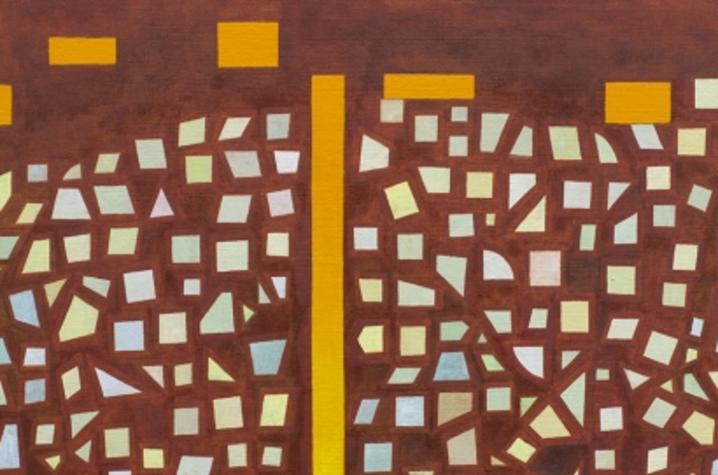 LEXINGTON, Ky. (May 17, 2017) — Two new exhibitions featuring the work of internationally recognized artists from New York and Kentucky will be on display May 20-Aug. 20, at the University of Kentucky Art Museum. The exhibitions, showcasing the work of painter Thomas Nozkowski and photographer Frank Döring, are free and open to the public.
"THOMAS NOZKOWSKI: Touchstones"
Thomas Nozkowski is an acclaimed New York painter known for his modestly scaled abstract works that feature suggestive shapes and richly textured surfaces. He is a consummate practitioner of a centuries-old tradition, reveling in what oil paint can do, and embracing the process of creating figures and grounds, altering them and adjusting their relationship until the final strokes. His work possesses a startling freshness, despite the extended periods of time necessary to create them. 
For this exhibition, the UK Art Museum asked the artist to pair several of his paintings and drawings with objects from the museum's permanent collection, giving him a chance to tease out aspects of inspiration and affinity, thus creating a gallery filled with various "calls and responses." He has selected, among other things, an Amish quilt, a Ch'ing Dynasty jade carving, and realistic or abstract artworks by Milton Avery, Stuart Davis, Albrecht Dürer, Paul Gauguin, Morris Graves and James Rosenquist.
Nozkowski paintings have been featured in more than 300 museum and gallery exhibitions worldwide, including more than 70 solo shows. His work is in the permanent collections of Brooklyn Museum, The Metropolitan Museum of Art, The Morgan Library & Museum, and The Museum of Modern Art in New York, The Phillips Collection, Hirshhorn Museum and Sculpture Garden, and Smithsonian American Art Museum in Washington, D.C., and many others.
"FRANK DÖRING: I Would Redesign That Udder"
Frank Döring finds a microcosm of the human ­­­— and animal — condition at the state and county fairs that take place all summer long within a day's drive of his Lexington home. "There is skill and knowledge to appreciate (including sage advice on breeding prettier udders), there is courage, strength, joy and hilarity; there is pain, exhaustion and disappointment," said the artist.
Agricultural fairs draw more visitors than major league baseball games annually. Yet, unlike the long tradition of street photography in big cities, there has been little serious examination of these rural events that celebrate the way of life in farming communities. With great empathy and the occasional tongue in cheek, Döring has been photographing the champion steers, greased piglets, sheep rodeos and garish midways since 2011.
German-born Döring came to the United States to earn a doctoral degree in philosophy at Princeton University. He worked as a cognitive science researcher at the École Polytechnique in Paris, France, and a philosophy professor at Johns Hopkins University and University of Cincinnati. Döring gave up academia for photography to reach a wider and more diverse audience.
Döring has also been working on a series of roadside views in Kentucky and surrounding states and has photographed a wide variety of landscape and architectural subjects. Recent exhibitions of his work include environmental studies of sculpture in Berlin, shown at the San Francisco International Airport; UK College of Design studies of a retired power plant in Henderson, Kentucky, shown at the International Architecture Biennale Rotterdam, in the Netherlands; and images of coal mining reclamation in Germany at Institute 193 in Lexington. His photographic mural "Blades," made with Joel Feldman, is currently on view at 21C Museum Hotel in Lexington.
People can hear more from Döring himself this June. The museum will host Döring for an Artist Conversation with curator Janie Welker 6:30 p.m. Friday, June 9. The event is free and open to the public.
The UK Art Museum, located in the Singletary Center for the Arts at Rose Street and Euclid Avenue, is open 10 a.m. to 5 p.m. Tuesday through Thursday, 10 a.m. to 8 p.m. on Friday, and noon to 5 p.m. on Saturday and Sunday. Admission is free but donations are encouraged. For more information on membership, contact Lyndi VanDeursen at 859-257-8164 or lyndi.vandeursen@uky.edu.
The mission of the UK Art Museum, part of the UK College of Fine Arts, is to promote the understanding and appreciation of art to enhance the quality of life for people of Kentucky through collecting, exhibiting, preserving and interpreting outstanding works of visual art from all cultures. Home to a collection of more than 4,800 objects including American and European paintings, drawings, photographs, prints and sculpture, the Art Museum at UK presents both special exhibitions and shows of work from its permanent collection.