UK Design's 'River Cities' Selected for International Exhibit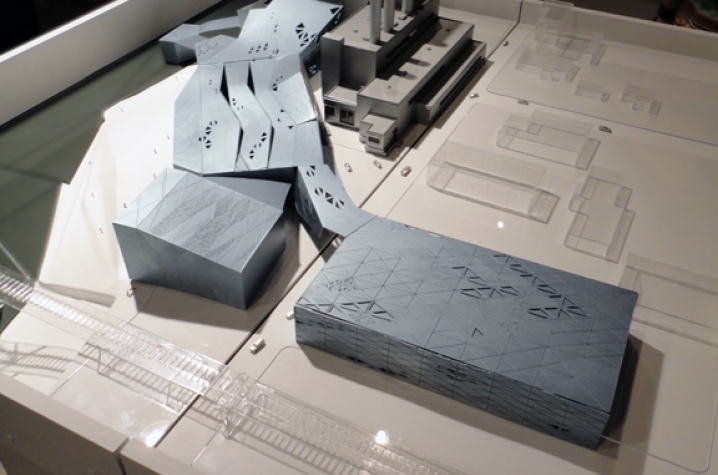 LEXINGTON, Ky. (May 17, 2011) − The University of Kentucky College of Design project, "Kentucky River Cities: Louisville, Paducah, Henderson," will be included as a "CounterSite" in the fifth International Architecture Biennale Rotterdam (IABR), to be presented April through August 2012, in the Netherlands.
"Kentucky River Cities" focuses on the redevelopment of Kentucky cities located on the Ohio River. Shipping and manufacturing were the economic engines for this region's economic prominence from the late 18th to early 20th centuries. However, due to global economic transformations and restructuring, this region entered a period of decline that has only worsened with the recent economic downturn. This has led to record unemployment, smaller tax bases for county and city government, and increased youth flight.
To address the problems of economic decline and job loss in this region, the UK College of Design developed partnerships with local municipalities. Given the complexity and comprehensive nature of the problems facing small cities and counties coupled with their limited resources, partnerships were also formed with private, citizen-led development groups and other nontraditional developers.
Though all of the "Kentucky River Cities" projects can be identified as economic development projects, they are also directly concerned with energy. Kentucky is among the largest coal producing states in the United States, giving many of Kentucky's river cities significant competitive advantage. Today, however, this is changing due to the demands of developing cleaner sources of energy.
UK College of Design's project includes studio work from Louisville and Paducah, but will primarily focus on HMPL#1 (Henderson Municipal Power and Light Plant No. 1), a 65,000 square foot retired coal-fired power plant, located in downtown Henderson, Ky. A comprehensive catalog of all the "Kentucky River Cities" projects will be published for the April 2012 exhibition.
Under the title "Making City," the IABR hopes to address the opportunities presented by worldwide urbanization. In just a few decades cities will contain 80 percent of the world's population, 90 percent of global economic wealth and cover less than 3 percent of the earth's surface. Urbanization is forcing the world to rethink the way we govern, plan and design cities. The IABR is responding to this urban growth by creating alliances with urban planners, scientists, businesses, developers, curators and local administrators. These collaborators will explore "city making" through projects in three cities: Rotterdam, São Paulo and Istanbul. Their work will culminate in presentations, exhibitions, lectures and debates in the 2012 biennale in Rotterdam. 
In addition to these events, innovative projects from around the world will be presented in the IABR's "CounterSite" exhibition. This particular part of the biennale showcases a series of completed, ongoing or planned processes and projects which share the event's objective of rethinking the existing relationship between (urban) politics, planning and design. In doing so, "Making City" aims to provide a platform for a broader exchange and a shared development of knowledge between politicians, planning services and agencies, researchers, designers and other parties. As a "CounterSite," "Kentucky River Cities" will also be featured in the IABR catalogue.
MEDIA CONTACT: Whitney Hale, (859) 257-1754 ext. 229; Whitney.Hale@uky.edu