WUKY Gallery Hosts Premiere Exhibit by Lexington Artist Susan Stempel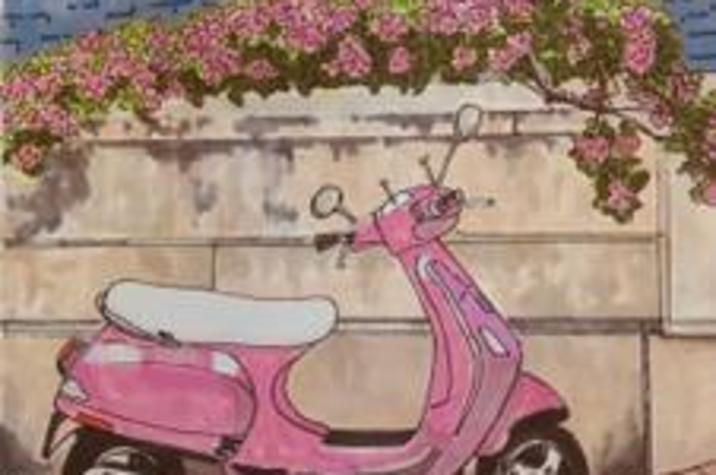 LEXINGTON, Ky. (May 30, 2019) — WUKY, the University of Kentucky's National Public Radio station, is hosting an open house and 50-piece exhibit for the debut of local artist Susan Stempel 5 -7 p.m. Friday, May 31, in the new WUKY Gallery, located at the radio station's new studio at 2640 Spurr Road, Lexington.
Stempel studied art at UK and served as the editor for a UK research magazine until her retirement. Her work encompasses imagery of fashion, landscape, architecture, animals, flowers, fruits and vegetables.
The free WUKY Gallery is open to the public 10 a.m. through 4 p.m. Monday through Friday. Escorted tours of the gallery plus the WUKY recording studio are also available; call 859-257-3221 for more information or to schedule a tour. Free parking is available for gallery visitors in the WUKY parking area.
Regarding her art, much of which is done in pen and ink, Stempel said, "My subjects range quite a bit, but a similarity in colors, shapes and lines reflect my outlook that beauty and fun are with us in so many things. One only has to look for them." 
Stempel is among the first artists to show at Lexington's newest art gallery. The WUKY Gallery was created from "a great expanse of unused wall space … that in the future will display other works by other local artists," said Robert T. Hansel, WUKY's membership manager.
"Not only does WUKY strive to introduce you to local musical artists, but (local) visual artists, as well. Eventually, we'll have a rotating gallery of local artists' works. We intend to make the WUKY Gallery one of Lexington's local arts destinations," Hansel said.
WUKY is a community-supported service of the University of Kentucky, which provides high-quality news, cultural and entertainment content through the use of existing and emerging media to create a more informed and engaged community.