25th Annual Big Blue Crush Blood Drive Underway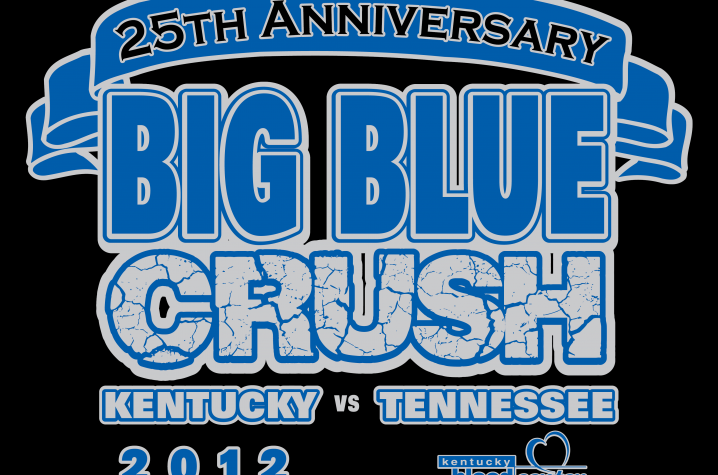 LEXINGTON, Ky. (Nov. 12, 2012) ― For 25 years, Kentuckians have been bleeding blue and saving lives during Big Blue Crush. This year, the annual blood battle between Kentucky and Tennessee football fans is Nov. 12-16 and fans are urged to donate and continue the winning tradition.
"It's not about a game. It's about life," said William Reed, president and CEO of Kentucky Blood Center (KBC). "Blood collected during Crush in both Kentucky and Tennessee will ensure we have enough blood on our shelves during the holidays for all the hospitals and patients that both of our blood centers serve.
"We know Kentucky donors love their Wildcats, and this is a great opportunity for them to prove it ― and beating Tennessee in the blood battle is always a nice bonus," Reed said.
Donors will receive a short-sleeve, black, commemorative Big Blue Crush T-shirt, a coupon for a free McDonald's McCafe' beverage, a Bleed Blue wristband and a chance to win daily prizes.
KBC has donor centers in Lexington, Pikeville and Somerset, and the city leaders in all three communities have proclaimed Nov. 12-16 as Big Blue Crush Week.
Kentucky Blood Center donors have claimed the Crush trophy the past two years, but Tennessee leads the competition 12 to 11 with 1 tie. Last year more than 3,200 Kentucky donors gave blood. This year, KBC officials hope to see 3,500.
To schedule a donation or to find a donation location, visit www.kybloodcenter.org or call (800) 775-2522.
Blood donors must have a photo I.D., be 17 years old (16 with parental consent), weigh at least 110 pounds, be in general good health and meet additional requirements. Sixteen-year-old donors must have a signed parental permission slip, which can be found at kybloodcenter.org.  
KBC, the largest FDA regulated blood bank in Kentucky, is a nonprofit organization dedicated to ensuring a safe, adequate blood supply for patients at nearly 70 Kentucky hospitals and clinics in more than 60 counties. KBC relies on volunteers to donate 400 pints of blood per day to meet area patients' needs. Over the last year, KBC distributed nearly 130,000 blood components.