Alumni Association to Establish New Campus Landmark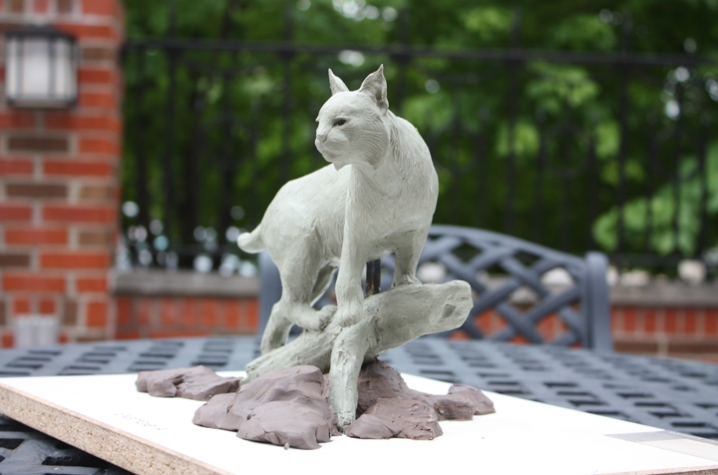 LEXINGTON, Ky. (June 30, 2011) − The University of Kentucky Alumni Association has announced plans for the creation of a new campus landmark to debut in the spring of 2012. A bronze wildcat sculpture will be the focal point of the new Wildcat Alumni Plaza, to be located in the area currently referred to as Memorial Gardens/Flag Plaza across Avenue of Champions from Memorial Coliseum.
The location of the sculpture will be completely renovated in order to look natural, exhibiting Kentucky rocks and seating areas. The space will have hearty, robust, low-growing vegetation, and will feature a turnoff for people to stop and take photographs. The area is a high visibility region that allows easy access for both walking and vehicle traffic, and will be a place where many memorable photographs can be taken connecting students, alumni, and families to UK.
The Alumni Association formed a committee of representatives of the association, the student body, Student Affairs, Purchasing and Athletics as well as a UK architect, an outside architect, and Alumni Association staff and officers to create a design for the Wildcat Alumni Plaza. The Alumni Association Board of Directors has approved $300,000 to cover the full cost of the project.
Stan Key, executive director of Alumni Affairs and director of the UK Alumni Association says, "We are excited to move forward with plans to create this new symbol of tradition that has been embraced by students, alumni and other university representatives. The bronze sculpture of our university's mascot, the Wildcat, and likewise the Wildcat Alumni Plaza, will be a campus landmark where students and alumni can gather to show pride in the University of Kentucky for years to come."
After requesting proposals from artists for the wildcat sculpture, artist Matthew Palmer was a unanimous choice based on his 20 years of experience, including his past projects of sculpting both the University of New Hampshire wildcat and the Texas State bobcat. Palmer is originally from Ohio, but now resides in Friday Harbor, Wash., and works with several elements including stone, marble, clay and bronze. The wildcat sculpture he is creating will be approximately seven feet tall, including the base, and nine feet long.
The plaza design and the contract with the sculptor is expected to be finalized soon so that work can begin, and completion is projected for April 2012.