Buy Tickets Early for Ride Home Express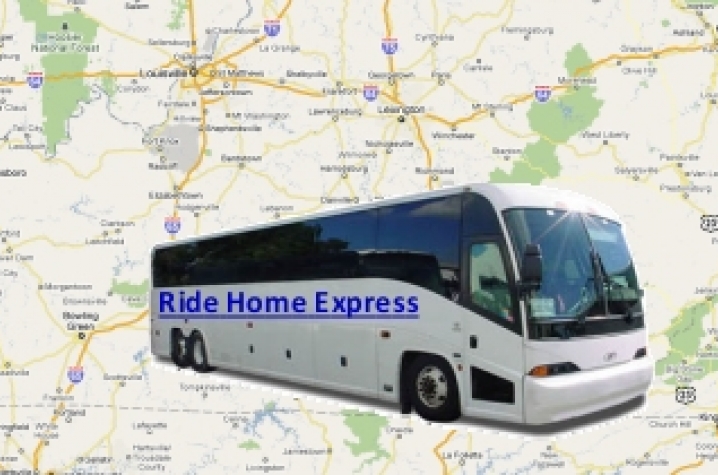 LEXINGTON, Ky. (Nov. 2, 2010) – Thanksgiving break is just around the corner. UK Parking and Transportation Services (PTS) is offering an alternative travel option for UK students and employees headed to select cities. Tickets are now on sale for the PTS Ride Home Express, an express bus service travelling to 29 cities at the start and end of each academic break. The deadline to purchase tickets for Thanksgiving travel is Wednesday, Nov. 10, while the last day to buy tickets for the winter break routes is Friday, Dec. 3.
The PTS Ride Home Express will provide reliable, comfortable and affordable transportation to and from hometowns or break destinations during the three major academic breaks. The program offers significantly cheaper fares than airlines, and faster travel times than other major bus companies.
"We are pleased to offer the Ride Home Express as a service to UK employees, students and their families," said Don Thornton, director of Parking & Transportation Services. "The shuttles provide an alternative for those without cars on campus, as well as those who wish to avoid driving in holiday traffic or accumulating wear and tear on their vehicles."
PTS has selected eight initial routes spanning five states, based on historical student geographical information provided by UK Admissions and Registrar's Office. The final destinations include the metropolitan areas of Atlanta, GA; Charleston, WV; Chicago, IL; Cleveland, OH; Nashville, TN; Paducah, KY; Pikeville, KY and Whitesburg, KY. For individual route maps, visit www.uky.edu/Parking/transportation-ride-home-express.html.
Round-trip fares for the PTS Ride Home Express range from $39-$129, with prices varying based on the final destination. Riders can purchase tickets through the Student Center Ticket Office in person, online at http://getinvolved.uky.edu/ticketoffice/ticketInfo.html or by telephone at (859) 257-TICS (257-8427).
The motor coaches used for PTS Ride Home Express offer many amenities, including restrooms, televisions and Wi-Fi.
For more information on the Ride Home Express, including a list of ticket prices, visit the Ride Home Express page or the Ride Home Express Frequently Asked Questions.