Child Development Center of the Bluegrass Opens New Facility on UK Campus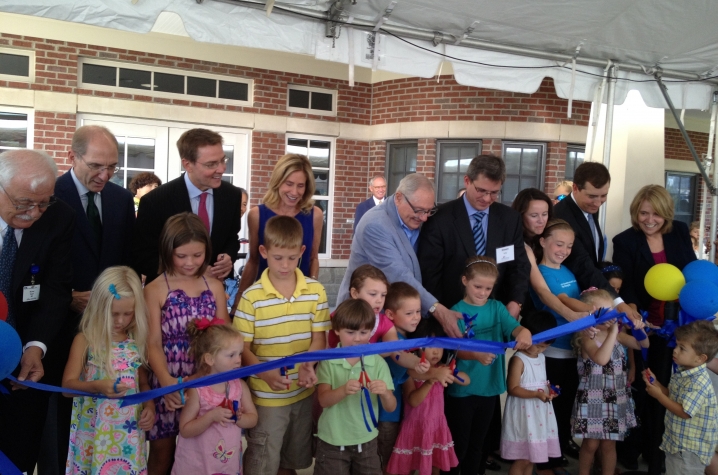 LEXINGTON, Ky. (Aug. 2, 2012) – A ribbon-cutting ceremony was held today to celebrate the opening of the new facility for the Child Development Center (CDC) of the Bluegrass located on the campus of the University of Kentucky off Alumni Drive near The Arboretum. The facility will more than triple the number of children able to be provided services.
Since 1958, Child Development Center of the Bluegrass has provided early childhood care for children with and without special needs in the Lexington area with a full-day preschool program. The new center replaces the current facility located on Springhill Drive and will help children 6 weeks of age to 5 years old. 
"This is a great day for all of us at the center, UK, and especially the children and parents who will be able to take advantage of the care and services provided in this wonderful new facility," said Warren Rosenthal, longtime CDC board member. "We are excited to be able to expand our high-quality, integrated early childhood education services and intervention program to even more children in the Bluegrass."
The new 22,000-square foot center will have a capacity for up to 168 children and will continue to be staffed and operated by CDC. The facility features many unique design elements, including 15 classrooms allowing for separation of children in an age-appropriate manner; private rooms for therapists to work with special needs children; state-of-the-art playground facilities; and a viewing room where parents can watch the interaction among their children and the teachers and therapists. The facility is also supported by an energy-efficient geothermal system.
"Lexington is a great place to live and work, and having excellent child care and early childhood services is vital to our community's present and future success," Lexington Mayor Jim Gray said.
"For UK, high-quality child care is an essential and valuable resource for recruiting and retaining faculty, staff and students and having this facility located on our campus is a great asset," said UK President Eli Capilouto. "We are also interested in exploring innovative collaborations with academic programs at UK that may benefit our undergraduate and graduate students as well as the children enrolled at the center."
The center plans to continue to be a National Association for Education of Young Children (NAEYC) accredited facility as well as Four-Star Rated in Kentucky's voluntary STARS for Kids Now quality rating system that serves children with and without special needs.
"We not only recruit top-notch physicians and researchers to become part of our UK HealthCare team but we recruit their families to live and work and become an integral part of our community," said Dr. Michael Karpf, UK executive vice president for health affairs. "Providing this opportunity for families is a resource that is welcomed and will be celebrated by current and future employees."
The Child Development Center of the Bluegrass is dedicated to ensuring that children reach their full potential by collaborating with families and community partners to create the highest quality home- and community-based therapy services as well as preschool and child care programs that benefit both children with and without special needs.
The Child Development Center will host an open house 5:30-7 p.m. Monday, Aug. 6.  For more information on the center, visit www.cdcbg.org.