Digital Village Tour Highlights BBGG Today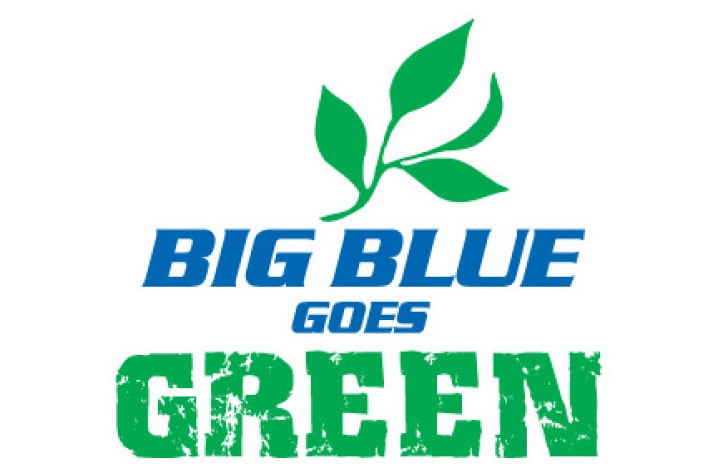 LEXINGTON, Ky. (Sept. 17, 2009) – The University of Kentucky's Digital Village takes center stage in today's offerings of Big Blue Goes Green: A Sustainability Showcase, organized and sponsored by the UK President's Sustainability Advisory Committee and the Office of the Vice President for Facilities Management.
The Digital Village features the Davis Marksbury Building, which is targeted to become UK's first LEED-certified building. The university plans to build the $18.6 million facility to house high-technology research on visualization, computer science and electrical and computer engineering as part of a complex in the Maxwell Street-Rose Street vicinity.
The building is being designed to highlight the importance of engineering for environmental issues. Construction will include the use of regional materials and materials fabricated with recycled products. In addition, the Marksbury Building is being designed to optimize energy performance, improve indoor air quality, maximize daylight harvesting and external views, and support alternate transportation, including bicycle storage and a rider changing room. The presentation, scheduled for 10-11:30 a.m. in 211 Student Center Addition, is sponsored by the UK College of Engineering, Department of Computer Science, Center for Visualization and Virtual Environments, Department of Electrical and Computer Engineering.
The UK Center for Manufacturing offers an open house featuring several events and exhibits in its laboratories to learn more about sustainable manufacturing. Scheduled 10 a.m. to  noon and 1-3 p.m. Open houses and exhibits are listed below. The event is presented by the UK College of Engineering:  Center for Manufacturing and Solar Car Team; and the Solar Decathlon: UK College of Design and UK College of Agriculture.
Machining Research Lab
Robotics Building basement, Room 9
Sustainable Lean Systems Learning Lab
Robotics Building basement, Room 10
Sustainable Manufacturing Program Overview
Robotics Building, Room 209
Solar House: students design and build house for national decathlon completion
Robotics Building, Room 220K
Manufacturing Systems and Supply Chain Research Lab
Robotics Building, Room 512B
Production and Service Systems Lab and Healthcare Systems Lab
Robotics Building, Room 520
Brazing, Soldering and Heat Exchangers Research Lab
Robotics Building, Room 510 A-B
Solar Car: Students design and build car for national competition
Engineering Courtyard
For detailed information about the two-week sustainability showcase, visit www.sustainability.uky.edu.