Interprofessional Teamwork in Global Health Prepares Students to Serve in Ecuador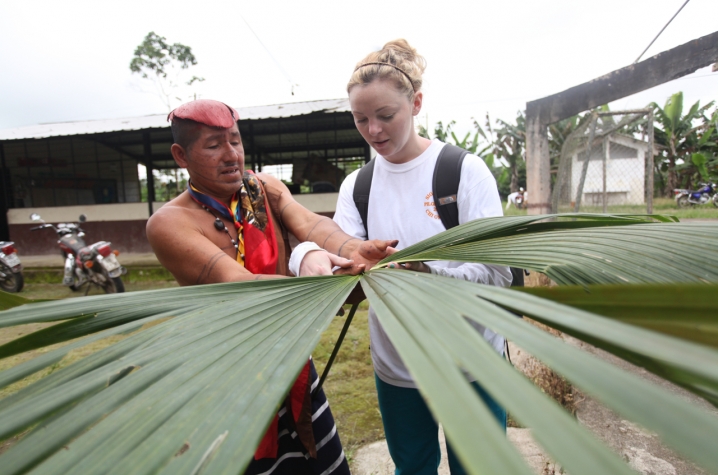 LEXINGTON, Ky. (Feb. 27, 2015) — UK students are learning to work effectively in interprofessional teams, providing health services to individuals and communities internationally.
The Interprofessional Teamwork in Global Health course is part of Shoulder to Shoulder Global's (STSG) Ecuador brigade program. STSG is a UK unit that engages multiple academic and community partners to improve the health and well-being of impoverished communities overseas.
Students who are enrolled in this course will work directly with patients and community members in Ecuador to provide care in areas such as medicine, dentistry, nursing, pharmacy, physical therapy, communication disorders and public health. Students from the College of Arts and Sciences can also take this course to utilize and improve their Spanish interpretation skills.
The course is divided into two portions: a classroom portion and a one-week brigade portion.
The classroom portion is conducted in a traditional classroom setting in which students will attend five regular-class meetings at UK, learning about Ecuador through reading materials and discussions with peers.
Students will receive one credit hour after completing the classroom portion of the course. Lynn English, associate professor and director of clinical education, said the classroom portion is necessary and beneficial for students.
"I think students feel much more relaxed about traveling to Ecuador once they have this information," English said. "Specifically they will learn background information about the community in which they will be working, some exposure to the other people with whom they will be traveling, background about Ecuador as a country and the health care systems there. It gives them more confidence entering this international service."
The brigade portion this year has been divided into three trips: March 14-22, May 15-24 and August 7-16. Students will be traveling to Santo Domingo, Ecuador to provide health services to local community.
English said STSG has established a permanent health clinic in Santo Domingo, Ecuador, where people can have access to a variety of health care services. Students will not only work at the clinic, but also visit local families and even indigenous villages in Ecuador.
From a physical therapist perspective, English said the practice of physical therapy in Ecuador is very different than it is in the U.S. because of the equipment limitations and the lack of recourses. Despite the limitations, English said the experience is valuable and unforgettable.
"It's a very rewarding experience. The families we meet are genuinely grateful and are eager to receive care," English said. "We basically teach them how to manage their health conditions, like spinal pain or knee pain, or the results of a stroke, or other neurological problems. We are educating them how to manage and trying to help them improve their health conditions."
English said people in Ecuador don't have access to much health care; the course provides an opportunity for students to learn the fundamental aspect of health service while embracing a different culture.
"If they have any interest at all in global health conditions, or experiencing another culture, and learning how to work in a team and an environment that is not very high-tech, I think it's a very rich learning experience," English said. "It takes you to the very basics of the profession which you work … and to the basics of what you can provide to people who are in need."
Paige Bordy, a third year doctorate of physical therapy student, said the brigade experience was educational and valuable.
‪"I learned how to be more creative and how to take advantage of the resources available to me," Bordy said. "I also learned how important it is for all of the medical professions to work together."
MEDIA CONTACT: Sarah Geegan, (859) 257-5365; sarah.geegan@uky.edu