Major Tree Planting Initiative Underway at UK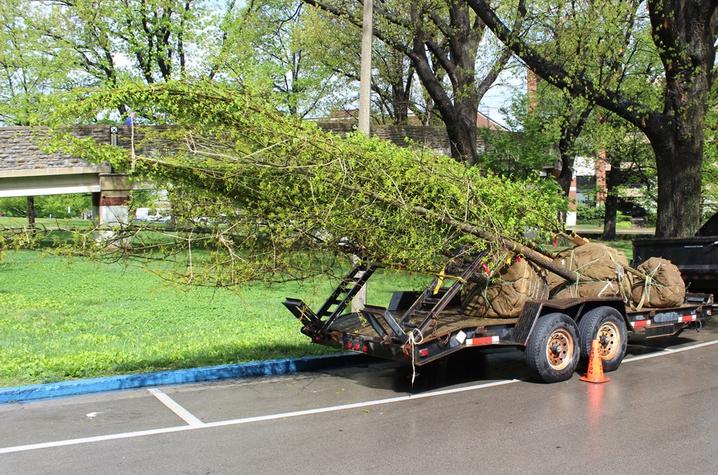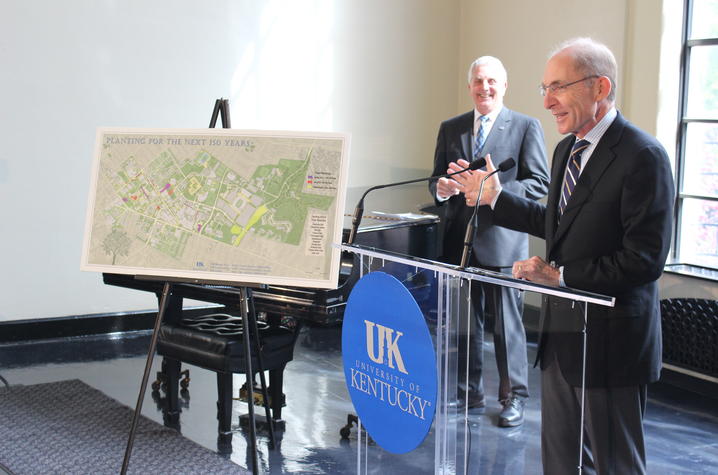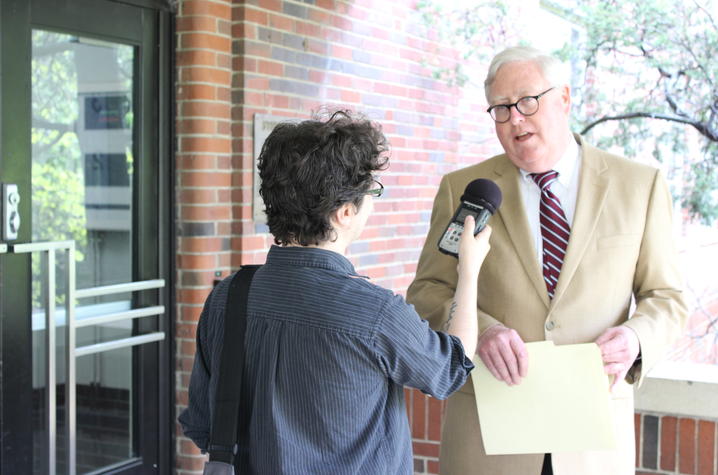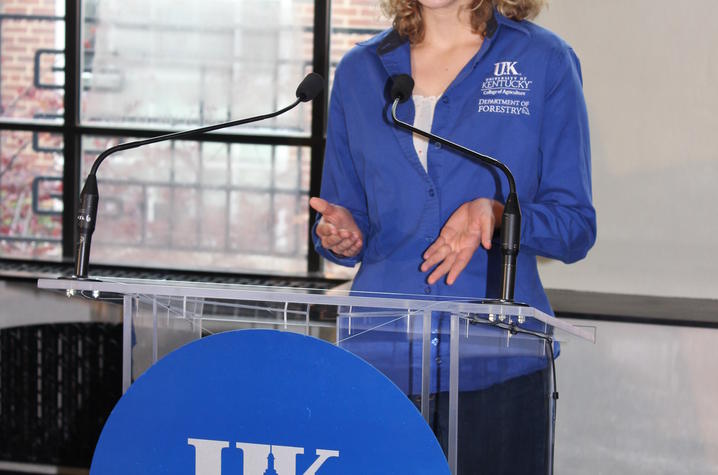 LEXINGTON, Ky. (May 1, 2014) ― Nearly 430 new trees are scheduled to be planted on the University of Kentucky campus over the next year — about half of them will be planted in key areas around campus and the others will be planted near Alumni Drive as part of a federal flood management project. UK President Eli Capilouto and Vice President for Facilities Management Bob Wiseman announced the major tree planting initiative yesterday near where a new grove of trees will be planted on the lawn in front of UK's Main Building, near South Limestone.
"The physical beauty of UK's campus is one of the many attributes that makes us an attractive place to learn and work," said President Eli Capilouto. "Inviting outdoor landscapes add a rich dynamic to a college campus – fostering collaboration among students, faculty and staff, and welcoming university visitors. This initiative will further enhance our green spaces amid Lexington's urban environment."
The project includes nearly 130 trees being planted this spring and another 80-100 this fall in 16 designated areas of enhancement throughout campus. In addition, a federal flood management project in the Alumni Drive area will include planting more than 200 trees on UK property on the south side of Alumni Drive from Nicholasville Road to the entrance to Greg Page Apartments.  These trees will be planted next spring and will afford stability along the detention areas as well as providing a park-like setting along this road.
As the university approaches its 150th anniversary year in 2015, this initiative, named "Planting for the Next 150 Years," is expected to make an impact well into the next century.
"New buildings are leading our campus transformation right now, but it's important to note that landscaping is also a large and important part of the overall plan," Wiseman said.  "With this unprecedented tree-planting effort, we are following our consultant's plans for a cohesive landscaping approach that functionally connects the campus while providing a visually pleasing outdoor environment."
The landscape design plan complements the UK Campus Master Plan, both developed by consultant Sasaki Associates.  The Landscape Design Guidelines recommend the university seek "a landscape of consistent order and unified design," guided by the following general principles:
Human connection
The experience of nature
Ecosystem benefits
Appropriateness
Aesthetic value
Use
Efficient management
The landscape design calls for 16 significant landscape enhancement areas on campus.  Among those receiving plantings in the spring and fall are:
A grove of nearly 20 trees on the north portion of the lawn in front of the Main Building
The walkway from Rose Street to the William T. Young Library (approx.12)
Walkway from Funkhouser Drive to Patterson Drive between McVey, Kastle, Pence, Grehan and Margaret I. King buildings (approx. 30)
Both sides of Avenue of Champions between Martin Luther King Boulevard and Rose Street ( between 15 and 25)
Rose Street between Rose Lane and Avenue of Champions (approx. 10)
A map of all the tree enhancement areas can be found at:  http://uknow.uky.edu/sites/default/files/treeplanting_24x44_reduced_4.pdf.  
Hannah Angel, a senior majoring in forestry and member of the UK Forestry Club, also participated in the announcement.  She said she is gratified to see UK take a role in increasing the tree canopy throughout campus.
"During my four years at UK, I have learned that the services trees provide are irreplaceable ― especially in urban settings," Angel said. "Urban trees provide shade, mitigate storm water runoff, filter harmful pollutants from the air and water, and can increase energy savings. Trees are major capital assets, and through this tree planting campaign, the University of Kentucky is making a significant investment in the future of our campus ― not only for the purpose of campus beautification, but also for the health of the university community members who work and live here."
Most of the tree species are native to Kentucky.  The species being planted this spring are:  American elm, American linden, bur oak, Chinese elm, chinquapin oak, honey locust, magnolia, shingle oak, shumard oak, swamp white oak, and tulip tree.
Planting is getting underway within the week.
Click below to listen to the announcement.
MEDIA CONTACT:  Kathy Johnson, kathy.johnson@uky.edu, 859-257-3155