NSF Selects Interdisciplinary UK Course to Encourage 'Systems Thinking for Sustainability'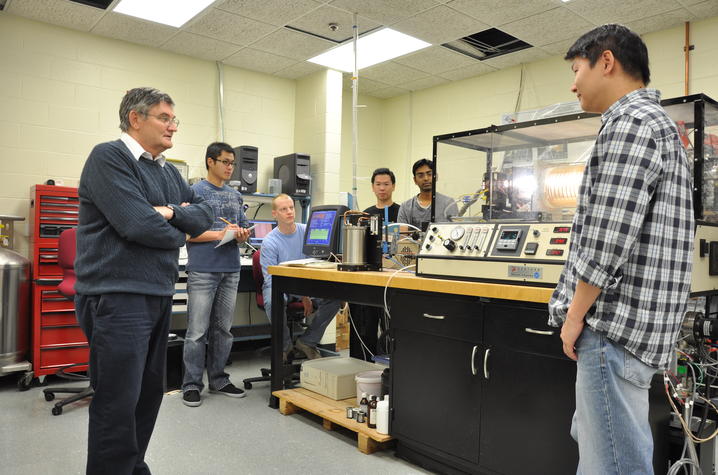 LEXINGTON, Ky. (Nov. 7, 2011) — The National Science Foundation (NSF) has selected an innovative University of Kentucky course design project for funding in its "Transforming Undergraduate Education in Science, Technology, Engineering and Math" (TUES) program.
The three-year project, "Systems Thinking for Sustainability" (STFS), will offer UK students a unique opportunity to develop projects as members of collaborative teams with colleagues from the Gatton College of Business and Economics and colleges of Engineering, Design, and Education. Together, these dynamic and interactive teams will tackle challenges involving complex systems where economic, social, and technical factors interact, ultimately producing innovative solutions at a variety of scales. Team-taught by faculty from the four colleges, STFS will be an essential preparation to the student's senior capstone projects and other research-based inquiry.
Learning goals for STFS students (and faculty) include a better understanding of the complex cross-disciplinary socio-technical issues of sustainability, an understanding of and ability to use "systems thinking" approaches to better explore these complexities, and an enhanced ability to communicate, collaborate, and work synergistically across disciplines.
"Our hope and expectation is that learning a systems approach to solving problems in sustainability areas will help students develop the perspectives and skills they need to work together in an increasingly cross-disciplinary world where we face increasingly complex problems like the transition to sustainability," said Dusan Sekulic, principal investigator and professor in the UK Department of Mechanical Engineering.
The student-driven investigations will examine topics that impact both the university and Lexington community. Gregory Luhan, the associate dean for research at the College of Design and one of the project's co-principal investigators says, "Each term will feature an umbrella project such as 'campus living.' Within this context students will develop multiple pathways for efficiency and ecological effectiveness. While our initial goal is pedagogically driven, we anticipate that the projects studied throughout the grant will inspire change, respond to place, eliminate excess, enhance building performance, and demonstrate design excellence that will positively effect future designers and innovators across UK."
Co-principal investigators from the other areas include Leslie Vincent, assistant professor of marketing in the Gatton College, Fazleena Badurdeen, an associate professor of mechanical engineering in the College of Engineering, and Margaret Mohr-Schroeder, an assistant professor in the Science, Technology, Engineering and Math (STEM) Education department in the College of Education.
In its greatest sense, this NSF-sponsored course could serve as a multi-pronged catalyst for future interdisciplinary course development at UK and beyond. Sekulic notes that progress is already being made in one key STFS goal: to disseminate the course template for adoption elsewhere. He has already had interest from universities in the U.S. and in India and will go to Switzerland in December to discuss collaboration with the Bern University of Applied Sciences.
All of these colleges will offer the new course for the first time in the spring 2012 semester. UK juniors in the four colleges who are interested in the course should contact Sekulic for further information at (859) 257-2972 or sekulicd@engr.uky.edu. Inquiries from interested faculty are also welcome.
MEDIA CONTACT: Jenny Wells, (859) 257-5343; Jenny.Wells@uky.edu