Open the Door to the University of Kentucky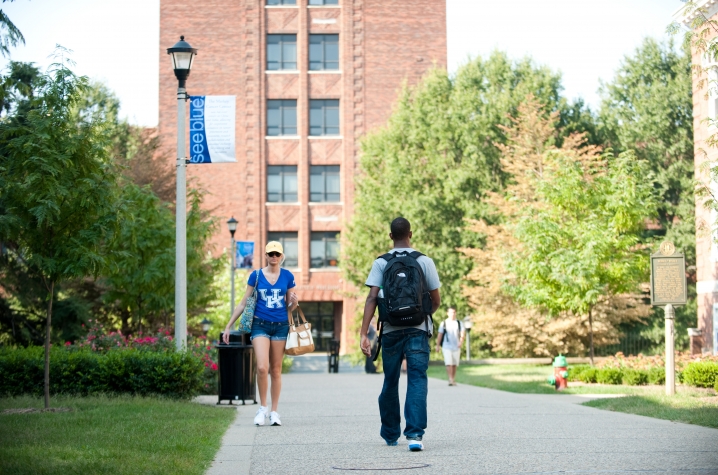 LEXINGTON, Ky. (Aug. 1, 2012) — Hopeful future Wildcats can start applying now for admission to the University of Kentucky. 
The application process starts by going to http://go.uky.edu/apply. There, prospective students may submit an application online, or download a printable PDF application. There are links for the regular UK application for undergraduate admission and The Common Application, as well as applications for international, graduate and professional students.
To apply online, prospective students must first create an account. After clicking "Apply Online," click on the link that says "Create Account." You'll need to provide an email address. Once you confirm your account, you'll be ready to start working on your application.
The application website also includes links to helpful information about financial aid, academics, planning a campus visit and taking a tour, and other resources. Should you need special assistance at any step of the way, there's also a "Contact Us" link with names, phone numbers and email addresses of admission officers, counselors, and other professionals who are here to help you on your path to becoming a Wildcat in 2013.
To better assist you through the college selection process and to provide up-to-date information on your interests and needs, the University of Kentucky has created a personalized "see blue." VIP website just for you.
Your VIP page will allow UK to better communicate with you and will provide the latest updates on your academic and extracurricular interests, as well as information on the admissions process and invitations to special events such as "see blue." Preview Nights. To become a "see blue." VIP, please select the type of admission you are seeking. You'll be asked to fill out a brief form that provides a little bit of information about yourself and your interests. Once you're set up, you'll be able to log in at any time to check out your very own VIP page.
MEDIA CONTACT: Keith Hautala, (859) 323-2396; keith.hautala@uky.edu