UK Continuing Legal Education Releases First 3-D Offering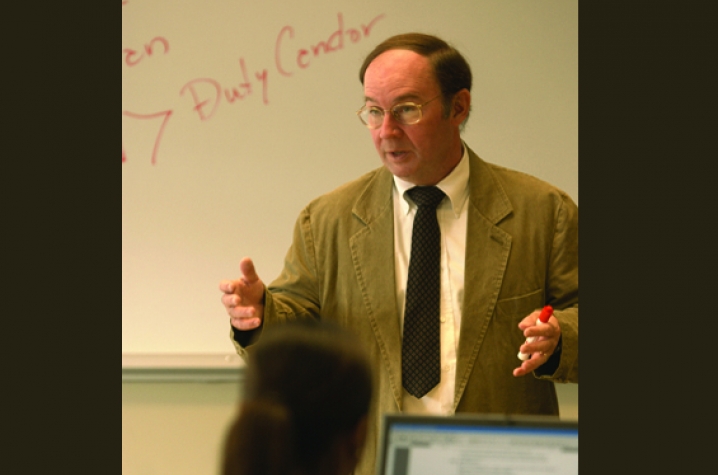 LEXINGTON, Ky. (Jan. 27, 2010) − The University of Kentucky Office of Continuing Legal Education (UK/CLE) is putting a new spin on traditional methods of educating lawyers on current topics in the law. A new product among their spring 2011 multimedia offerings purports to be the first-ever continuing legal education self-study multimedia product offered in 3-D.
"We're tremendously excited about this," said Brian Powers, technical services manager for UK/CLE. "We're adding an element of fun and novelty to continuing legal education, while continuing to provide substantive and important content."
The 3-D video, entitled "Sex with Clients in 3-D," approaches the tricky subject of the ethics of sexual relationships within the context of the attorney-client relationship. The topic is presented by Richard H. Underwood, Spears-Gilbert Professor of Law at the UK College of Law. Underwood uses special computer-generated effects and tongue-in-cheek humor to highlight ethical dilemmas for attorneys, along with an accompanying law review-style set of written materials and citations.
The video itself is presented in traditional anaglyph 3-D, meaning that viewers wear glasses with red- and cyan-colored lenses to simulate stereoscopic vision. Purchasers of the product will be mailed a set of these glasses to view the program. The program is a combination of live video and computer-generated animation, utilizing some of the same software and techniques behind some of Hollywood's biggest blockbusters. This program also signals the start of an expanded technical program at UK/CLE that will soon introduce self-study video programs for platforms such as the iPad, iPhone and Android OS phones.
The program "Sex with Clients in 3-D" is available as streaming video, and has been approved by the Kentucky Bar Association for 0.5 hours of CLE and ethics credit. The cost of the program is $60. It can be ordered by downloading the order form on the UK/CLE website. For more information on this and other UK/CLE multimedia offerings, live courses and publications, please visit the UK/CLE website at www.ukcle.com.