UK Rewarded by HP for 'Amazing' Fans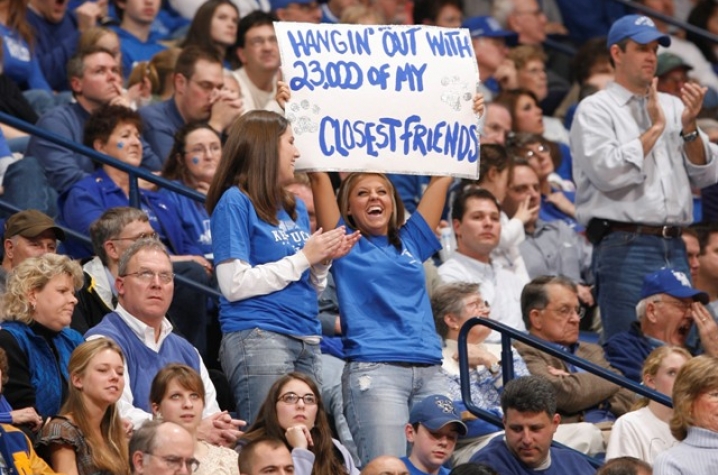 LEXINGTON, Ky. (Dec. 10, 2010) — Big Blue Nation prides itself on having the best fans in college sports. So when Hewlett-Packard Co. (HP) and ESPN launched the Amazing 16 contest during March Madness to find which school in the Sweet 16 had the most enthusiastic fans, Wildcats stepped up to the challenge and won $100,000 for the University.
Beginning March 22, fans were encouraged to upload pictures, videos and post messages on their team's board. Schools were paired against each other based on the NCAA men's basketball tournament brackets. Every few days, the school with the most uploads and posts advanced to the next round. To win, Kentucky fans defeated fans from Cornell University, the University of Washington, Duke University and the Ohio State University in the championship round to bring the $100,000 prize to the Bluegrass.
"We've always known that the Big Blue Nation was something special," Jay Blanton, executive director of UK Public Relations and Marketing, said. "But now there is national recognition that we have the best fans in the country. At the same time, that fan fervor is being channeled into a great cause with this donation of $100,000 from HP, which will go to scholarships and student needs. It's yet another great example of the partnership that can and should occur between academics and athletics."
At this weekend's UK versus Indiana University men's basketball game, Scott Van Pelt, ESPN anchor and spokesperson for the Amazing 16 contest, will be on hand with Chris Curtin, Vice President of Digital Strategy, HP, to present UK the prize.
"HP is thrilled to reward the fans that brought home this victory by contributing to UK's scholarship fund. By rallying their support online, Kentucky fans used the power of social networks to help students directly," said Curtin.
The HP award will be used to support the President's Scholarship Initiative (PSI). UK unveiled the President's Scholarship Initiative on Feb. 13, 2010, during ESPN GameDay. With the theme, "See Blue. Make a Difference," the fundraising initiative is designed to ensure a UK education remains accessible to all Kentuckians.