Video Shows Future of New $175 Million UK Student Center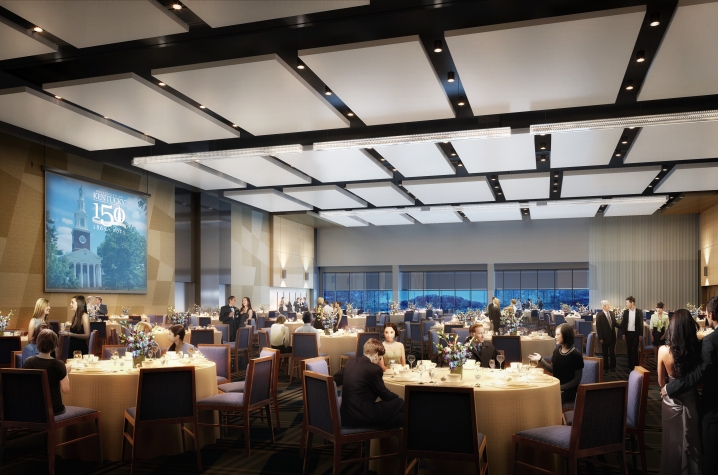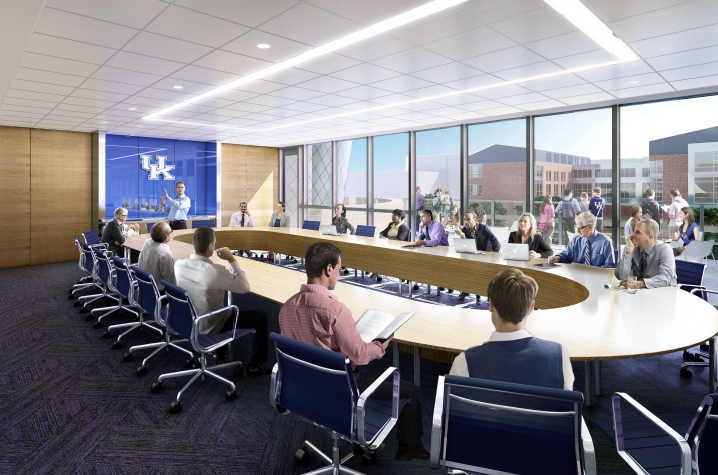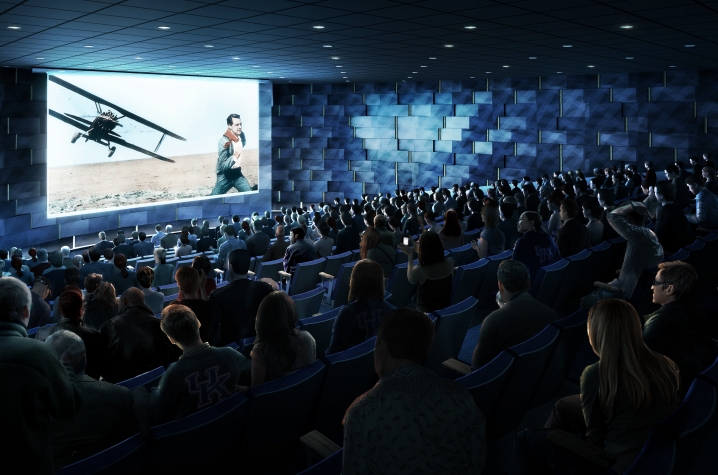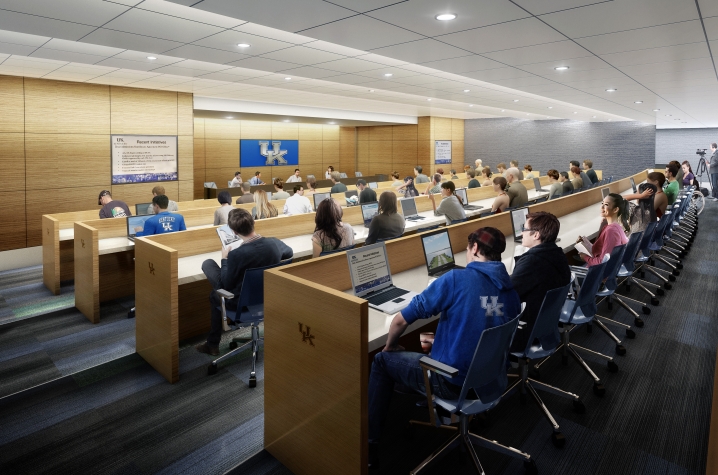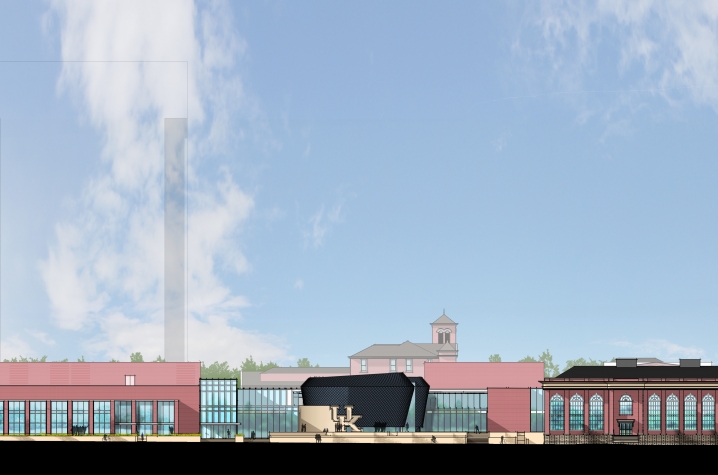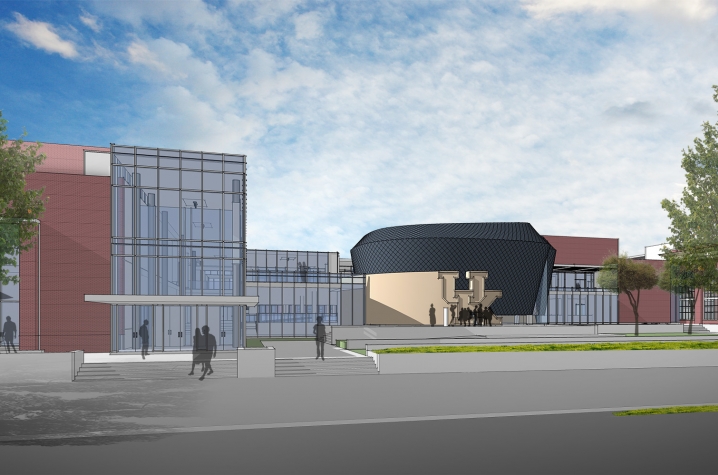 LEXINGTON, Ky.  (Sept. 15, 2015) — The University of Kentucky has released a video depicting the future of the UK Student Center.
The UK Student Center is a $175 million, 360,000-square-foot building designed to be the heart of the university community. With a dedicated student organization space, Visitor Center, Martin Luther King Center, Blue Box Theater, Senate chambers, a social staircase, residential and retail dining, outdoor social spaces, a 650-seat Cinema, two large multi-use ballrooms, and a fitness complex, the UK Student Center will serve as the 'living room' of campus.
"We are committed to creating a Student Center that does just that: provides a community-gathering venue that serves as a welcoming respite for our students, faculty, staff, and visitors," said Eric Monday, executive vice president of finance and administration.
The video displays all these services in graphic design animation.
Dedicated Student Org Space.  Students said they want more space for their student organization offices — spaces like the Center for Community Outreach, the Student Activities Board and Student Government. The new Student Center will provide a dedicated area for these offices, with more space than the previous facility. 
Visitor Center. A beautiful new Visitor Center will be located off of the skywalk leading from Parking Structure #5, allowing prospective students and families to enter this area immediately when they arrive on our campus. The plan is that prospective students will look around as they enter the building and say "wow…this is where I need to be."
Martin Luther King Center. The Martin Luther King Center will be located at the heart of the building. It will house cultural heritage information, program and educational support functions, as well as social and cultural development areas.
Blue Box Theater. A 250 variable seat "Blue Box Theater" will be equipped with state of the art technology, making it flexible for all kinds of performances from recitals, to concerts, to experimental theater and performance art, to dinner theaters.  It will be a remarkable and innovative space.
Senate Chambers. An 80+ seat, high-tech senate chamber, equipped with video technology, roll-call voting and individual microphones will create an ideal space for Student Government functions and University Senate meetings, among other events.
Social Staircase. Located in the center of the building and inspired by the limestone creek and riverbeds, a huge social staircase will serve as an ideal space to see and be seen in the Student Center. This staircase will allow students to socialize, relax and converse in this area. The contours will resemble the bed of a "river of knowledge" flowing through the building.
Residential and Retail Dining. The residential dining area will accommodate more than 600 people, and will provide a large fresh food area. Retail dining options like Subway, Chick-fil-A, Panda Express, Greens to Go, Starbucks and other favorites will also be included.
Outdoor Social Spaces.  On all sides of the new and reimagined Student Center there will be outdoor social spaces for dining, informal programs, and socializing.  The outdoor spaces will interact seamlessly with space inside the Student Center in a very transparent way, so the outside becomes an active part of the Student Center.
Fitness Complex. Alumni Gym will be completely rebuilt inside the historic walls of the facility.  It will house cardio equipment, group fitness rooms, free weights, and other state-of-the-art fitness equipment.  Staff will be available to assist with health, wellness and exercise program planning and execution.
Carol Martin "Bill" Gatton, UK benefactor and Board of Trustees member, donated $20 million to the student center project in 2014, the single largest gift in UK's history.
"I am a son of Kentucky, and I believe deeply in higher education," Gatton said. "I believe deeply in what this university — the University of Kentucky — means to my native state. By investing in the students at the University of Kentucky, I am investing in Kentucky's future."
Planning and construction of the new UK Student Center began in summer 2014, and is expected to be completed by January 2018. Today, the final phase of demolition to the 1963 addition begins; however, the university is committed to preserving historic parts of the original student center, such as the entrance to Alumni Gym (as seen in the video), and honoring past student leaders on campus through artwork within the facility.
"This is a truly exciting time for UK students, and the entire University of Kentucky community," said John Herbst, executive director of the Student Center.  "This major transformation of the UK Student Center will enhance the quality of student life in ways never before imagined.  The facility will set a new standard in building a university-centered learning environment and sense of UK pride in community building. It will become the legacy of current students for future generations of Wildcats decades into the future.  We hope you enjoy this video glimpse into the future!"
Currently, the UK Student Center services have been relocated to other areas on campus, such as dining and student services in Bowman's Den, the temporary Bookstore on Lexington Avenue behind the Joe Craft Center and student center offices in Blazer Hall. Click here for a full list of relocated services.
For updates on the Student Center renovation, visit http://www.uky.edu/studentcenter/renovation.
MEDIA CONTACT: Sarah Geegan, (859) 257-5365; sarah.geegan@uky.edu