Walk [UK] Pedestrian Signs Support Mobility, Health and Wellness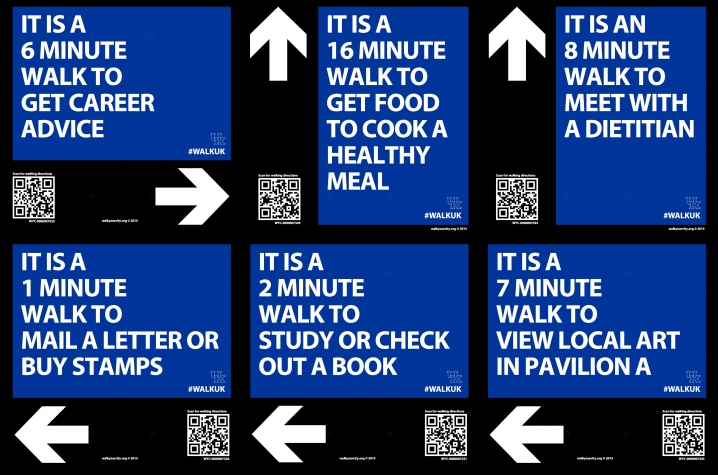 LEXINGTON, Ky. (Oct. 21, 2015) — This week, the University of Kentucky installed more than 70 pedestrian signs on and around campus as part of Walk [UK], a collaboration with civic startup Walk [Your City].
Signs show the distance in minutes to on- and off-campus destinations that may be closer than students, staff and visitors realize, with a focus on the Euclid Avenue corridor to encourage campus-community connections.
The project, supported with funding from the John S. and James L. Knight Foundation and UK Parking and Transportation Services, aligns with the institution's goals to increase campus access and mobility on foot. Walk [UK] is one of many efforts on campus to enhance the pedestrian experience.
"Through our Transportation Master Plan, we've been focusing on finding alternative ways for people to get to, from, and around campus," said Eric N. Monday, executive vice president for finance and administration. "This supports a number of our priorities — including sustainability, wellness and collaboration among different members of our community."
UK students and faculty are deeply involved with the program.
Led by Melinda Ickes, an assistant professor in the Department of Kinesiology and Health Promotion, graduate students from that department helped plan and implement the Walk [UK] campaign with assistance from the Walk [Your City] team. Ickes is evaluating the project's impact on walking for transportation and leisure, both on- and off-campus.
The findings will not only contribute to existing research related to point-of-decision prompts for physical activity, but will also help support similar efforts beyond Lexington, through the development of a Walk [Your City] toolkit. Communities nationwide can use the toolkit to implement their own campaigns to support active transportation.
Walk [UK] supports the U.S. Surgeon General's recent Call to Action to promote walking and walkable communities as a public health strategy. Colleges and universities are specifically highlighted as a sector that can promote walkability through policy and campus design.
"Encouraging individuals of all ages to add walking to their daily routine can truly impact health and well-being," Ickes said. "Using point-of-decision prompts, such as the Walk [UK] signs, is an innovative way to promote walking, both for transportation and leisure, among UK employees and students, as well as those in the surrounding community. With UK leading the way, we can help build momentum to create a statewide walking movement, thereby improving the health of Kentuckians."
In addition to Walk [UK], Walk [Your City] has installed temporary pedestrian signs in downtown Lexington. The group will be producing more signs to support recently installed permanent wayfinding signage downtown.
About University of Kentucky Transportation Master Plan (TMP)
The TMP aims to improve access and mobility to, from, and around campus for all members of the UK community. Over the past many months, as part of a comprehensive process of gathering information and input regarding the challenges and opportunities for transportation and mobility on campus, individuals across campus have provided feedback on the TMP through multiple open forums, surveys and correspondence. Sasaki and Associates returned to campus earlier this month to share the final draft of the TMP. Implementation of key recommendations began this past summer and will continue over the coming months and years. For more information, visit www.uky.edu/evpfa/node/39. 
About Walk [Your City]
Walk [Your City] provides online tools that communities can use to prototype street signs for people. These informational signs show the distance in minutes to community amenities, on foot or by bike; campaign management features online allow users to organize their signs and access use data. WYC provides the tools for citizens to pilot new types of projects in the built environment and to increase engagement around walkability. For more, visit walkyourcity.org.
About the John S. and James L. Knight Foundation
The Knight Foundation supports transformational ideas that promote quality journalism, advance media innovation, engage communities and foster the arts. The foundation believes that democracy thrives when people and communities are informed and engaged. For more, visit knightfoundation.org.
MEDIA CONTACT: Sarah Geegan, (859) 257-5365; sarah.geegan@uky.edu
Maire Dekle, Civic Relations, Walk [Your City], maire@walkyourcity.org