Grundy Receives Outstanding Achievement in Human Rights Award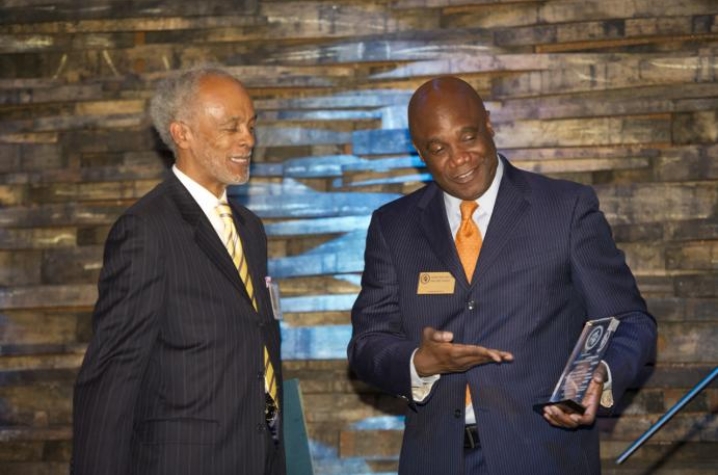 LEXINGTON, Ky. (June 26, 2013) -- Chester Grundy, senior diversity advisor to the Dean of the College of Medicine at the University of Kentucky, was a recipient of the Outstanding Achievement in Human Rights Award presented by the Lexington-Fayette Urban County Human Rights Commission.  The award was presented during the Commission's 50th Anniversary Dinner and Awards Program in Lexington on June 20.
The Human Rights Commission sponsors the award to recognize individuals and/or organizations that have shown exemplary performances in human rights and equal opportunity and have profoundly impacted the way that human rights is conducted over the course of their entire lifetime or who have made significant contributions that support the spirit and letter of human rights laws which they have demonstrated through words, deeds, business policies, or other means.
Grundy is the founder and  first director of the Martin Luther King Jr. Cultural Center which has presented a broad array of cultural/educational programs since its inception in 1987. Under his leadership, the King Cultural Center has sponsored such cultural giants as Muhammad Ali, Ruby Dee, Maya Angelou, Spike Lee, Dr. Na'im Akbar, the late Coretta Scott King, the Boys Choir of Harlem, The Dance Theater of Trinidad and Tobago,  Bishop Desmond Tutu and many others.
He is also co-founder of UK's Spotlight Jazz Series, the longest running collegiate jazz series in the country. During its 33 year history, the series has enabled audiences on the UK campus to  experience the best in jazz artistry with performances and workshops featuring Duke Ellington Orchestra, Sarah Vaughan, Sonny Rollins, Dizzy Gillespie, the Modern Jazz Quartet, the Dave Brubeck Quartet, Wynton Marsalis, Wayne Shorter and Herbie Hancock.
Grundy was also the co-founder of Lexington's Roots and Heritage Festival and for 16 years served as its Stage I Coordinator. 
With the support of his wife, Ann, Grundy also provides the artistic vision for the annual citywide celebration of the Martin Luther King Jr. Holiday.