UK Cares: United Way Campaign Runs Through Oct. 31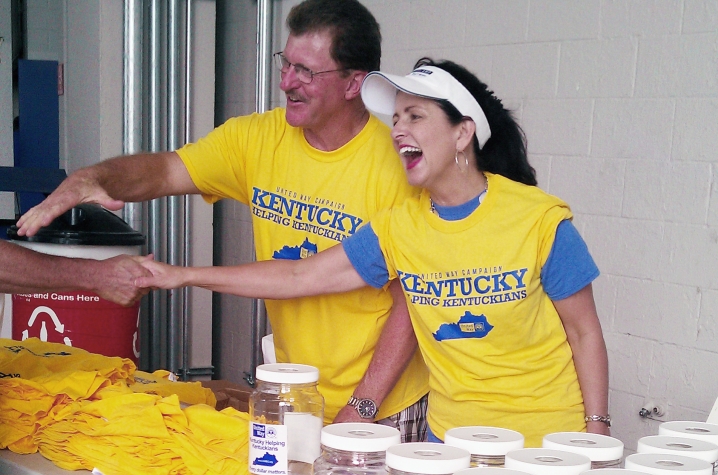 LEXINGTON, Ky. (Oct. 8, 2014) — "UK Cares" is this year's theme for the annual United Way of the Bluegrass fundraising campaign, which began Oct. 1 and runs through the end of the month.
In a message to University of Kentucky employees Oct. 1, President Eli Capilouto noted how the UK community makes a large impact on Central Kentucky through involvement in the United Way campaign.
"Just as we are part of a vibrant campus family, we are also part of a diverse and supportive Lexington community. Our futures are inextricably linked as we grow together — university and city," Capilouto said. "It is in that spirit, that we find ways — both new and established — to support one another. Essential to that commitment is a long-standing partnership with an important regional agency, the United Way."
UK Employees can make contributions directly through the myUK portal, using the "Employee Self Service/Benefits" tab. Entering a pledge through myUK eliminates the need for a paper pledge form, while enhancing the privacy and efficiency of the campaign.
Last fall, university employees donated more than $300,000 to United Way of the Bluegrass. The community impact of employee's donations, along with donations in the region, assisted more than 68,000 individuals in Central Kentucky through programs and services in education, income and health. The campuswide goal for the 2014 UK United Way campaign, chaired this year by UK Women's Basketball Coach Matthew Mitchell, is $350,000. 
UK Women's Basketball Coach Matthew Mitchell this year's UK United Way Chair, with UK President Eli Capilouto, hosted a breakfast on September 18 with deans and administrators to raise awareness for the Oct. 1 campaign kickoff.
University employees, student-athletes, and community volunteers collected $8,300 on September 6 during the annual "pass-the-bucket" for United Way at Commonwealth Stadium. University retirees have contributed $16,150 to date during their annual pledge drive, which began in August.
For more information regarding the "UK Cares" UK United Way Campaign, visit http://www.uky.edu/UW.