Deadline Extended for Alumni Ambassador Applications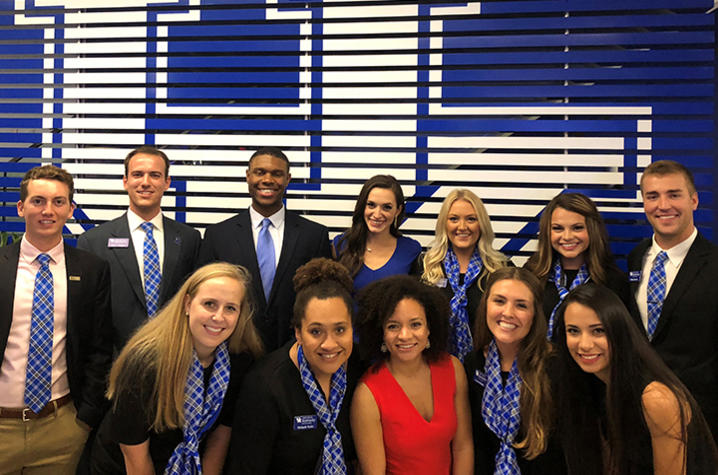 LEXINGTON, Ky. (March 29, 2019) — The deadline has been extended to Friday, April 5, for University of Kentucky students wishing to apply to become a UK Alumni Association Alumni Ambassador for the 2019-20 school year.
UK Alumni Association Alumni Ambassadors are the official student hosts of the University of Kentucky. The group promotes UK at university and alumni association events and assists in strengthening students' roles within the university. The mission of the group is to provide an overall campus involvement experience for elite leaders engaged in the university.
The program is a partnership with the UK Office of the President and the UK Alumni Association to showcase the best and the brightest UK students. Students must demonstrate high achievement in their collegiate career and dedication to the betterment of the university. Ambassadors are required to maintain a 3.0 GPA and represent various backgrounds, cultures and areas of campus involvement.
The UK Alumni Ambassadors are chosen competitively each spring through an interview process conducted by the Alumni Ambassador Selection Committee. Current UK Alumni Ambassadors must reapply each year. Applicants are required to meet the following criteria:
cumulative grade-point average of 3.0 or higher at UK;
at least second-semester sophomore standing;
full-time enrollment as an undergraduate (no graduate/professional students);
dedicated and demonstrated involvement in campus activities;
ability to devote five to 10 hours or more each week to group duties while maintaining a commitment to high academic achievement;
ability to participate regularly in bi-monthly meetings, weekend and evening events;
ability to understand and convey accurate knowledge of UK;
excellent oral/written communication skills and professionalism in dealing with diverse groups of individuals; and 
must comply with UK's Code of Student Conduct.
Students interested in applying to become a UK Alumni Ambassador can download an application at www.ukalumni.net/alumniambassadors. All applications require a photograph, copy of unofficial transcript, letter of recommendation (by a UK faculty or staff member) and a resume. Materials are due by 5 p.m. Friday, April 5, at 400 Rose St., King Alumni House. Applications can also be emailed by 5 p.m., April 5, to Sara-Elizabeth Bush at saraelizabeth.bush@uky.edu.
No application will be accepted after the 5 p.m. April 5 deadline. Information regarding interviews will be distributed April 8-10. For more information, contact Sara-Elizabeth Bush by email or at 859-257-8700.
The UK Alumni Association is a membership-supported organization committed to fostering lifelong engagement among alumni, friends, the association and the university. For more information about the UK Alumni Association or to become a member, visit www.ukalumni.net or call 800-269-2586.