Global Health Case Competition Winning Team to Compete at Emory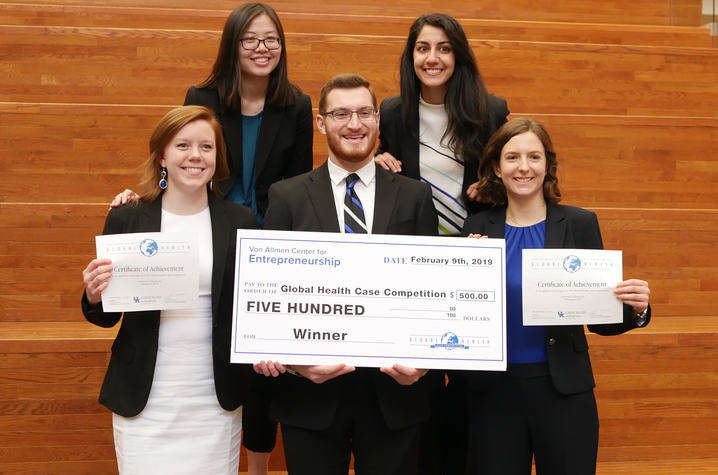 LEXINGTON, Ky. (Feb. 26, 2019) — Five students from the University of Kentucky placed in the UK Global Health Case Competition (GHCC), which rallied both undergraduate and graduate students from various colleges to collaborate on revolutionary research. Together, they worked toward a common goal — solving a global health concern. This year, competitors were tasked with tackling refugee health.
Ten interdisciplinary teams were given one week to create a strategic, realistic approach to improving refugee health in Lexington. Then, the strategies were presented to a panel of judges. In addition to receiving a $1,200 prize, the winning team was invited to represent UK at Emory University's 2019 International Case Competition on March 15.
Hina Iqbal is pursuing a degree in neuroscience. Through the competition, she had the opportunity to contemplate a complex issue, which helped prepare her for her upcoming journey in medical school. "I think the time limit that you have is a positive opportunity to challenge yourself," Iqbal said. "At the end of that time, you end up realizing how much you were able to accomplish."
J.T. Henderson, a medical student, was a member of the first-place team. They proposed a community refugee center partnered with a fictional Kentucky university — and other community stakeholders — to provide refugees with a space to address mental health and chronic illness, as well as, foster community development.
"Our mission was to keep refugees at the center of, and involved in, all aspects of our proposal," Henderson continued. "Our team also worked very well together, brought unique insights from the disciplines represented and remained open to all ideas in order to make our proposal both powerful and feasible."
Before attending the competition as a judge, Dr. Lonnie King, emeritus professor and dean of the College of Veterinary Medicine at Ohio State University, gave his keynote address on what it takes to effectively tackle global health problems, as a team, across the fields of human, animal and environmental health. He said, "One Health is about optimizing health in three demands; working collaboratively, working interdisciplinary and working across professions."
The winning team exhibited the three competencies King underscored as critical to success in the public health arena.
UK faculty and professional and community mentors shared perspective and expertise with participants during team advisory sessions. Dr. Amy Zeidan, mentor and emergency medicine physician at UK HealthCare, was able to provide participants some tips based on her experience working with refugee communities. "If it's a competition for creating something in Lexington, know the nonprofit and organizations that exist," she said. "This allows you to avoid repeating old tactics and potentially find a partner that will help build your organization."
Six students from UK will be competing at Emory University's International Case Competition on Mar. 16 in Atlanta, Georgia.
The winning team included the following students:
•     Carolyn Haugh, of Louisville, Kentucky, College of Medicine;
•     J.T. Henderson, of Danville, Kentucky, College of Medicine; 
•     Cady Cornell, of Mt. Washington, Kentucky, College of Public Health;
•     Keyana Boka, of Bowling Green, Kentucky, College of Law and Public Health; and 
•     Mary Sau, of Le San Gabriel, California, College of Pharmacy.
The second place team included:
•    Jennifer Leung, of Louisville, College of Agriculture, Food, and Environment;
•    Parisa Shamaei Zadeh*, of Paintsville, Kentucky, College of Health Sciences;
•    Ashley Keohavong, of Louisville, College of Arts and Sciences;
•    Luke Archer, of Louisville, College of Arts and Sciences;
•    Kendrick Yuen, of Louisville, College of Engineering; and 
•    Umair Bhutto, of Louisville, College of Arts and Sciences.
*Parisa Shamaei Zadeh will be joining the first-place team as the sixth Emory participant.
The third place team included:
•     Rachel Poole, of Ellicott City, Maryland, Patterson School of Diplomacy;
•     Piper Marsh, of Charlotte, North Carolina, Patterson School of Diplomacy;
•     Tharunika Venkatesan, of Lexington, College of Arts and Sciences;
•     Mandy Chen, of Independence, Kentucky, College of Pharmacy; and
•     Alexandra Sunnenberg, of Lexington, College of Medicine.
The annual GHCC takes place every winter and is hosted by the UK Global Health Initiatives office. The competition is partially made possible by a generous gift from Dr. James F. Roark Jr. This year, Executive Director Warren Nash presented a $500 gift from the Von Allmen Center for Entrepreneurship to help cover the expenses associated with the 2019 Emory Case Competition. He also tendered his time and guidance to this year's participants by hosting two presentation development workshops during the competition itself. 
A unit of the International Center, GHI seeks to advance research, education programs and service learning for students and faculty, with the goal of promoting health equity and improving the health of people throughout the world.