DanceBlue Blitz Week Continues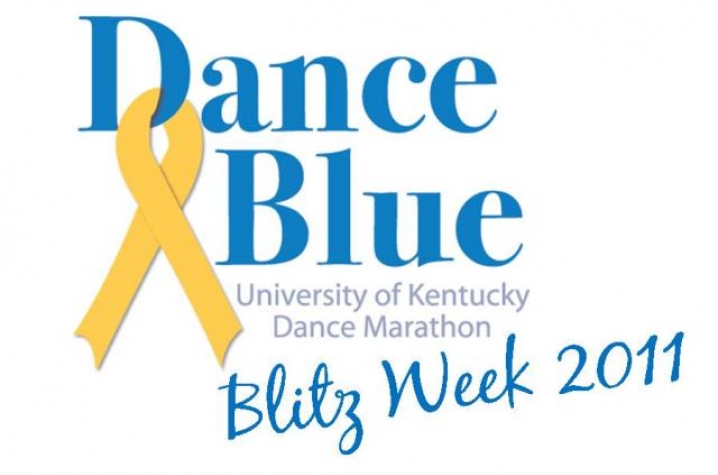 LEXINGTON, Ky. (Sept. 20, 2011) - In conjunction with national childhood cancer awareness month, UK's own DanceBlue is knocking down doors and bringing to light why UK students care – for the kids! This week, Sept. 19 through the 23, is DanceBlue's annual Blitz week.
Monday kicked off with "Mellow Mush Monday," a fundraiser at Mellow Mushroom Pizza where 15 percent of each ticket went to DanceBlue.
The fun continues tonight at Champs Entertainment Complex with Skate Night from 5 until 9 p.m. The $5 dollar charge will cover skate rental and unlimited skating for the night. For each person who mentions DanceBlue at the door, Champs will make a donation to the cause.
On Wednesday, students, faculty and staff are encouraged to wear blue and gold in support of DanceBlue. DanceBlue chose blue and gold as their colors because blue represents all of Kentucky and gold represents the Golden Matrix Fund, the name of the fund that supports the Pediatric Oncology Clinic at Kentucky Children's Hospital.  Stop by the Center for Community Outreach, 106 Student Center, to pick up some discounted DanceBlue gear.
Blitz week culminates on Friday with "Stop the Bop" from 10 a.m. until noon at the Phi Sigma Kappa house on campus.
Also, all week, the DanceBlue information table will be set up outside the White Hall Classroom building so students can find out about how to be involved with DanceBlue.
"Our promotions team has been working hard to plan these events and we hope that you will help us make this year's blitz week a huge success," Clay Stanley, overall DanceBlue chair, said.
DanceBlue is UK's 24 hour no-sitting, no-sleeping dance marathon that benefits the Golden Matrix Fund and the Pediatric Oncology Clinic at the Kentucky Children's Hospital. Now in its sixth year, DanceBlue has raised more than $2 million for pediatric cancer research and children with cancer. Give to DanceBlue here and connect with DanceBlue on Facebook at www.facebook.com/danceblue and on Twitter at twitter.com/UKDanceBlue.
DanceBlue is a program housed in the UK Center for Community Outreach (CCO). The CCO seeks to serve, connect and unite the University of Kentucky with the surrounding community in collaborative efforts to promote life-long community service. For more information about the CCO, visit getinvolved.uky.edu/cco. Connect with the CCO on Facebook here and on Twitter at twitter.com/ukcco.
For more information about blitz week, contact Logan Sparks, Public Relations chair, at logan.sparks@uky.edu.