Register Your Team Now for DanceBlue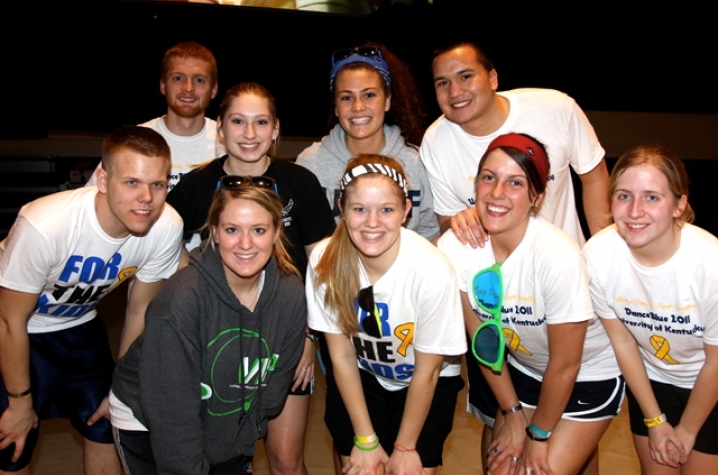 LEXINGTON, Ky. (Oct. 5, 2011) – It is time to register your team for DanceBlue 2012!
What is DanceBlue? DanceBlue is a student-run philanthropy at the University of Kentucky. It is a year-long fundraising effort involving thousands of UK students, which culminates in a 24-hour no-sitting, no-sleeping dance marathon on UK's campus. All of the money raised by DanceBlue goes to the Golden Matrix Fund. DanceBlue has been active for over six years, raising more than $2 million for the UK Pediatric Oncology Clinic and cancer research. In 2011, more than 120 student organizations and more than 700 dancers helped raise money to support the cause of pediatric cancer.
Students participate in teams with organizations, residence halls or a group of five or more friends. It is easy to make a team.
Nominate one of your friends to be your team captain; the person who you think will best help lead your team in your fundraising efforts.
Your team captain will attend a meeting and then you can begin fundraising! To dance, a member of a registered team must raise $325.
There are many different ways student teams can fundraise the amount necessary to sponsor dancers. The Overall DanceBlue Committee offers many fundraising events, and students can also create their own.
The sign-up forms are due by Oct. 21, 2011, and should be returned to the CSI.
For more information, visit the Center for Community Outreach (106 Student Center) or contact DanceBlue committee members via email: Brandon Gilles (teamrealtions@danceblue.org) or Tressa Neal (reg.danceblue@gmail.com).
DanceBlue 2012 is scheduled for March 2 and 3 in Memorial Coliseum on UK's campus. DanceBlue is a program housed in the UK Center for Community Outreach. The CCO seeks to serve, connect and unite the University of Kentucky with the surrounding community in collaborative efforts to promote life-long community service. For more information about the CCO, visit getinvolved.uky.edu/cco. Connect with the CCO on Facebook here and on Twitter at twitter.com/ukcco. Give to DanceBlue here and connect with DanceBlue on Facebook at www.facebook.com/danceblue and on Twitter at twitter.com/UKDanceBlue.