Take Me Out to the Ball Game With SAB!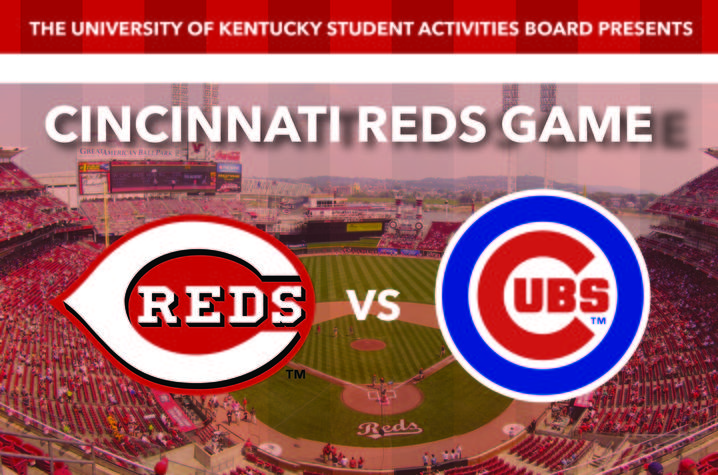 LEXINGTON, Ky. (April 11, 2017) — Student Activities Board (SAB) is excited to announce that they will be taking a group of students to see the Cincinnati Reds take on the 2016 World Series Champions, the Chicago Cubs, on Sunday, April 23, at Great American Ballpark in Cincinnati, Ohio.
"Any student, car or no car, will be able to go to this event and have a good time," said Libby Langlois, SAB director of Pop Culture. "This event allows students to be able to go see a baseball game and have fun with other students on their campus. It opens doors for people to be able to talk to each other in an easy environment with a common bond: baseball."
Tickets are $10 for students and $25 for general public, beginning Monday, March 27. Tickets can be purchased at the Student Involvement Ticket Center at Bowman's Den. Each ticket purchase includes a game ticket, transportation and lunch. The bus will leave at 11 a.m. Sunday, April 23, and the game starts at 1 p.m.
SAB brings more than 60 entertaining, educational and enriching programs that are reflective of contemporary issues and trends to the University of Kentucky annually. These programs are designed to enhance the college experience for students, faculty, staff, and the greater Lexington community
To learn more about SAB, connect with the organization at www.uksab.org, follow SAB on Twitter at http://twitter.com/UKSAB or like SAB on Facebook at www.facebook.com/UKSAB/. For more information, email publicrelations@uksab.org.
SAB Contact: Kristen Smith, publicrelations@uksab.org, 859-257-8868