NASA Kentucky to Host Grand Opening and Ribbon Cutting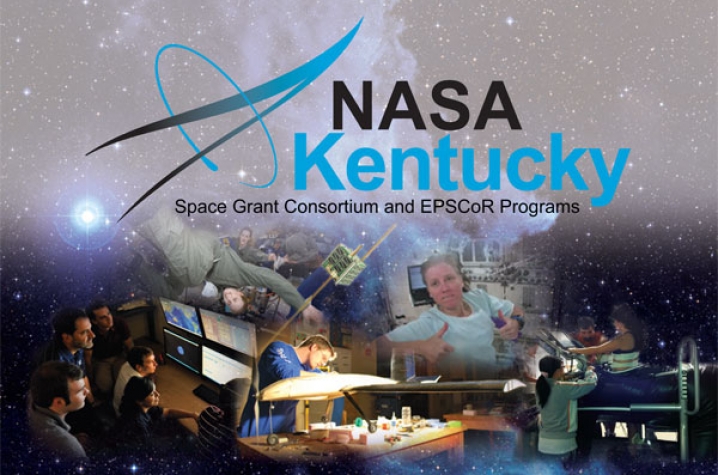 LEXINGTON, Ky. (Oct. 4, 2011) — The NASA Kentucky Space Grant Consortium and EPSCoR Programs will host a grand opening and ribbon cutting ceremony from 1-4 p.m. Friday, Oct. 7, at the University of Kentucky. The public is invited to attend the dedication of the new offices, meet leading space researchers and tour laboratories. The event will celebrate Kentucky's past accomplishments and future directions in aerospace research.
Kentucky's numerous contributions to aerospace research include hundreds of graduates with careers at NASA and with aerospace companies.  Faculty and students today are engaged in the search for exoplanets, space science, CubeLabs currently on board the International Space Station, mitigation of long-duration mission effects on astronauts and more. In addition to research contributions, next-generation aeronautics students are inspired by programs like the Kentucky Institute for Aerospace Education's (KIAE) inaugural Wing Design Competition.
The schedule for the grand opening is as follows:
12:50 p.m.: Students from the UK Opera Theatre program will provide a prelude to the festivities by performing a medley of aerospace-themed music at the Memorial Hall Amphitheater.
1:05 p.m.: UK alum Bobby Jones of ILC-Dover (developer of NASA's spacesuits as well as other engineered aerospace softgoods) and Greg Davis of NASA Jet Propulsion Laboratory will make research presentations at the amphitheater. Jones is an expert in manned space exploration and Davis specializes in unmanned space exploration. Time for Q&A will follow.
2:15 p.m.: Those in attendance are invited to walk from Memorial Hall Amphitheater to the NASA Kentucky offices in the adjacent Robotics and Manufacturing Building (RMB) for the ribbon cutting and refreshments.
2:30 p.m.: Ribbon cutting and refreshments. During this time there will be a congratulatory video-call from the International Space Station.
3 p.m.: Participants will be invited to take laboratory tours (optional) of the Space Systems Laboratory and BIG BLUE Unmanned Aircraft Laboratory.
UK College of Engineering Dean Thomas Lester will be in attendance from 1-3pm.
In addition to the scheduled events, Bobby Jones will meet with the student chapter of the American Institute of Aeronautics and Astronautics (AIAA). As a student at UK, Jones was supported by Space Grant and is currently working on next generation spacesuits for future manned space exploration missions. A spacesuit will be on display. 
Alumnus Don Cooksey, who graduated from UK in 1957 and is one of more than 75 College of Engineering graduates who have worked at NASA, also has donated rare photographs from Apollo missions 8-11, including the first moon landing, to be displayed during the celebration.
The NASA Kentucky offices are located on the first floor of the Robotics and Manufacturing Building in the engineering quadrangle.  Maps to the event can be viewed at http://nasa.engr.uky.edu/2011/09/07/youre-invited/.
The NASA Kentucky Space Grant Consortium is a NASA Higher Education program supporting student fellowships/scholarships, research initiation and workforce development in STEM areas of interest to NASA and Kentucky. Space Grant also promotes networking and cooperation among education, industry, and local, state and federal government. The recruitment and training of U.S. citizens, especially women, underrepresented minorities and persons with disabilities, for careers in aerospace science and technology is a national priority. Member institutions include: Bellarmine University, Centre College, Eastern Kentucky University, Kentucky Science and Technology Corporation, Kentucky State University, Morehead State University, Murray State University, Northern Kentucky University, Thomas More College, Transylvania University, Tribo Flow Separations (LLC), University of Kentucky, University of Louisville and Western Kentucky University.
The NASA Kentucky EPSCoR (Experimental Program to Stimulate Competitive Research) Programs strengthen research capability in the state in areas of importance to NASA and Kentucky by promoting development of research infrastructure, improving capabilities to gain support outside of EPSCoR and developing partnerships with NASA.  NASA Kentucky EPSCoR Programs support faculty research development via Research Infrastructure Development Grants and nationally competitive Research Area Awards.
All of the NASA Kentucky programs leverage federal, state and institutional support to provide opportunities for Kentucky students and faculty to participate in NASA related higher education and research activities.
For more information, please contact Dr. Suzanne Weaver Smith or Dr. Janet Lumpp at nasa@uky.edu or visit the NASA Kentucky website at nasa.engr.uky.edu.