Congenital Heart Disease Doesn't Sideline Hardworking Dad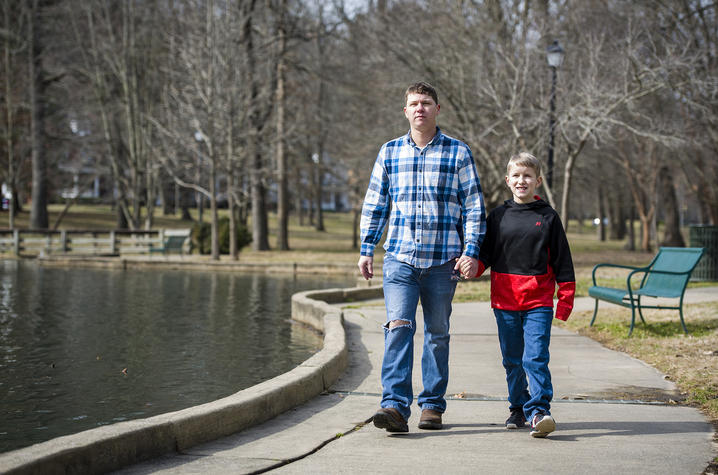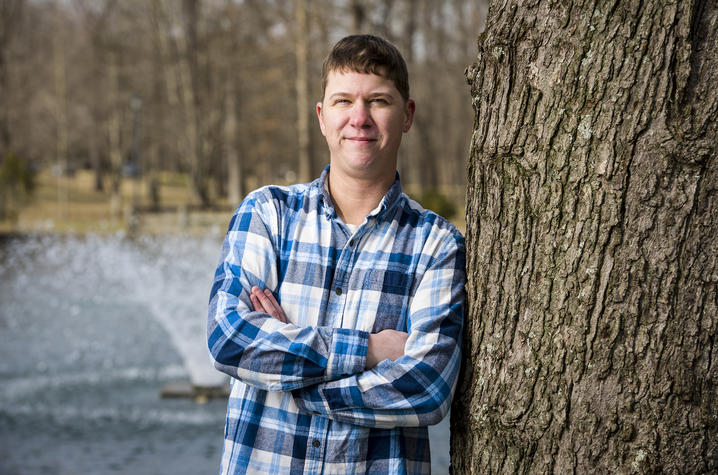 LEXINGTON, Ky. (March 13, 2019) — In late 2017, Justin Clark's fiancee laid her head on his chest and told him something didn't sound right. 
This wasn't a surprise to the 29-year-old Ashland resident. He'd been born with an aortic valve that failed to open. At the time, doctors had given him a nine percent chance of survival. 
Justin had two surgeries before he was 10 years old to repair — and then replace — his diseased aortic valve. Surgeons warned his parents that, while this surgery was successful, Justin would eventually need another open-heart surgery to replace the valve again. 
Growing up, Justin's heart issues prevented him from experiencing the typical joys of childhood. He wasn't allowed to play sports, and his parents, afraid something would go wrong, were overprotective.
This single dad admits that once his pediatric surgeon retired, he stopped getting checkups even as his health deteriorated, fearing he would be told he needed another open-heart surgery. 
"I was out of gas," he said. "I'd work an eight-hour shift, go home and nap. I'd wake up and eat supper with my boys, get them showered, get me showered and go back to bed. That was the routine. I was awake only two hours when I wasn't working because I had no energy."
He also could no longer climb stairs without chest pain. As his fiancée listened to his heart that day, she broke down crying and insisted he see a heart doctor. 
At King's Daughters Hospital in Ashland, Justin's doctors ran tests. The results were devastating: his heart was so weakened that the cardiologist thought he'd need a heart transplant. But just before he was to undergo a heart catheterization for a further look, Justin was told to head to the Gill Heart & Vascular Institute at UK HealthCare, where he would see interventional cardiologist Dr. Andrew Leventhal, director of the Adult Congenital Heart Disease program.
Leventhal is among an elite group of cardiologists with special training to recognize and treat the issues that affect adults who have survived with congenital heart defects. He heads a talented group of physicians and staff at the Gill's Kentucky Adult Congenital Heart (KACH) Program, which draws patients from all over Kentucky and West Virginia.
"I'd never met Dr. Leventhal until then," Justin said. "But he walked in and the first words out of his mouth, besides 'nice to meet you,' were 'I know exactly what's wrong with you, and I'm going to fix you.'" 
Justin's pulmonary valve was barely functioning. "His was one of the most severely blocked I'd ever seen," said Leventhal. "It had progressed to a dangerous point."
Leventhal is an expert in transcatheter pulmonary valve replacement, which is far less invasive than open heart surgery. He snaked a catheter up through Justin's leg to his heart and deployed a special, durable Melody valve which restored blood flow to his heart. UK HealthCare is one of only two hospitals in Kentucky to perform the procedure.
Afterward, Justin says he felt like a new man. "Now I can go out with my boys and play," he says. In addition, he is working laying pipe six days a week, physical labor he says he thoroughly enjoys.
"I like to be able to do things and stand back and look and see what I've accomplished. "
According to Leventhal, adults who were born with heart defects face unique challenges. "It wasn't that long ago that children with heart defects didn't survive to adulthood," he explained. "Technical advances in cardiac surgery have improved outcomes dramatically, but that presents a new issue:  patients who reach adulthood have outgrown their pediatric cardiologists and the facilities that provide treatment – typically children's hospitals.  But simply transitioning to an adult cardiologist isn't the best fit either, since their heart problems can be very different from cardiac conditions that begin during adulthood." 
"People like Justin require a lifetime of follow-up care to ensure that their defect repair is sound," Leventhal said.  "If you had heart surgery as a child, be sure your doctor knows about it, and find a cardiologist who's trained to help in situations like these." 
Justin is also able to get his follow-up care at nearby at Marshall University in Huntington, West Virginia, where Leventhal runs the Adult Congenital Heart Disease Clinic which serves Eastern Kentucky, Ohio and West Virginia. And he gets to see his favorite doctor.
"I'd do anything in the world for him [Dr. Leventhal], otherwise I wouldn't be here right now for my family and be able to work. He's definitely my hero."