Health Care Providers Recognized as Leaders in Implementation of Electronic Health Records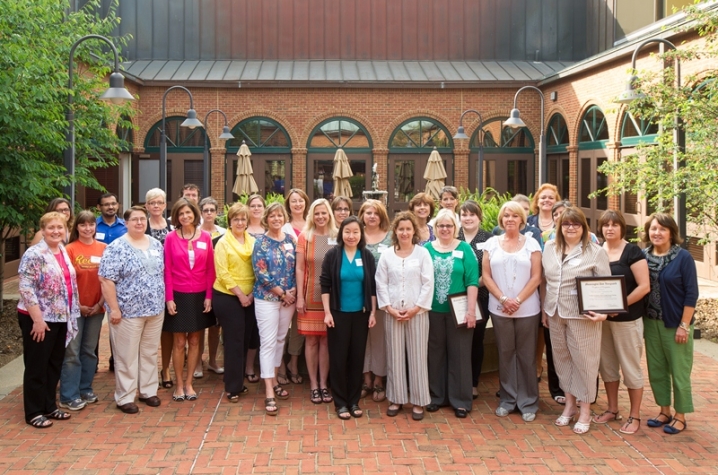 LEXINTON, Ky. (June 17, 2013) -- Kentucky health care providers and hospitals were recently recognized by the Kentucky Regional Extension Center (Kentucky REC) in conjunction with the Office of the National Coordinator at Health Information Technology (ONC) at six regional events across the state for their leadership in the nationwide transition toward electronic health records (EHR).
Kentucky REC, based at the University of Kentucky, is one of 60 regional extension centers across the country commissioned by the Office of the National Coordinator to help providers and hospitals transition to EHR technology.
Kentucky REC and Kentucky Health Information Exchange (KHIE) held the 2013 Meaningful Use Survival Seminar Series in Bardstown (March 15), Paducah (March 22), Hazard (April 12), Bowling Green (April 19), Somerset (May 10) and Lexington (May 31). These seminars provided informational sessions on hot topics in Health Information Technology such as Meaningful Use Stage 2, Privacy and Security, and Meaningful Use Audits.
These practices and hospitals are among an exclusive group of leaders – the Meaningful Use Vanguard (MUV).  MUV is an initiative of ONC, and is designed to honor, thank, and bring together clinicians who have successfully implemented electronic health records.  MUVers (members of the MUV program) serve as local leaders and advisors in the nation's transition toward an electronically-enabled health care system.
"On behalf of the Kentucky REC, I would like to congratulate these practices and hospitals on this important distinction," says Dr. Carol Steltenkamp, Chief Medical Information Officer for UK HealthCare and Director of the Kentucky REC. "Their experience is invaluable in helping clinicians take the necessary steps to transform from paper-based practices to electronically-enabled systems. We commend them for being at the forefront of EHR implementation, and hope their example will encourage others to follow in their footsteps."
Kentucky REC implementation specialists provide resources and guidance to help providers gain federal incentives through the Meaningful Use Incentive Program. To date, the Kentucky REC is assisting more than 2,500 individual providers in more than 600 provider locations. Kentucky REC is also assisting more than a third of all Kentucky hospitals.
To date, the Kentucky REC has helped providers in Kentucky secure over $56 million in Meaningful Use incentive dollars. For more information about the Kentucky REC, visit www.kentuckyrec.com.  Follow @KentuckyREC on Twitter and connect with us on Facebook at www.facebook.com/EHRResource.
The following Kentucky health care practices and hospitals were awarded:
Bardstown, KY
Bardstown Primary Care
Bardstown Women's Center
Beverly M Gaines, MD & Associates, PSC
Bluegrass Community Family Practice
Casey County Hospital
Central Kentucky Optometric Associates
Coppola & Dorman PSC
Gay Fulkerson, MD, PSC
Godfrey Godfrey & Eklund PSC
Jane Todd Crawford Memorial Hospital
Kentuckiana Pulmonary Associates
Molloy G. Veal MD, PSC
Paducah, KY
Caldwell Medical Center
Crittenden County Hospital
Family Practice Care
Generations Primary Care
Heartland Cares, Inc.
Infectious Disease Associates
Jackson Purchase Medical Associates
James Eickholz, MD, PSC
Kyle D. Parish, MD, PSC
Livingston Hospital and Health Services, Inc.
Marshall County Hospital
Marshall County Surgical & Medical Group
Murray Medical Associates
Oncology Associates of West Kentucky
Paducah Dermatology
Paducah Primary Care
Total Life Care
Trigg County Hospital
Troy M. Nelson, D.O.
Urology Group of Paducah, PSC
West Kentucky Rheumatology
Western Kentucky Family HealthCare, Inc.
Western Kentucky Neurology
Hazard, KY
Aaron Jonan Memorial Clinic
Appalachian Regional Healthcare, Inc.
Asthma & Allergy Center
Edwards Clinic, PSC
Hazard Clinic
Hazard Radiology Associates
Internal Medicine of Eastern Kentucky
Juniper Health, Inc.
Kentucky Lung Clinic
Manchester Memorial Hospital & Physician Services
Mark P. Caruso MD
Medical Associates of Southeast Kentucky
Mountain Comprehensive Health Corporation
Pediatric Associates of Pikeville
Primary Care Centers of Eastern Kentucky
Prestonsburg Primary Care, PLLC
Salyersville Medical Center
The Doctor's Office, PLLC
Bowling Green, KY
Bowling Green Warren County Primary Care Center
Breckinridge Memorial Hospital
Caverna Memorial Hospital
Center for Orthopaedic Services
Clinton County Hospital
Cumberland Family Medical Center
First Choice OB/GYN
Graves Gilbert Clinic
Kimberly Y. Eakle, MD
Logan Family Practice
Mohammad Gayasaddin, MD
Nagy H. Morsi, PSC
Ohio County Hospital
Taylor Regional Hospital
Teresa S. Sheffield, APRN, LLC
Timothy D. Hume, MD, LLC
Twin Lakes Regional Medical Center
Western Kentucky Heart and Lung
Wilkes Clinic
Somerset
Breckinridge Memorial Hospital
Clinton County Hospital
Ephraim McDowell Health
Freeman Family Practice
Huffman & Huffman, PSC
Keith Sinclair, MD, PLLC
Lake Cumberland GI & IM Associates
Lake Cumberland Women's Health Specialists PSC
London Women's Care
Mohammad Afzal MD Internal Medicine, LLC
Mountain View Family Physicians
P.D. Patel, MD PSC
Phillips Pratt McFarland, PSC
Rockcastle Regional Hospital
Turner Whitley and Morton, PSC
Wayne County Hospital
Westlake Regional Hospital
Lexington
AC Wright, MD PSC
Appalachian Regional Healthcare, Inc.
Arthritis Center of Lexington
Bluegrass Community Health Center
Bluegrass Dermatology and Skin Surgery Center, PSC
Capital Surgical Clinic
Central Internal Medicine
Children's Care, PLLC
Corbin Pediatric Associates, PSC
Cynthiana Vision Center
Danville Medical Specialists
Dr. Carl E. Smith Jr, MD
Drs. Borders & Associates, PSC
Eye Care Center Optometrist, PSC
Eye Consultants of Kentucky, PSC
Family Practice Associates of Lexington
Family Care Associates
Fayette Surgical Associates
Frankfort Eye Center
HealthFirst Bluegrass
HMH Physicians Group
Hometown Family Care, PLLC
Kentucky Orthopedic Associates
Lexington Neurology
Lexington Surgeons
Magdalene Karon, MD, PSC
MedEast Physicians PLLC
Metzger Eye Care
Nephrology Associates of Kentuckiana
Pain Management Medicine
Pediatric Associates of Frankfort
Plastic Surgeons of Lexington
Richmond Women's Health Care
Specialty Orthopaedics, PSC
UK HealthCare
Versailles Family Medicine
Women's Health Clinic of Cynthiana, PLLC
Media Contact: Kristi Lopez, kristi.lopez@uky.edu