Med Student Who Helped Launch Diversity Program is Now a Physician and Faculty Adviser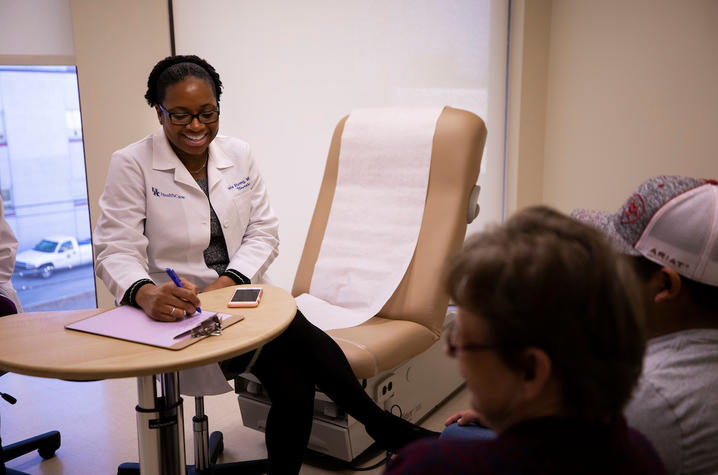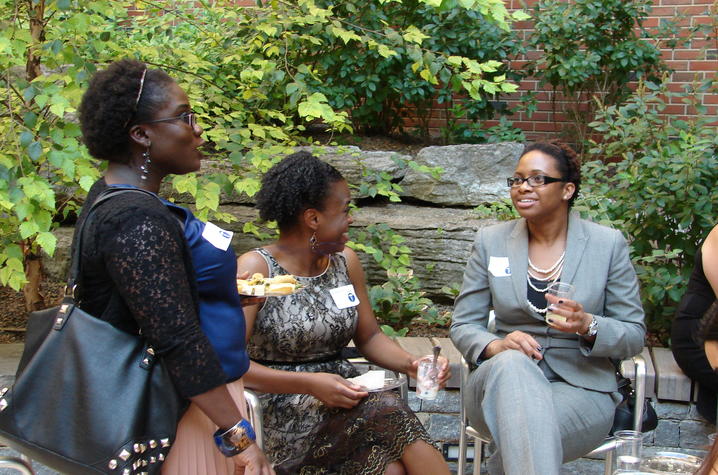 LEXINGTON, Ky. (Feb. 15, 2019) — A meeting in early 2010 sparked Dr. Ima Ebong's passion to advocate for greater minority representation in medical school — a passion that has propelled her to national recognition for her work.
Ebong, a Nigerian-Bahamian who came to the University of Kentucky College of Medicine after receiving bachelor's and master's degrees from Georgia Tech, was initially dismayed by the small number of fellow students who were underrepresented persons of color. But the then first-year medical student thought to herself, "Ima, don't just complain about it. Be a part of the solution!'" 
Ebong had participated in a program at Georgia Tech called FOCUS, which encourages underrepresented minority students to pursue graduate education in science, technology, engineering and math (STEM) fields. So, she scheduled a meeting with Dr. Carol Elam, associate dean for admissions and institutional advancement, to talk about it. From that meeting, the UK Minority Education Development (UKMED) program was born. 
UKMED, which focuses on students who are Black/African-American, Hispanic/Latinx, Native American or Hawaiian/Pacific Islanders, first-generation college students or those from rural Appalachia or an underserved rural area, is a two-day event that functions as a sort of mini-medical school, including lectures and hands-on learning in simulation centers. The program also offers opportunities to network with students, faculty, and medical school administrators who provide guidance on the admissions and financial aid processes. 
"It was wonderful to see these young people light up and begin to envision themselves as part of a future class," said Ebong. 
Ebong thought it paramount that the program be student-run, since their perspective added relevance. Now in its 10th year, the program is still student-led, and enthusiastically embraced by UK College of Medicine administration. 
"UKMED offers a more structured approach to minority recruitment in an appealing way," said Elam. "Including medical students in the process has been key to our success, as we are able to connect with prospects with more impact."
"UKMED is a valuable tool to inspire underrepresented students and reduce the barriers that currently exist for minority student matriculation to medical schools."
That success is reflected in the numbers. Of the 130 pre-med students who participated in the UKMED program between 2010 and 2016,  58 percent of them applied to the UK College of Medicine.  About a fourth of those were accepted and matriculated and all but one have graduated. 
As UKMED continued to grow, Ebong graduated, completed a neurology residency and a clinical neurophysiology fellowship at Jackson Memorial Hospital in Miami, Florida, and then returned to UK last August as an assistant professor in the Department of Neurology. She now serves as UKMED's faculty advisor and a pipeline advisor in the UKCOM.
"The cohort is so much bigger and more selective then when it started," she said. "There's always room for improvement, but I'm thrilled about what this program has become."
Fueled by her earlier success, Ebong applied for -- and was accepted to-- the American Academy of Neurology's Diversity Leadership Program. The offer was a real plum: Ebong was just one of 10 acceptances, now sharing her experience with colleagues from the likes of the University of Pennsylvania, Stanford University, University of Michigan and Rush Medical Center (Chicago). 
The program, she says, is wonderful in two ways. "We work together on a project that is intended to have a positive impact on the field of neurology," she said "But the program also forces us to be introspective.  By doing so, we become more effective leaders, which we can bring back home to inspire others."
Ebong is among the youngest in the cohort.  "I'm so glad I started this early in my career," Ebong said. "I have places to go! The leadership skills I'm developing and mastering will propel me."