Ribbon Cutting Marks Official Opening of UK HealthCare at Turfland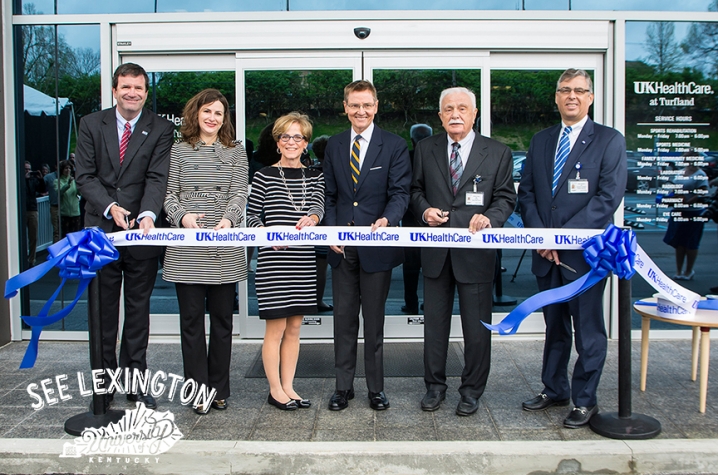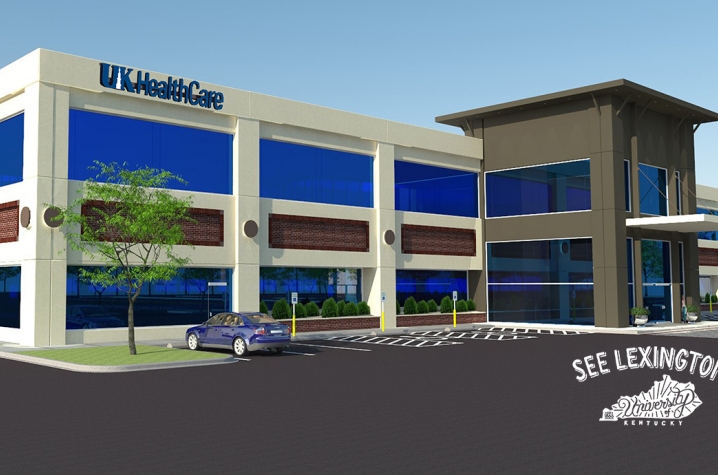 LEXINGTON, Ky. (April 20, 2015) -- A ribbon cutting ceremony on Monday marked the official opening of UK HealthCare at Turfland, a new outpatient center on Harrodsburg Road in Lexington on the site of the former Turfland Mall.
UK HealthCare has leased and renovated the former Dillard's location for consolidation and relocation of some of its primary care and specialty outpatient clinics and will be the anchor tenant for the first floor of the building utilizing approximately 85,000 square feet. 
"On behalf of our physicians, staff and health care providers, I welcome you to this remarkable facility that provides a convenient and very accessible location for several of our patient care services," said Dr. Michael Karpf, UK vice president for health affairs. "The renovation and relocation to this site has been a unique opportunity for UK HealthCare and for the community and I believe it has been a win-win for both of us."
UK HealthCare at Turfland includes:  
·       UK Family & Community Medicine -- which has consolidated services previously located at the Kentucky Clinic on the UK campus and at Kentucky Clinic South, located on Harrodsburg Road.
·       UK Sports Medicine and UK Sports Rehabilitation, both previously located at Perimeter Drive.
·       UK Occupational Medicine & Environmental Health and UK Travel Medicine, both formerly at Kentucky Clinic South
·       Radiology and Laboratory Services, a pharmacy, and an eye care clinic
Later this year, the UK College of Dentistry will relocate its General Dentistry Practice at Kentucky Clinic South, as well as Oral and Maxillofacial Surgery and Orthodontics - currently located on campus, to UK HealthCare at Turfland.
"Health care is one of the largest sectors of our local economy and one of the fastest growing, thanks in large part to UK's leadership in the field at the local, state and national levels," Mayor Jim Gray said. "In addition to good jobs, UK provides the highest quality patient care services for Kentuckians right here in Central Kentucky. Today's ribbon cutting and the opening of this beautiful facility brings convenient health care services for Lexington citizens, while bringing new life to this former site of Turfland Mall."
As of Monday afternoon, all of the clinics except for Dentistry were seeing patients at the new location. Patients seeing physicians and health care professionals who have relocated have received information about the transition during the past few weeks regarding upcoming appointments.
"For the more than 150 UK HealthCare employees who will be serving more than 30,000 patients at UK HealthCare at Turfland, we are excited to continue to meet the needs of our patients in this spacious, functional and convenient location," said Dr. Marcus Randall, chief of Ambulatory Services at UK HealthCare and professor and chair of the Department of Radiation Medicine at UK. 
Media Contact: Kristi Lopez, 859-806-0445