UK HealthCare Receives State Approval to Add 120 Patient Beds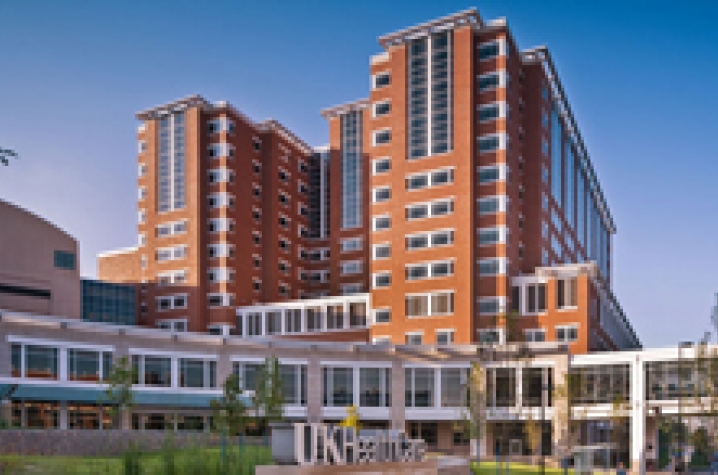 LEXINGTON, Ky. (Feb. 19, 2015) — UK HealthCare has received approval from the Kentucky Cabinet for Health and Family Services Division of Certificate of Need to add 120 patient beds. The application for the Certificate of Need to increase the number of licensed beds was filed in October 2014 and notice of approval has been received.
"This approval allows us to move forward in our strategic plan and further our mission to take care of patients throughout the Commonwealth who need our advanced subspecialty care and destination services," said Dr. Michael Karpf, University of Kentucky vice president for health affairs.
UK HealthCare's previous licensing was for 825 beds but after experiencing consistently greater than 80 percent occupancy of its patient beds — the industry standard for efficiency — it was determined that a total bed capacity of approximately 945 beds will be required to meet future needs at UK Chandler Hospital, Kentucky Children's Hospital and UK Good Samaritan Hospital.
"About 10 years ago, we committed to develop UK HealthCare into a research intensive, referral academic medical center to ensure all Kentuckians — no matter how complex their medical problem — could be taken care of in Kentucky and not required to leave the state for advanced subspecialty medical care," said Karpf. "This strategy, while crucial to our goal of taking care of patients in the Commonwealth, has resulted in substantial growth beyond our initial aggressive projections."
This unanticipated growth in patient volume has led UK HealthCare to change plans throughout the past decade to meet increasing demand. Although the initial proposal in 2005 was for the Pavilion A patient care facility to be constructed as a replacement facility, continued and accelerated demand has led for the need to fit-out Pavilion A as well as keep patient care areas in the original UK Chandler Hospital (Pavilion H) open and operational for the foreseeable future.  
In addition to adding 120 beds, also approved was a plan to convert four acute care beds to Level II Neonatal Intensive Care Unit (NICU) beds. Overall, Kentucky Children's Hospital's NICU will increase from 66 to 70 beds with a breakdown of 20 Level IV beds (for the most advanced newborn care); 38 Level III beds (for severely ill newborn care); and 12 Level II beds (for intermediate newborn care).
Currently, Pavilion A is nearly two-thirds completed. It has opened in phases beginning in July 2010 with the Emergency Department that includes both a pediatric and adult Level-1 trauma center. In addition, 192 patient rooms are completed and open including a state-of-the-art 64 bed cardiovascular patient unit which opened in December 2014. Pavilion A also currently contains an observation unit, nine operating rooms including a state-of-the-art Hybrid Operating Room, 43 pre-op and post anesthesia care beds; surgery waiting area and a retail pharmacy, among other features and areas. 
Construction has begun on the next two patient floors (ninth and 10th floors) with a total addition of 128 beds. Also currently under construction, or approved for construction, is replacement of the hospital kitchen and cafeteria, relocation of the Magnetic Resonance Imaging to Pavilion A, relocation of the Neonatal Intensive Care Unit (NICU) and a new entryway and family support space for Kentucky Children's Hospital. Since 2006, UK has invested more than $763 million in modern, state-of-the-art patient care facilities.