Fiber Artist Philis Alvic Visits, Lectures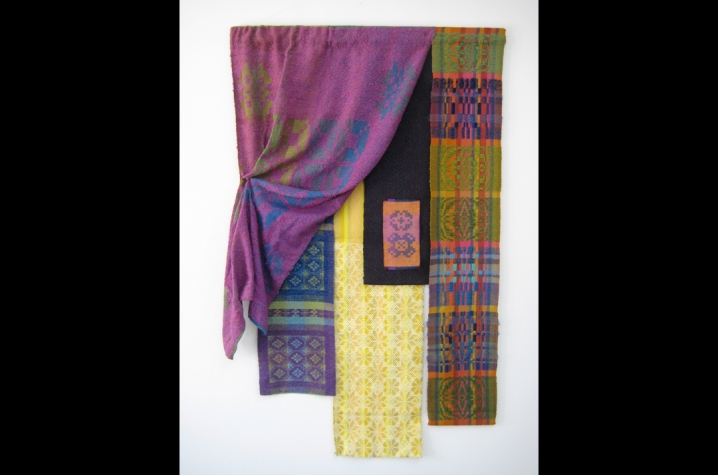 LEXINGTON, Ky. (Jan. 20, 2011) − The public is invited to a lecture by artist, weaver and writer, Philis Alvic, as part of the University of Kentucky Department of Art 2010-2011 Visiting Artists and Scholars Series. The free lecture will be held noon Friday, Jan. 21, in room 118 Whitehall Classroom Building.
Alvic considers herself a Kentuckian, despite growing up in Chicago. She attended the School of the Art Institute of Chicago where she earned her bachelor's degree in art education with concentrations in painting and weaving. It was at Winthrop University in Rockhill, S.C., where Alvic attended graduate school that she gained the knowledge of the commercial textile industry.
Alvic's woven wall textiles have been exhibited in more than 250 exhibitions. She uses complex weaving structures woven on multi-harness looms in abstract scenes inspired by historic textiles, her Appalachian research, and her travels. A dominant visual theme in her work is the exploration of illusionary space in a consistent format of large vertical rectangular panels.
Outside of her work in the studio, Alvic has presented more than 75 workshops, lectures and papers to weavers' guilds, craft schools, arts organizations, and weaving and academic conferences. For the last 20 years, weaving, crafts and art magazines have published more than 100 of her articles on weaving techniques, crafts, art history and art criticism. Alvic has written two books, "Weavers of the Southern Highlands," published by the University Press of Kentucky, and "Crafts of Armenia." She is currently under contract for a third book on international crafts development.
Over the years Alvic has written grants to support exhibitions, lectures and programs for many different organizations. For her creative work, she received an Al Smith Fellowship from the Kentucky Arts Council and a grant from the Kentucky Foundation for Women (KFW). Another grant was given by the KFW for her historical research. Her research resulted in several monographs and one of her books. Through international agencies she has also served as a design and craft marketing consultant in Peru, Morocco, Nepal, India, Armenia and seven other countries located in southern and eastern Africa.
Other than being an artist, weaver and writer, Alvic currently serves as an exhibiting juried member of Kentucky Guild of Artists and Craftsmen, Kentucky Craft Marketing and Kentucky Museum of Art and Craft. She is also a founding member of the Kentucky Craft History and Education Association.
In addition to her lecture, Alvic will help students weave 16 harness art forms during her visit at UK. The artist currently has a show of her woven wall pieces in the Barnhart Gallery in Reynolds Building #1. 
For more information on the Alvic lecture contact Arturo Alonzo Sandoval at a.sandoval@insightbb.com.