Five UK Student Artists Honored at Open Studio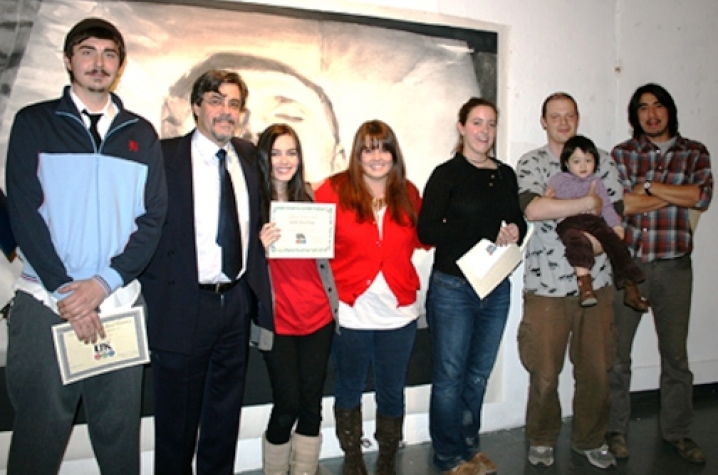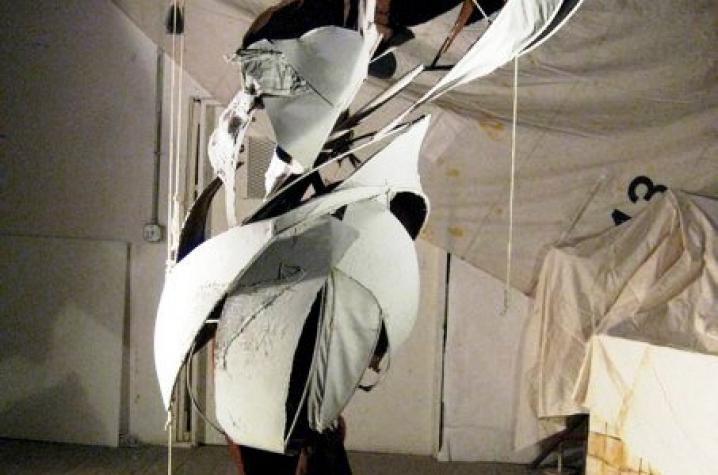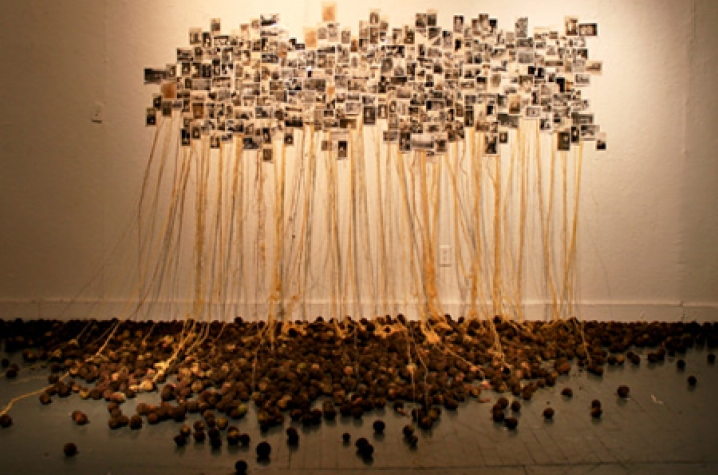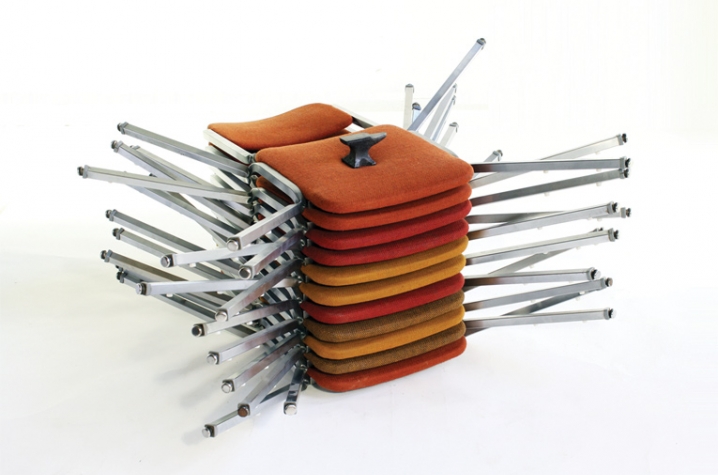 LEXINGTON, Ky. (Dec. 10, 2010) − Five University of Kentucky art students were recognized as part of the Carey Ellis Juried Student Art Exhibition. The art show, featuring work by graduate and undergraduate art students at UK, was presented in the Barnhart Gallery as part of the UK Department of Art and Art Graduate Student Association's Open Studio event held Dec. 3, at the Reynolds Building Number 1.
 
Winners of the Carey Ellis show were selected by juror Franklin "Buzz" Spector, dean of the College and Graduate School of Art and the Jane Reuter Hitzeman and Herbert F. Hitzeman Jr. Professor of Art for the Sam Fox School of Design and Visual Arts at Washington University in St. Louis.
Spector selected three prize winners for the Carey Ellis Juried Art Show. Melissa Van Sandt, a graduate student studying sculpture from Charleston, S.C., took first place for her sculpture "Studio Crit"; Anna Cooper, an art studio senior from Louisville, Ky., took second place for her mixed media work "Why'd You Let Go"; and Waylon Bigsby, a graduate student studying sculpture from Philadelphia, Pa., took third place for his sculpture "You have shown me a strange image, and they are strange prisoners." The Carey Ellis award winners received cash prizes and certificates for their achievements.
 
Anna Cooper also took home two other awards for the evening, the Arturo Alonzo Sandoval Fiber Award and the Ross Zirkle Memorial Art Studio Award. Presented by Alumni Endowed Professor of Art Arturo Alonzo Sandoval, the Sandoval Fiber Award is presented to an artist juried into the Carey Ellis show whose worked demonstrated the use of fiber. Cooper received a $100 cash prize for this recognition.
The Ross Zirkle Memorial Art Studio Award was created in honor of late faculty member Ross Zirkle. Funds for this award were raised from the donations of friends, family and former students of Zirkle, one of the college's most beloved professors. The Zirkle Award is presented to a student studying printmaking or drawing, who exhibits the qualities of artistic excellence, dedication to hard work and interest in helping the community that Zirkle exhibited in his own life. Cooper received a $300 scholarship for this honor.
The UK Department of Art also presented the Theophilia Joan Oexmann Award at the event. The Theophilia Joan Oexmann Award is given by the faculty of the UK Department of Art to a student who demonstrates great promise through the originality and creativity of their work in studio art. This year's Oexmann Award winners are: Matthew Matsubara, an art studio senior from Lexington, and Heidi Hastings, an art studio senior from Campbellsville, Ky. In recognition of their achievement, Matsubara received a $600 scholarship and Hastings received a $300 scholarship from the department.
  
The Carey Ellis show is an important event for UK's art students, giving them an opportunity to display their work in a juried art exhibit, but also teaching them how to mount exhibits.
 
"Each year, the graduate students in the Department of Art organize and run Open Studio. For many of the graduate students it is their first exposure to the complexity of organizing a large public event. Their hard work results in one of Lexington's most important visual arts displays, allowing the public an opportunity to see what we do in the Reynolds Building. Visitors can buy finished works and see firsthand the quality of our best students, witnessed by the Carey Ellis," said Benjamin C. Withers, chair of the Department of Art.