Horse Mania Gallops onto Campus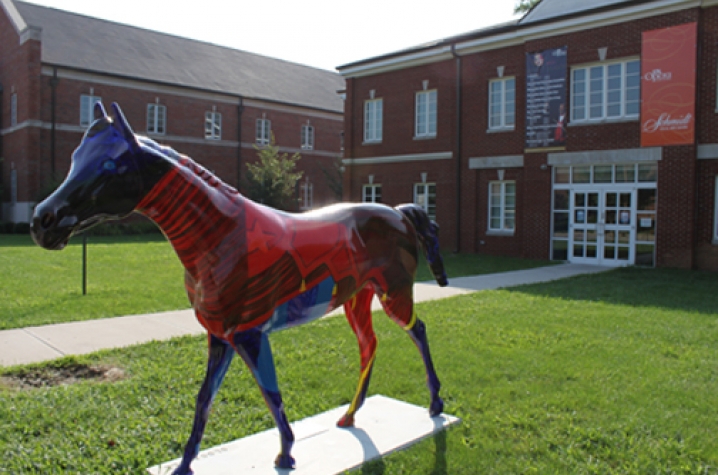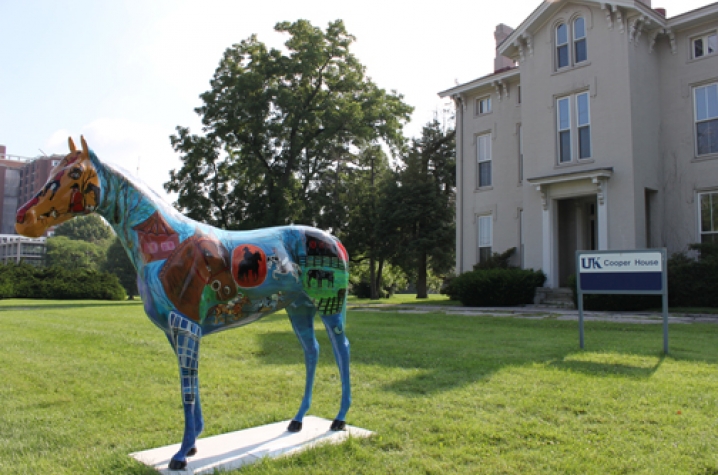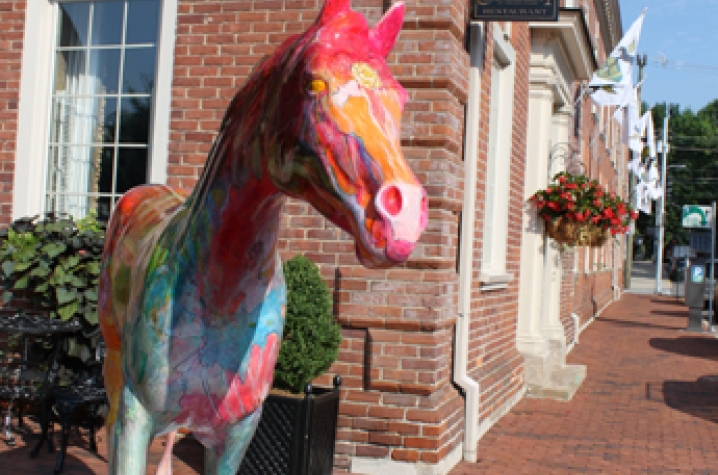 LEXINGTON, Ky. (July 23, 2010) − Colorfully painted horses have taken over Lexington, and some even found their way to the University of Kentucky campus as LexArts unveiled Horse Mania 2010. Among the artists participating in this popular public art project are Arturo Alonzo Sandoval and Lennon Michalski, of the UK Department of Art, and several alumni. Additionally, three UK entities have sponsored horses that are on display on campus.
UK Alumni Endowed Professor of Art Arturo Alonzo Sandoval created the horse "Casablanca" that now stands guard at the Schmidt Vocal Arts Center, home to the horse's sponsor, UK Opera Theatre. "Casablanca" celebrates the art of opera, and incorporates abstract images of the singers, props and sets. Lennon Michalski, an adjunct faculty member in art studio, also has a horse on display downtown. "Lesson in Walking on Water" can be found outside Gratz Park Inn.
Besides "Casablanca," visitors to campus also have the opportunity to see two other horses sponsored by university units. "Equestrian," by Jennifer Conrad-Barber, is sponsored by the UK Equine Initiative and is located at Cooper House near the corner of Nicholasville Road and Cooper Drive. In addition, UK HealthCare is sponsoring "Stone Horse," by Darryl Halbrooks, located outside the UK College of Medicine on South Limestone.
More than 80 horses are featured in Horse Mania 2010, and several were created by former students of the university. Some of the horses with UK connections are:
- "The Siren of the Bluegrass" by alumnae Anne Bates Allen and Lucie Slone-Meyers;
- "Day Star" by alumnus Dan Neil Barnes and Philip Rodriguez;
- "Lady Godiva's Horse" by alumnae Jean Isaacs Bramlette and Audwin Price;
- "Ashland Stud" and "Cheval D'Etoile" by alumna Christy Buckner;
- "Teacup" and "A Three on the Sheets" by alumna Kimberly Comstock;
- "Running Around in Circles" and "The Strand" by alumna Blake Snyder Eames;
- "Run for the Rosaries" by alumna Beth Ettensohn and her students at Saints Peter and Paul School;
- "Raise a Native" by alumna Lida Evans;
- "Dark Star" by Harold Faulconer and Becky Faulconer, a local art educator who has served as a docent at the Art Museum at UK;
- "Old Lexington" by alumna Barbara Harper-Bach and Neil Sulier;
- "Pegasus Flight" by alumnus Tony Higdon and Erika Strecker;
- "Glade Runner," "Grace Under Pressure" and "Streamlined" by alumnus Philip High;
- "A Horse of a Different Shell" by alumna Holly Johnson;
- "Paris Pike" by alumna Kathy Rees Johnson;
- "Digital Horse" by alumnus Duane Keaton;
- "Paisley Pony" by alumnus Morgan King;
- "Red River Parade" by alumnus John Lackey;
- "Sister Cities" by alumna Pat Lawrence;
- "Lexington" by alumnus Phil May;
- "Star Dust Memories" by alumnus Robert Morgan;
- "Mr. Blue Grass" by alumna Kandace Tatum Potter;
- "Henry, A Tribute to Henry Faulkner" and "These Colors Run" by alumna Mary Wathen;
- "Madame Ivory" by alumna Kelly Rice Welker;
- "Desert Dream" by alumna Adalin Wichman; and
- "Wild Paint" by alumna Kathryn Wise.
Horses on exhibit as part of Horse Mania 2010 will remain on display in their current locations through Oct. 15. The public art project then will move indoors for Southern Lights from Nov. 19 to Dec. 4, at the Kentucky Horse Park. For more information on the horses in Horse Mania 2010, visit the project online at www.horsemania2010.com.