Photographer Emulates the Mystery of Light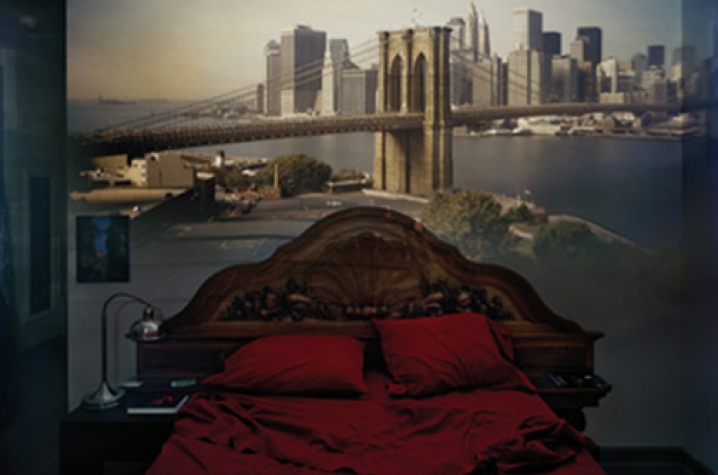 LEXINGTON, Ky. (Jan. 31, 2011) − Photographer Abelardo Morell's work revisits the process of camera obscura and takes it to the next level. This gifted photographer will be the next speaker in the 2010-2011 Robert C. May Photography Endowment Lecture Series presented by the Art Museum at the University of Kentucky. Morell's free public lecture begins at 4 p.m. Friday, Feb. 4, in the Worsham Theater, located in the UK Student Center.
For individuals interested in seeing more of Morell's work or speaking with the photographer, the lecture at UK will be followed by a book signing with the artist. Additionally, photography by Morell is on display as part of a free public exhibition at the museum through Feb. 13.
Morell uses a predecessor of the modern camera, camera obscura. Used by artists such as Vermeer, camera obscura is a lens in a darkened box that will project an upside down image of a lite scene outside of it. Morell, however, takes this to a whole other level by creating his camera obscura from a darkened room which projects the outside world inside by use of a lens. This technique allows Morell to capture unexpected combinations of interior and exterior.
Morell, a native of Havana, Cuba, came to the United States to complete his education. He received his bachelor's degree from Bowdoin College in Brunswick, Maine, and his master's degree from the Yale University School of Art.
Seven monographs of Morell's work have been published, and he has been featured in many publications. His photographs are included in the permanent collections of several museums, including the Museum of Modern Art, the Whitney Museum of Modern Art, the Metropolitan Museum of Art and the Art Institute of Chicago. He also exhibits widely; last year alone, he had solo exhibitions in Pingyao, China; Madrid, Spain; Wilshire, England; and San Antonio, Texas. Currently, Morell is a professor at the Massachusetts College of Art.
In addition to his exhibiting, Morell is a recipient of numerous awards including a John Simon Guggenheim Memorial Fellowship and an Alturas Foundation Grant, as well as an Honorary Doctor of Fine Arts from his alma mater, Bowdoin College.
The May Lecture Series explores photography's roots in the 19th century and its reinvention in the digital world with four exciting artists who come from different places. The lecture series is made possible through the Robert C. May Photography Endowment, a museum fund established in 1994 for the support of acquisitions and programs relating to photography. The last photographer coming to Lexington as part of this year's series will be France Scully Osterman.
For more information on the Abelardo Morell lecture or on the 2010-2011 Robert C. May Photography Endowment Lecture Series, contact the Art Museum at the University of Kentucky at (859) 257-5716 or visit www.uky.edu/ArtMuseum.