Public Art? There's an App for That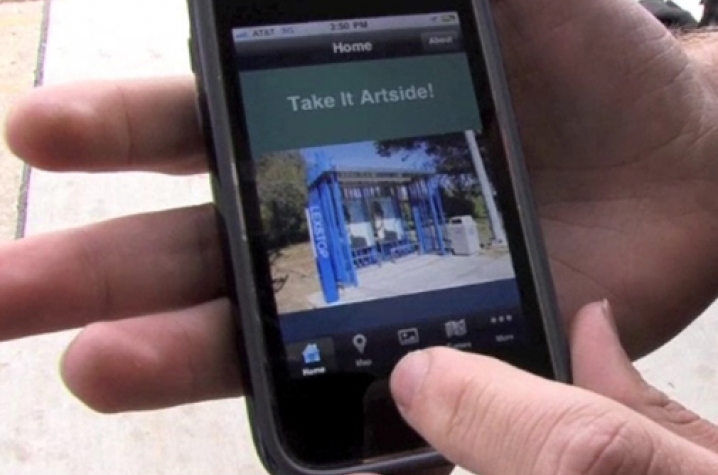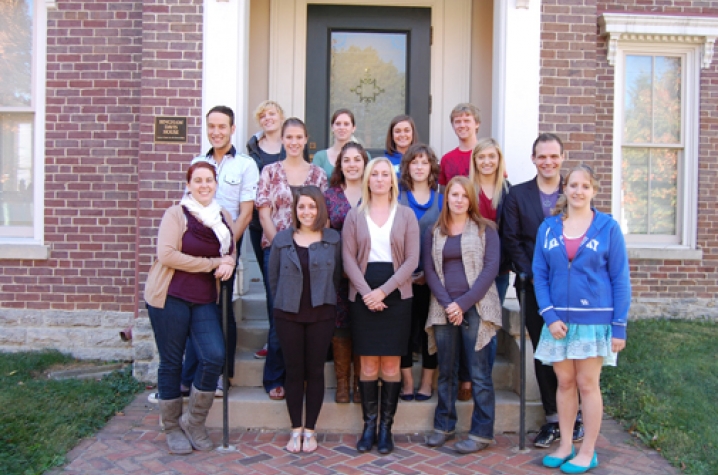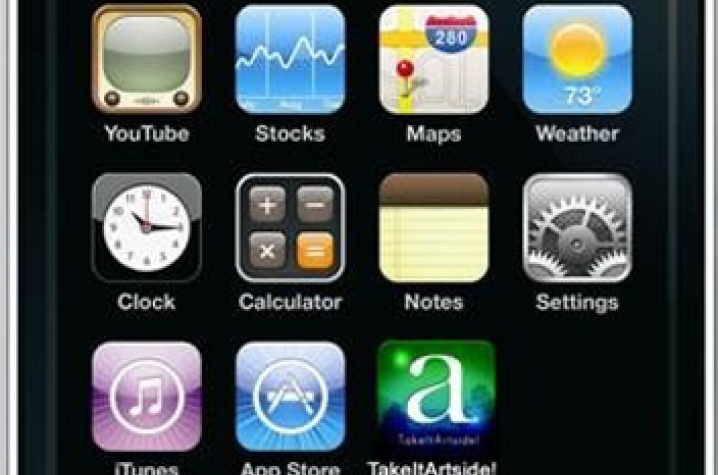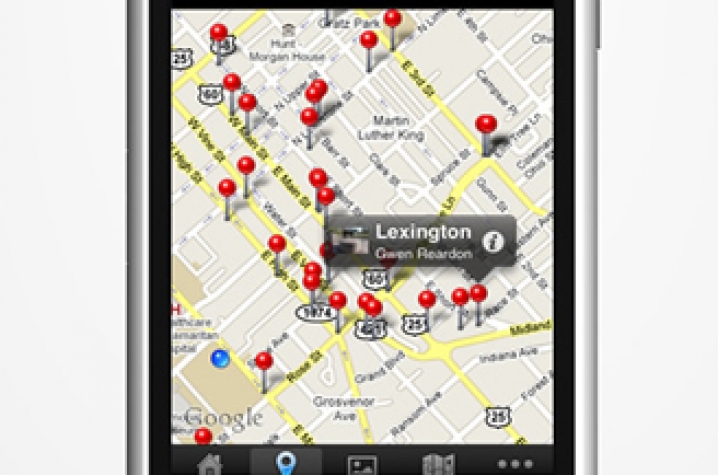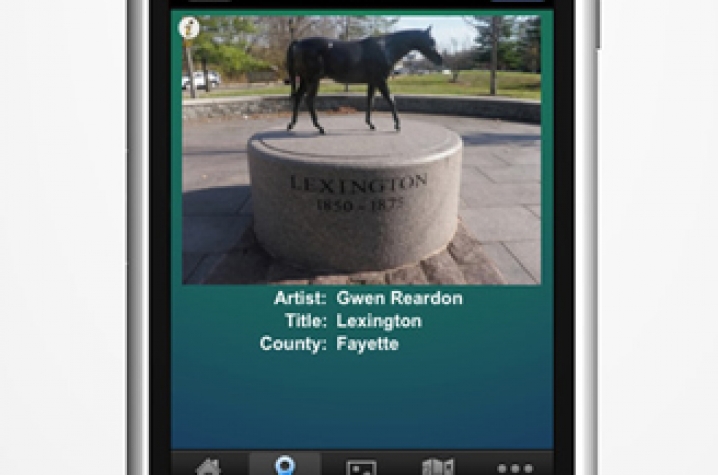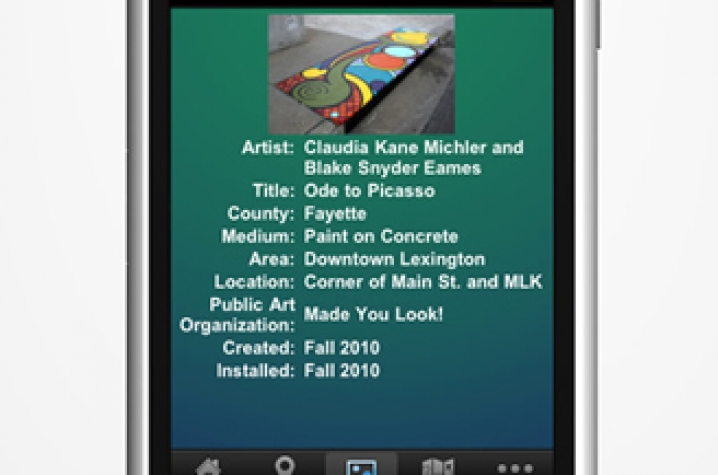 To view a transcript of the video, click the attachment below the photo viewer. Video by Jenny Wells/UK Public Relations.
LEXINGTON, Ky. (Jan. 21, 2011) − Public art dots the landscape across the Bluegrass. Ever wonder what the name of a piece of art is, what the story is behind it or who created it? Kentucky's first public art smartphone application, "Take It Artside!," answers that call.
"'Take It Artside!' is an iPhone application that will allow you to locate and learn about art in Central Kentucky," said Christine Huskisson, co-founder of Central Kentucky Museum Without Walls. "Even more exciting than that is the soon to be released Android version of this application as it may well be the first in the nation."
The brainchild of students and faculty at the University of Kentucky Department of Art and the Gaines Center for the Humanities, "Take It Artside!" launched in late November 2010 on iTunes. Created by the Central Kentucky Museum Without Walls Project, the free application includes images of local public art along with a brief description of each piece, artist information, and its GPS location within Bourbon, Clark, Fayette, Jessamine, Madison, Scott and Woodford counties. "Take It Artside!" currently can be downloaded on iPhone, iTouch and iPad wherever Wi-Fi is available. The application is set to migrate to the Android market in mid-February.
Information for each art piece featured on "Take It Artside!" was collected by museum studies art students at UK and art students at Georgetown College.
"Every medium is included, we have indoor and outdoor works, murals, sculpture - basically any medium that is considered public art," explained UK art history senior Kate Taylor. "We have a registration/conservation team that's been going out and collecting the GPS coordinates for the app, and taking pictures, writing descriptions and things of that nature. So we are actually students going out getting to catalog all the art."
The project took the students' information and combined it with research into various application elements and public art wikis to develop their smartphone application with the assistance of Lexington business Apax Software.
Beyond the general catalogued information on the artwork, the application is also the source of several other interactive elements as well as a website that is available to users interested in learning more, playing a game or helping preserve art.
The current game included on "Take It Artside!" tests users' passion for public art. Central Kentucky Museum Without Walls also plans to expand the gaming opportunities by adding a game that will incorporate fitness to the viewing of public art. "Artfit!" will be part of the version 2 updates for "Take It Artside!"
On the application's corresponding website, www.kentuckymuseumwithoutwalls.com, individuals can find many of the same features as the app as well as featured tours for users and interdisciplinary lesson plans targeted to middle and high school students for teachers to use in their classroom. The lessons not only give students the opportunity to interpret a piece of public art, but allow them to compete for a spot on the application and website. 
"The lesson plans themselves encourage interdisciplinary learning from sixth grade through high school, really all the way through the college level," added Huskisson.
The application will also allow users the opportunity to be stewards of Central Kentucky's public art resources. Individual users in the near future will be able to report damage or vandalism at a public art site, as well as submit a photo. Some initial condition reporting has already been collected by students in the UK Honors Program. Leaders at Central Kentucky Museum Without Walls hope to use this information to help local communities care for the artwork.
"In the spring, our 'Take It Artside!' application will have a crowd-sourcing function so that anyone in the community can upload a photograph of a piece of public art and submit information about its condition," said Lisa Broome-Price, co-founder of Central Kentucky Museum Without Walls. "So we are really hopeful that the community will embrace the project."
In the future, the organization plans for "Take It Artside!" to feature work from all 120 counties across the Commonwealth.
"Take It Artside!" is just the first innovation from the Central Kentucky Museum Without Walls Project, a collaborative project that hopes to build an inventory of Central Kentucky's public art and then use this catalog to promote education and enhance the public's interaction with the art around them. It is a result of the combined efforts of Christine Huskisson, adjunct faculty at UK Department of Art, and Lisa Broome-Price, acting director of the Gaines Center for the Humanities, as well as students from UK and Georgetown College.
Central Kentucky Museum Without Walls grew out of work on public art associated with Lexington's popular Legacy Trail. In spring 2010, UK's Museum Studies class, under the direction of Huskisson, was awarded a Commonwealth Collaborative Grant to build on the work the class did for the Legacy Trail, specifically helping situate public art along that trail. Through the students help implementing the trail's master plan, as well as educational programming to accompany it, the group began looking for a way to continue and expand on their research as well as develop future educational programming for a broader range of public art in Lexington. To advance the work of their organization, Huskisson and her team of art students teamed up with leadership at the Gaines Center for the Humanities, an advocate of public arts in the Bluegrass and host of popular town-gown programming, to form Central Kentucky Museum Without Walls.