Asian Zithers Defy Convention, Geography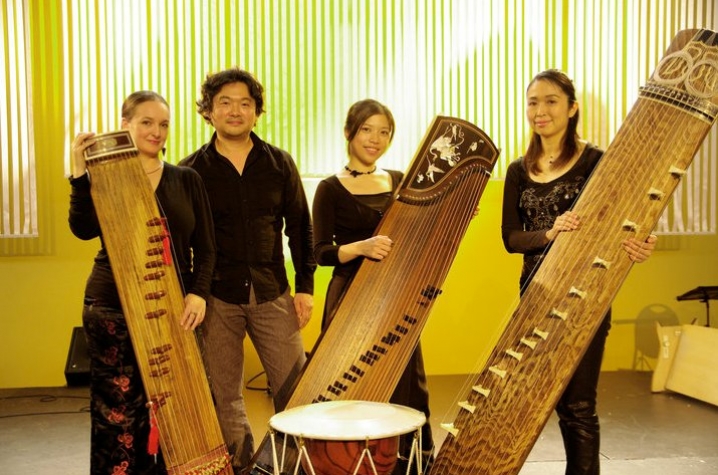 LEXINGTON, Ky. (Nov. 5, 2010) — An international ensemble of unconventional instruments played in unconventional ways makes its debut on the University of Kentucky's campus this Sunday as the 2010 ArtsAsia Festival gets under way.
IIIZ+ ("Three Z Plus"), a quartet featuring a unique combination of three bridged east Asian zithers and Korean percussion, will perform at 7:30 p.m. on Sunday, Nov. 7 in the Recital Hall of UK's Singletary Center for the Arts.   
Learn about the background of zither music and the boundary-expanding path IIIZ+ has taken in becoming a quartet in "The History of Zithers with IIIZ+" at 9:00 a.m. on Monday, Nov. 8 in the Niles Gallery of the Fine Arts Library on UK's Campus.
Officially formed in Darmstadt, Germany in 2001, IIIZ+ was born out of the common musical interests and experiences of Korean zither player Jocelyn Clark, a native of Juneau, Alaska, and Korean percussionist Il-Ryun Chung, of Frankfurt, Germany.
Common interests may have brought this group together, but the quartet's instrumentation is as diverse as its geography.
IIIZ+ features a unique combination of strings, including the Korean kayagûm, a Korean 12 silk stringed zither; the Japanese koto, a Japanese 13 stringed zither; and the Chinese zheng, a Chinese 21 stringed zither — "plus" Chung's percussion.
Increasingly known for performances that defy the traditional boundaries of their instruments, IIIZ+ continues to break new ground, offering surprising insights into musical and cultural interactions between China, Korea and Japan in the context of America and Europe.
Each of the players — originally from Alaska, Japan, Taiwan and Germany — speaks with a different native tongue.
IIIZ+'s focus on the large-bridged zither instrument family brings into play both the archetypical similarities and differences among East Asia's individual living music traditions.
IIIZ+ has been featured in festivals such as Musica Vitale in Berlin; Le Festival de l'Imaginaire at the Maison des Cultures du Monde in Paris; and at 38e Rugissants in Grenoble, France. The ensemble has toured Toulouse, Utrecht, Antwerp, Nürnberg, Darmstadt, New York, Boston, Philadelphia, Washington D.C., Berea, Ky., and Middletown, Conn.
Recent grants include a Commissioning Music/USA grant from Meet the Composer for a new work from Chinese-American composer Fred Ho and a Chamber Music America Residency Grant to work at the Peabody Essex Museum in Salem, Mass.
Sunday's event free is students with ID and $10 each for non-students. Monday's event is free for everyone. For tickets, please call the Singletary Center for the Arts box office at (859) 257-4929. 
A full list of ArtsAsia events and information on show times, locations and tickets for events that require them are on the Asia Center website at www.uky.edu/centers/asia.
UK's Asia Center will explore "Living Traditions" of Asia in the second annual ArtsAsia Festival from November 6-13. The UK Asian Fine Arts Initiative, the UK Confucius Institute, the UK Vice President for Research and the Transylvania University Morlan Gallery are co-sponsors of this series of events, which are all open to the public.
The ArtsAsia Festival draws top caliber performers, visual artists and scholars to UK and Lexington venues. This year's events will highlight how traditional artistic and cultural practices of Asia are being kept alive and adapted for contemporary times.
The UK Asia Center works with UK to prepare the Commonwealth for the global economy. The Center develops new curricula about Asia at UK, sponsors Asian cultural events, trains K-12 teachers in how to teach about Asia, develops partnerships with universities in Asia and offers UK students scholarships to study abroad in Asia.