Don't Miss School of Music on Parade Sept. 13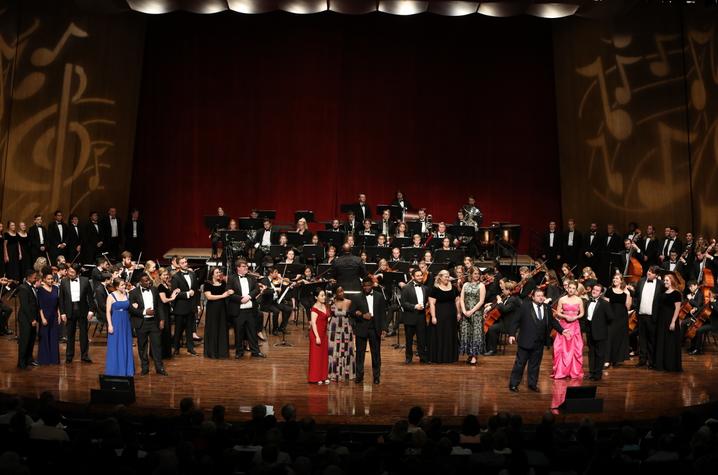 LEXINGTON, Ky. (Aug. 29, 2019) — The University of Kentucky School of Music will kick off their 2019-20 season while showcasing the vast array of talents on campus at the second annual School of Music on Parade, 7:30 p.m. Friday, Sept. 13, at the Singletary Center for the Arts. 
The concert will feature a program that showcases performances by a variety of the School of Music's large ensembles, including UK's Wind Symphony, Choirs, Symphony Orchestra and Percussion Ensemble; UK JazzCats and UK Opera Theatre; a cappella favorites Paws and Listen and the acoUstiKats; Wildcat Marching Band; and members of its distinguished faculty including the UK Faculty Brass Quintet. 
The UK Wind Symphony will open the first half of the concert with "Sacred Spaces" by John Mackey. This piece was premiered in late July by the U.S. Army Field Band, and will be the second performance of this new work. The concert will also feature two newly commissioned works for the Tuba-Euphonium Ensemble. Four UK School of Music students were selected as winners of the new School of Music Innovators Program and with their winnings, chose to commission two new works from David R. Gillingham and Anthony O'Toole. Both of these works premiered at the 2019 International Tuba-Euphonium Conference at the University of Iowa in May. 
School of Music celebrated its 100th anniversary by kicking off the year with School of  Music on Parade in 2018. Based on that success, Director Stanley Pelkey decided to make the School of Music on Parade concert an annual event. "Concertgoers will once again have the chance to hear from all their favorite groups and meet students and several of our new music faculty as we welcome patrons, members of the reinvigorated Friends of Music program, students, faculty, and staff to a new concert season."   
Tickets for School of Music on Parade are $12 for general admission and $5 for students with fees included. To purchase tickets, contact the Singletary Center ticket office by phone at 859-257-4959, online at www.scfatickets.com or in person at the venue.
School of Music On Parade also marks the start of a new season of events for the revamped UK Friends of the School of Music program, a volunteer organization of music lovers established in 1991 and dedicated to the advocacy and financial support for the University of Kentucky School of Music. To aid in the education and research experience, UK Friends of the School of Music was formed with the goal to raise money for students' and faculty travel needs. Students in the School of Music frequently have opportunities to perform, study or present research throughout the United States and across the globe. The Friends of Music makes much of this student and faculty travel possible by making financial awards through an application process. 
The UK School of Music is internationally recognized for excellence in performance, music education, and research in music and offers Kentucky's most comprehensive array of educational programs devoted to musical arts. Degrees offered include bachelor's and master's degrees in music; music education; music performance in brass, keyboards, percussion, strings, voice and winds; music theory and composition; music therapy; and musicology and ethnomusicology. 
To hear the beautiful music UK is making for yourself, check out one of more than 200 recitals, workshops, masterclasses, lectures, operas and concerts scheduled for the 2019-20 season. Here are just a few highlights of the upcoming year:   
UK Symphony Orchestra with Gil Shaham at the Singletary Center for the Arts, 7:30 p.m., Sept. 28; 
UK Opera Theatre presents "Gianni Schicchi" and "Suor Angelica," an evening of Giacomo Puccini in two acts, Oct. 11-13; 
UK Jazz Enzemble 50th Anniverary Concert/30th Anniversary with Miles Osland, 7:30 p.m., Oct. 18;
Men's Chorus Fall Extravaganza featuring the acoUstiKats with guests Eastern Kentucky University Men's Choir and University of Louisville's Singing Cardsmen, 7:30 p.m., Nov. 2; 
"Collage: A Holiday Spectacular" presented by UK Choirs, Dec. 7-8; 
UK Opera Theatre presents "The Crucible," April 3-5; and 
UK Symphony Orchestra and UK Choirs present Ludwig van Beethoven's Ninth Symphony, 7:30 p.m., April 24.
Find the full calendar for the UK School of Music offerings here: https://finearts.uky.edu/music/calendar.